Mississippi solutions for Mississippi problems
"This is about a high-quality education for every child, meaningful work for every adult, and justice for all."
Last week, Mississippi leaders and policy experts from around the country were in Jackson for a solutions-centered discussion on the most significant issues of the day. More than 150 people joined us at the Civil Rights Museum as we heard ideas on rethinking education, reforming the justice system, making it easier to work, and eliminating the income tax as part of Empower's inaugural Unleash Mississippi.
If you are inclined, you can replay any and all of the event right here, but I wanted to share some of my favorite moments of the day with you.
1. Barnett shares his testimony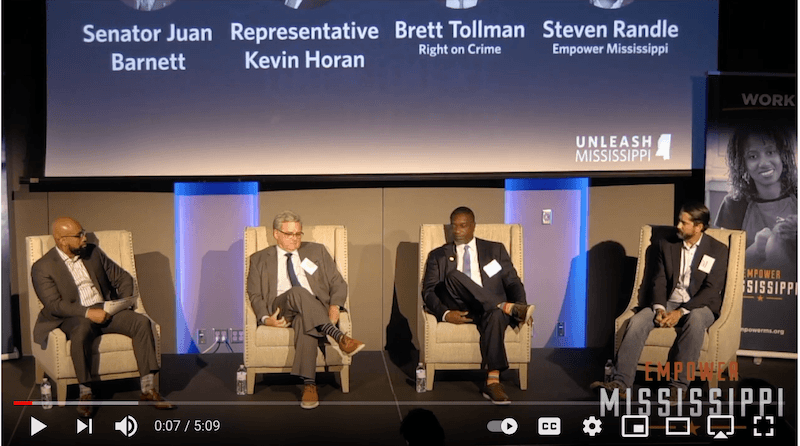 As Chairman of the Senate Corrections Committee, Sen. Juan Barnett has been a leading proponent of criminal justice reform in the legislature. This year, he authored legislation to expand parole eligibility for a new category of individuals in prison. The legislation will incentivize good behavior, provide second chances, and save taxpayer dollars.
But as Barnett will tell you, this wasn't always his story. After his father was murdered, Barnett was rightly bitter and angry. He once told a court official he couldn't serve on jury duty because he would sentence a person to life in prison for stealing a pack of gum.
"It never got any better for me until I had a time by myself with the Lord and He told me, 'Juan, if you expect to move from this to place to another place, then you have to learn how to forgive.'
"When I started doing what He asked me to do, I started moving forward, and I thought about all those people whose lives I would have affected if I had served on that jury. I thought about those people I would have sent to prison and the families I would have affected by not changing how I felt."
Barnett has been able to find forgiveness through his own pain and offer hope and redemption to thousands of Mississippians who are behind bars.
2. Gunn talks income tax repeal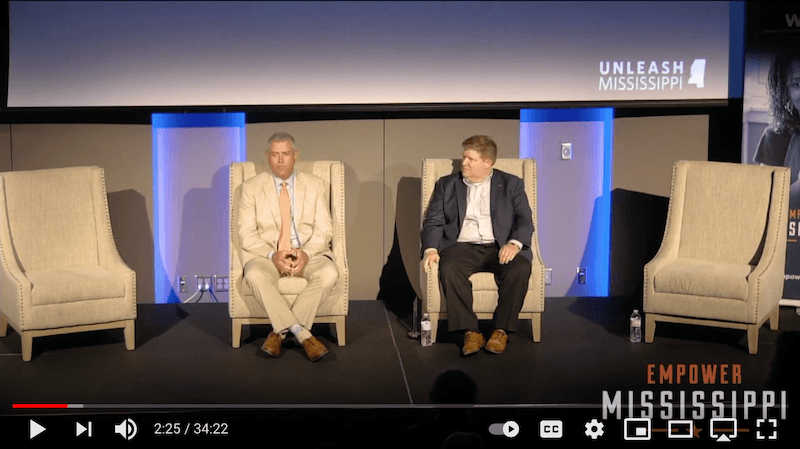 "Putting more money into the pockets of our citizens is a good thing."
We agree.
This year, the House of Representatives, led by Speaker Philip Gunn, passed legislation to repeal Mississippi's income tax. This is something the Speaker has been working on for a number of years as we look for ways to make Mississippi's economy more competitive.
As the discussion was occurring, Empower released a report that provides dynamic modeling under two scenarios for eliminating the income tax, a comparative analysis that demonstrates that states without income taxes can both sustain reasonable government spending and thrive economically, and some policy considerations for lawmakers weighing transformative tax reform.
We are convinced that if structured correctly, the elimination of the income tax could have a profoundly positive impact on all Mississippians, allowing families to save more and invest more into their communities and growing opportunities.
3. First in the South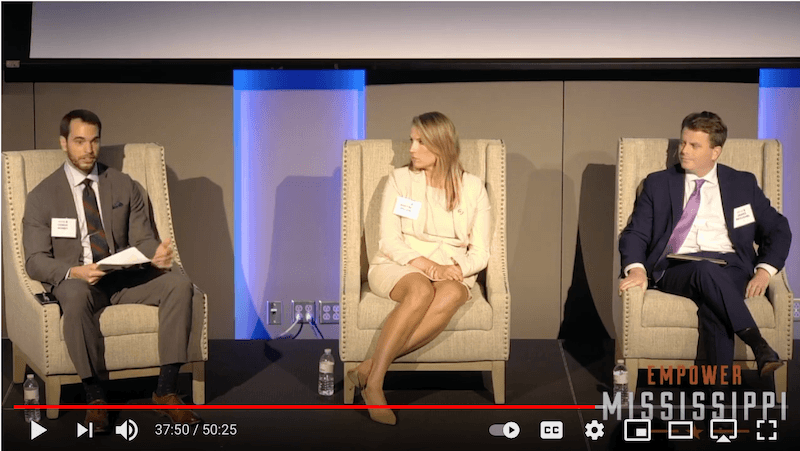 This year, Mississippi became the first state in the South to pass legislation that recognizes occupational licenses obtained in another state. This will allow qualified professionals moving into Mississippi the chance to immediately begin earning a living.
On a panel that included James Broughel, Senior Research Fellow at the Mercatus Center at George Mason University, Whitney Lipscomb, Deputy Attorney General, and Conor Norris, Empower Contributing Fellow and Research Analyst at the Knee Center for the Study of Occupational Regulation at St. Francis University, the discussion centered around regulations that are stifling economic growth and needed reforms.
"Since 2017, each year, the legislature has passed at least one bill that has been aimed at addressing regulatory reform as it relates to occupational licensing," Lipscomb noted.
"We're seeing a real movement and we have elected leaders and legislative members who are excited and who are trying to move the needle to make it easier for people in Mississippi to go to work, and quite frankly, make it easier to move to Mississippi and work."
We are hopeful this trend will continue.
4. Rethinking education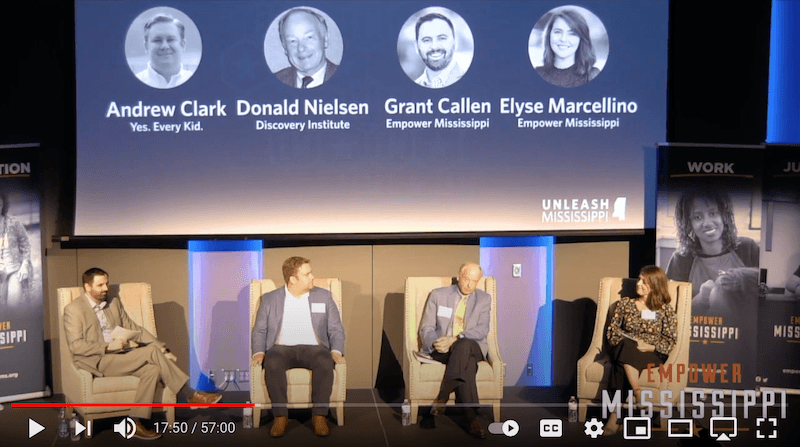 "The vision ought to be how do we create lifelong learners who are equipped to take on the world."
That comment did a good job of summarizing the panel discussion on education that included Andrew Clark, Executive Director of Yes. Every Kid, Donald Nielsen of the Discovery Institute, Elyse Marcellino, Director of New Schools at Empower Mississippi, and Grant Callen, Empower Mississippi CEO.
The panelists discussed not just the vision of education, but the testing-centered focus of today's schools, our current accountability model, how we got here, and what our new path should look like.
"Testing and accountability are both valuable, but when they are conflated, they are very destructive," Clark said. "Trying to control that from a centralized place is utter nonsense. You can't control people. If you want to be successful, you have to trust people."
5. Staring at the death penalty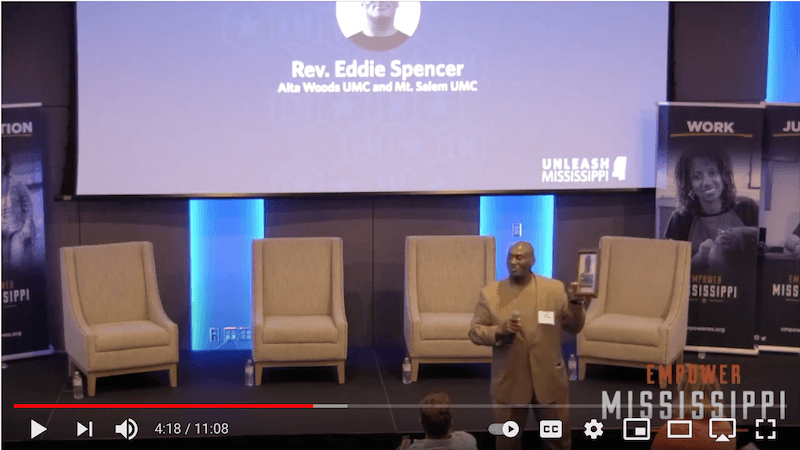 "I know that he's bad, but he's a good boy."
In 1979, Eddie Spencer was facing the possibility of the death penalty as one of his victims was left fighting for his life after being shot. The victim recovered from his injuries and Spencer was headed to Parchman as a teenager to serve the next 10 years of his life for armed robbery and attempted murder.
Today, Eddie is a husband, father, and pastor whose life came full circle when he provided the invocation at Gov. Tate Reeves' inauguration last year.
Eddie shared his incredible journey from Parchman to the pulpit at Unleash Mississippi, as he talked about redemption, restoration, and second chances.