Unions Went All In, And Lost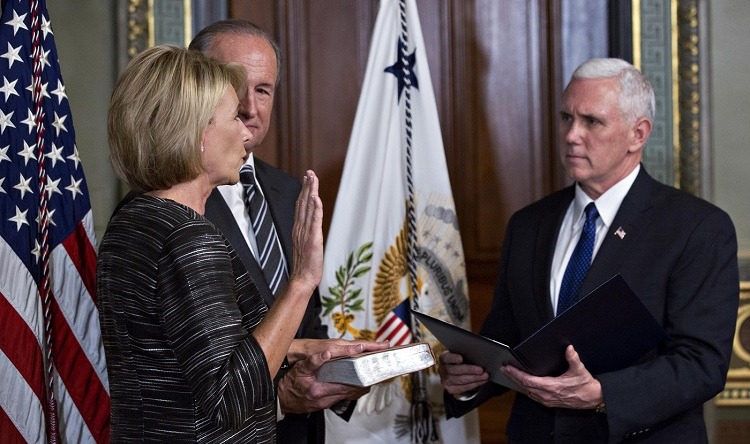 Earlier this week Betsy DeVos was confirmed as United States Secretary of Education. As far as I can tell, district schools are still in operation, but that has not been confirmed.
But you would not realize that with the hysteria from Senate Democrats and their allies in the teachers unions who ran a massive campaign over the past month to discredit, and ultimately defeat, DeVos. They failed. All their might did little to deter Republicans.
From what we have heard, the phone lines of Mississippi's two Senators, Thad Cochran and Roger Wicker, were lit up as they were for most Senators. Unfortunately, many of the callers were out of state. Senators Cochran and Wicker both supported Ms. DeVos even though the media previously indicated that Sen. Cochran was on the fence. I always thought it would be odd for the Chairman of the Senate Appropriations Committee to vote against one of his Party's cabinet nominees and, obviously, it did not happen.
The two Republicans who did break with the president on the nominee, Maine Sen. Susan Collins and Alaska Sen. Lisa Murkowski, are the Republicans closest to the teachers unions and are generally among the most liberal members of the caucus. To their credit, Senators Collins and Murkowski, both members of the Senate Health, Education, Labor & Pensions Committee, voted to advance DeVos' nomination in committee and on the first procedural motion on the Senate floor.
Their defection on the final vote mandated Vice President Mike Pence, someone who championed school choice as governor of Indiana, cast the tie-breaking vote for confirmation. I imagine he was happy to do it. It was high drama in the Senate chamber with very little drama at all.
But this is what teachers unions specialize in. They are in their element running a PR campaign. They have a captive audience like no one else in government who with the flip of a switch can make phone calls, share stories on social media, or stage protests. They create a ton of noise and make a great talking point on how enraged people are. However, they have been less successful at actually winning elections and that is why Donald Trump and not Hillary Clinton, whom they endorsed, got to choose the Secretary of Education.
Their threats of defeating Republican Senators who they never supported to begin with because of a confirmation vote carries little weight, or actual threat.
But what great danger does DeVos pose according to her critics? For one, she is wealthy, very wealthy. Well, she will fit right in at the United States Capitol then. Betsy, and her husband Dick, have used their fortune to fund numerous charitable endeavors. Some of these includes the Helen DeVos Children's Hospital, ArtPrize, a well-known international art competition in their hometown of Grand Rapids, Michigan, and the West Michigan Aviation Academy, a highly-rated charter school, also in Grand Rapids, where high school students can graduate with a pilot's license.
She also founded, supported, and served as Chairman of the American Federation for Children, an organization that supports school choice, and candidates for office that support school choice. This organization has been one of the most effective groups in the country at expanding these options and giving children trapped in a failing school system a new chance at success in life. Ms. DeVos believes, and has dedicated a portion of her wealth, to the radical idea that parents know their children better than anyone else and they should be able to choose the best education for their children. Unfortunately that is an unforgiveable sin in the eyes of many, most notably the teachers unions.
How radical is this? Well, 31 states and the District of Columbia have some type of school choice program on the books. Many, including Mississippi, have multiple programs. And these programs, which are often limited, usually have more applicants than available slots. Mississippi just held the second lottery of the year for Mississippi's Special Needs Education Scholarship Account. Some families received the heartbreaking news that their number did not get called for a second time. Mississippi's charter schools, like charter schools nationwide, have a waiting list as well.
Apparently there are a lot of radical people in this state and around the country desperately looking for a new option.
Ms. DeVos is not part of the education establishment that has run the Department of Education since its creation four decades ago. Ms. DeVos could have done things the "normal" way like many philanthropist do and make large district school donations. Perhaps she could have gone on Oprah like Mark Zuckerberg did when announcing a $100 million gift to the failing Newark, New Jersey district schools. Five years later this was largely considered a failure.
Instead, Ms. DeVos sought out solutions to the generations of failing schools. She is an innovator, she thinks outside the box, and does not believe we should continue doing the same thing we have been doing and expect better results. I doubt we will see stories like this from a DeVos run Department of Education where taxpayers shell out $7 billion on district schools and see no academic improvement.
But the truth is Democrats were looking for a scalp and DeVos was simply in their crosshairs. It represented the perfect opportunity of knocking President Trump and boosting their top donors. Senate Democrats needed to stand with the teachers unions who fund their campaigns. After all, teachers unions stand to lose the most if school choice expands in greater numbers as families may choose non-union charter schools or private schools. Ms. DeVos does not pose a threat to education, she poses a threat to the education establishment and teachers unions.
Most families in our state and in our country are happy with their child's assigned district school. School choice does not change that. It simply gives those who are not happy, or are not succeeding, a new option.
That is a good thing, and I look forward to the new vision and direction of the United States Department of Education.
To stay connected with what is happening in Jackson and up to date with the school choice and education reform movement in Mississippi, Join The Movement today.