The Moffetts: four kids, three schools, one thriving family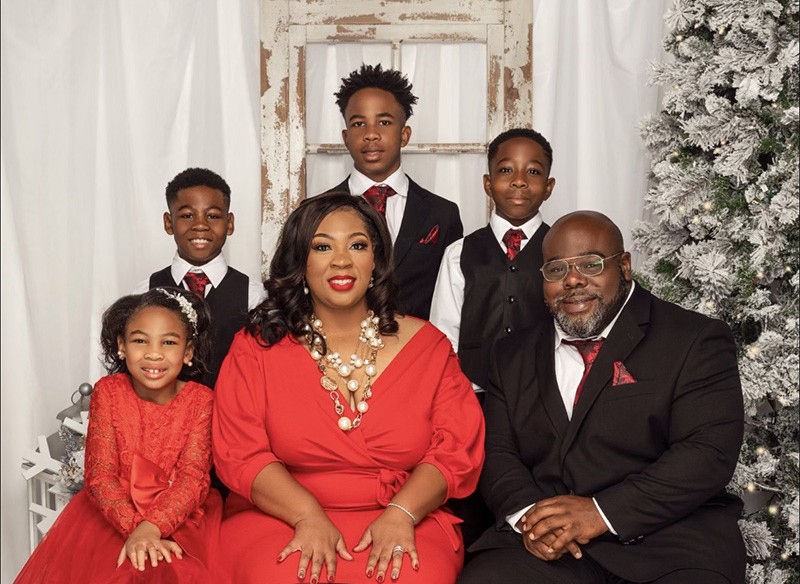 With four children, Marcus and Christeen Moffett of Jackson find themselves busy with sports practices, dance, schoolwork, and so much more.
"It's a lot," Christeen laughed. "We're going in a lot of different directions."
But Christeen is happy to make the rounds to the three different schools her children attend because she knows that each of them is in the setting that best meets their unique needs.
Her oldest son Taylor, 15, is enrolled at St. Joseph's Catholic School, a private school in Madison, where he plays football. Kasey and Kaleb, her 11-year-old twin boys, are in the sixth grade at Midtown Public Charter School in Jackson, while her 9-year-old daughter Serenity attends Spann Elementary School, their residentially assigned public school in Jackson.
Last year the twins also attended Spann Elementary School, and as the school year came to an end Christeen began looking at other alternatives. She had not heard good things about the middle school options in her local public school district, so she began doing some research. She knew that she did not want to separate the boys, so she began looking for options where she could keep them together.
"It was important for us that they stay together," Christeen said. "They would do fine without each other, but we wanted them together, especially in a new school. That was an important thing for me as a mom."
After looking at several options in the area and not finding what she was looking for, Christeen decided to look at a charter school. She researched charter schools in the Jackson area and found Midtown Public Charter School. Christeen met with Kevin Parkinson, the Midtown principal, and explained her concerns and Kasey's needs as a student with dyslexia.
"He listened to my concerns and explained what they offered. It was invaluable to me as a parent," she continued.
Christeen and Marcus enrolled the twins at Midtown at the beginning of this school year, and they have been very pleased.
"It clicked automatically for us at Midtown," she said. "The kids come home so excited about school. They love the learning process, and I hear them talking to each other about what they've learned. They are not in the same class, but they are learning the same things and helping each other. Their individuality has blossomed, and Kasey is confident as a student. It's a great feeling."
Christeen described finding the right setting for the twins as a "breath of relief".
Christeen makes it clear she is not against public schools. In fact, she says her youngest, Serenity, is thriving at Spann Elementary School. And Marcus is a former public school teacher.
"We've never had one complaint about Spann," she said. "They were great with all of my children. Kasey's interventionist at Spann was wonderful, and they were really on top of things with him. Serenity is thriving at Spann. School is really her thing, and we are starting now to look around the options for her. We've talked about several schools including Midtown, Bailey APAC Middle School, and Northwest Jackson Middle School."
The Moffett children have flourished because their parents have chosen settings that specifically meet the needs of each child.
"As a parent you know your child best, and it's important to have options for school," said Christeen. "We need options in life because one size doesn't fit all. Some things that one child is interested in may take that child to a different school than another child. I think having options helps children find who they are. It helps them feel like they are in control and have a say so in their future."
Christeen's advice to other parents is to look around and see what options are out there. She believes that choosing the right educational "fit" for her children is the best way to ensure they lead successful lives.
"Our ultimate goal is for them to get through school and to be productive citizens," Christeen said. "We've been through times where I've stressed about my son's grades or the school testing, and Marcus reminds me that that is not the goal. The goal is for them to be happy, productive citizens in life."
So, Christeen happily continues to make the rounds throughout the metro area to each school knowing that her children are learning and happy in the setting that's right for them.