Now Hiring: Director of Education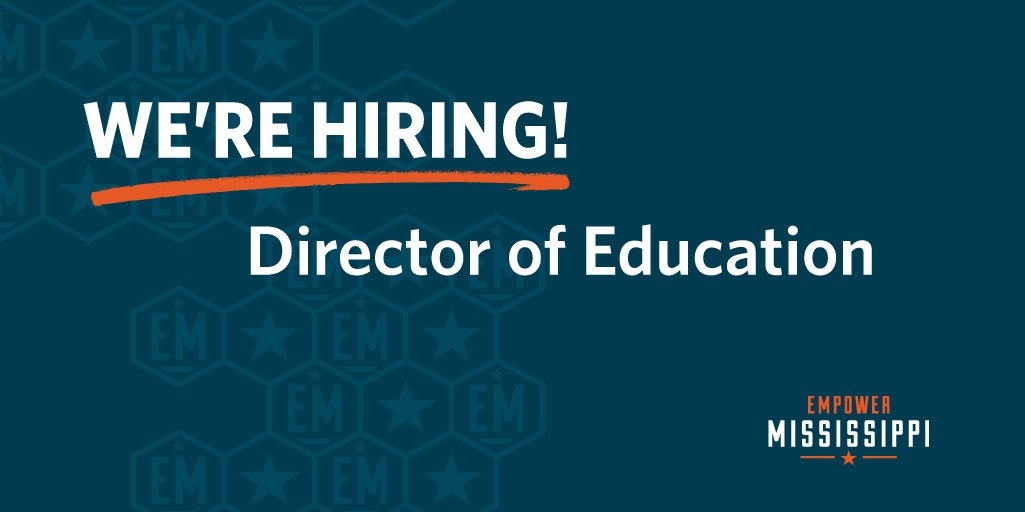 Our mission is to help every Mississippian rise by removing barriers to opportunity in education, employment, and our justice system. We are action oriented and work to educate and engage citizens.
When it comes to education, we believe that every child is deserving of a quality education that instills in them a passion to be a lifelong learner and develops in them the skills necessary to earn success. In short, that prepares them for life. Part of achieving that goal is recognizing that no two children are the same and no two educators are the same. To continue pushing the envelope of what is possible and improving education in Mississippi, we believe that teachers must have the freedom and support they need in the classroom to think and teach innovatively and that families must have education options so they can find what works best for their unique student.
Job Description
The Director of Education will be charged with developing and executing on the strategies and tactics to accomplish Empower's long-term education objectives. This role will require the Director to:
Become quickly familiar with the policy, players and political landscape in the education reform space in Mississippi and across the country;
Determine annual education policy agenda and conduct/coordinate policy research, external communications, coalition building and outreach, and government affairs to advance that agenda; and
Manage education policy Fellows and outside contractors/vendors.
Core Competencies of the Ideal Candidate
Relationship Building: The ability to invest (not just transactionally) in relationships to achieve shared goals.
Strategic Thinking: The ability to analyze the organization's current position and chart a course to execute and improve upon its strategic plan.
Analytical Thinking: The ability to tackle a problem by using a logical, systematic, sequential approach.
Problem Solving: The ability to define a problem, generate alternatives, evaluate and select alternatives, and implement a solution.
High Velocity of Work: The ability to work quickly, manage multiple projects, determine project urgency in a meaningful and practical way, and organize and schedule people and tasks.
Initiative: The ability to identify what needs to be done and do it before being asked or before the situation requires it.
Effective Communication: The ability to comfortably use a broad range of communication styles and choose appropriate, effective ways to communicate to audiences in diverse situations.
 The Ideal Candidate Will Have
Strong leadership, organizational, and managerial skills;
Excellent research, analysis, writing, and oral communication skills;
3+ years of experience in public policy, with strong preference for expertise in issue areas;
Experience in the policymaking process/government affairs.
To Apply
Qualified candidates should submit the following in one PDF document to Gina Metzger at gina@empowerms.org:
Résumé
Cover letter detailing your sincere interest in this position/mission of the organization and your salary requirements
While we thank all applicants in advance for their interest in this position, we are only able to contact those to whom we can offer an interview. No phone calls, please.