How a childhood passion became a reality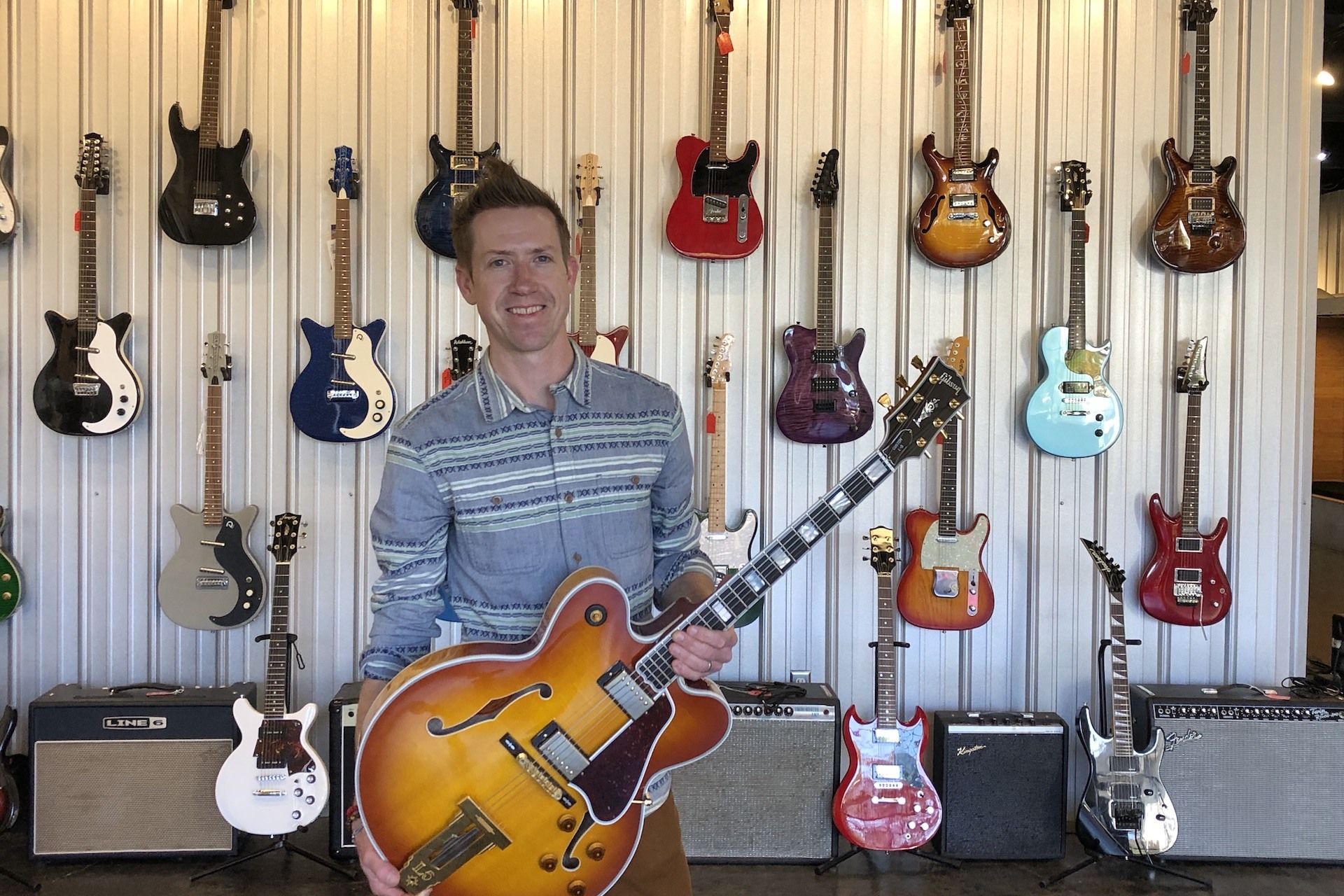 As a high school student growing up in Jackson, Patrick Harkins dreamed as many young people do of leaving Mississippi as fast as he could when he graduated.
That time came in 2001 and Harkins along with his girlfriend (now wife Haley) were headed to Los Angeles.
"We were headed out to LA where I was planning to be a rock star," he laughed. "It was around the time that 9/11 happened and everyone was afraid to fly. My wife said that she wasn't going anywhere that she couldn't get home in a day's car ride."
Patrick began looking around and the two landed in Austin, Texas. They attended college and eventually were drawn back home to Mississippi.
"Everyone from Mississippi somehow gets drawn back, and it happened to us after college," he said.
Patrick's passion for guitars began as a young kid. He grew up watching MTV and further fell in love with music when he discovered the blues. At age 14 the only thing on his mind was driving a car.
"Back then you could get your learner's permit at age 14 if you had a job," he said. "I remember going to the guitar store where I hung around and asking them if they'd sign the form saying I worked there. They told me, 'Hey, why don't you actually come work here?'"
Patrick went to work in that guitar shop and continued following his passion throughout college.
When Patrick returned home in 2006 to Mississippi after college where he received a degree in business, he decided he wanted to open his own business. He looked around his neighborhood and realized there wasn't any kind of guitar shop in the area.
"The need was not being met," he said.
Patrick developed a business plan and applied for an SBA loan – a small business loan that is partially guaranteed by the government which eliminates some of the risk for the financial institution issuing the loan.
"I've been through the SBA process twice now," he said. "It's a great thing because for someone like me who didn't have the resources or backers to help me get started, this was the way to go to start my business."
At age 24 Patrick got his first SBA loan and paid it back in 10 years,
"It was a lot of money for a 24-year-old," he said. "I look back on it and realize I didn't know what I was doing."
He also said the application process was a long and difficult one.
"There is a lot of paperwork," he said. "They are weeding out those who aren't serious. The government moves very slowly – painstakingly slow. I was set back many months in the process because I check the boxes wrong on my application, but the key is persistence."
Patrick opened the doors to Fondren Guitars in a small location in the trendy neighborhood in Jackson.
"I couldn't have done it without the family support and the lady who owned the building who took a risk renting it to me at such a young age. I had my mom and grandmother pricing merchandise, my father-in-law giving me business advice, and my dad helping me with projects around the store. I remember the day I first flipped that sign on the door to 'open' for the first time. I walked into the store and thought 'What have I done?'" he laughed.
Since then, Patrick has been constantly pushing forward.
"There's never a time that I'm not thinking about the business," he said. "People say that when you own a business you get to be your own boss, but the truth is that the boss is every customer who comes into the store. It's a 24 hour a day, 365 days a year job and I love every minute of it."
Over the years the business has grown to include a music school where students can take lessons in guitar, piano, voice, bass, banjo, and more. Today, Fondren Guitar boasts a staff of eight and over 100 students ages 4-80.
Patrick's willingness to evolve is what led to the music school.
"If I hadn't been willing to do that, I never would have discovered my passion for teaching music," he said. "I started out with the idea of selling $20,000 vintage guitars, but I realized that while there are a few people who might come in a buy a guitar like that, most people are looking for used and beginner guitars and they are looking for lessons."
Patrick has adapted to the needs of his community and because of that has been able to grow in areas he never anticipated. He's also provided for kids who may never have been afforded the opportunity to take lessons.
"We've been able to offer scholarships for kids to get a guitar and take lessons," he said. "Seeing kids who may not play sports or who may be shy come in and learn to play is awesome. It's a great thing to see them come out of their shell and find something they are good at. It is a way for them to develop self-confidence that they never would have had before."
In 2020 Patrick purchased a building remaining in the Fondren neighborhood for his business.
"It's a cool space where we offer lessons and have an outdoor space for live events."
What's next for Fondren Guitars?
Patrick said he anticipates continuing to provide service to customers and students while also giving up and coming musicians a place to perform their first gig.
"I remember for me how important it was to get that first gig," he said, "and we want to be able to provide that for someone else. We can let them come in and open for a band at one of our events."
He also plans to continue to contribute to the neighborhood.
"As a small business owner, it's cool to see the people you work with spend the money they made in your shop with other small businesses in the neighborhood," he said. "You can see that money go to the coffee shop, or the grocery store or any of the other business around the corner. It inspires me to continue to do business locally and it's encouraging to see how many other people want to do that as well."