Delta Streets Academy: Changing lives. Shaping lives.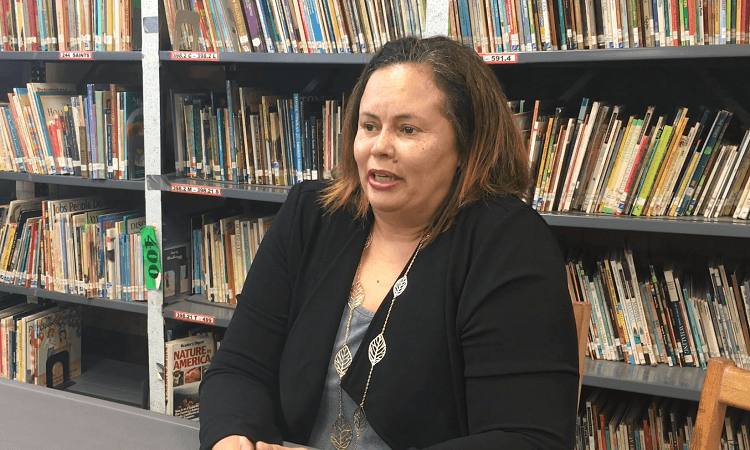 Six years ago this fall, Delta Streets Academy opened its doors for the first time to 14 young men in the 7th and 8th grades.
The school is housed at First Baptist Church in Greenwood. Its mission? To provide a well-rounded, high quality education to families in and around the city. A city whose district schools have struggled academically for some time.
And because the school is privately funded, families attend Delta Streets Academy for very little cost to them. Put simply, Delta Streets provides a school of choice for families who likely would not have one otherwise.
——————————————–
"When my boys were younger, I knew St. Francis would end at 6th grade and I always had to think about where they would go and what my choices would be?" Jackie Lewis, mother of two sophomores at Delta Streets said.
Jackie's twin boys, Braxton and Brandon, have been at Delta Streets Academy since 7th grade.
They previously attended St. Francis, a Catholic school in Greenwood, where Jackie is principal. But since St. Francis only serves grades K-6 she had to contemplate where her boys would go next. She didn't want the morals planted at home and at elementary school to be lost.
That is when she learned about Delta Streets and she hasn't looked back since.
Jackie loves not only the education her boys are receiving, but the environment in which they are learning.
——————————————–
Because Delta Streets is smaller, students don't get lost in the crowd. Teachers are able to work with students one-on-one.
After all, a one-size-fits-all approach does not work for every kid. Even Jackie's boys, who are twins, learn differently than one another, have their own goals, and have unique learning styles.
Jackie also loves the culture of discipline that is ingrained in students. Students are taught diligence, self-control, and the value of a strong work ethic. The school offers a program where students can get paid to work on a farm after school.
"They teach self-discipline," Jackie said. "You could be the best player on a team, but you'll be pulled if you have a discipline issue. Winning isn't the top priority, or the only priority."
But at its core, Delta Streets offers its students a Christ-centered education and a Biblical worldview.
Before Delta Streets was a school, it was a Christian after-school and summer program where young men learned the skills needed to live a life that honors God. That has not changed.
"They are faith-based and that is very important to me," Jackie said. "Not only do they teach the Bible, morals, and values but they ensure the students apply what they have learned. Because we took God out of schools, that is one of the reasons we have so many problems. And it's so unfortunate because there are children who don't get the opportunity to attend church on Sundays but at least you're getting something throughout the week."
——————————————–
Delta Streets is unique in many ways. That is very clear in their mission and their funding. Students attend the school for $75 a month for ten months. That doesn't even cover 10 percent of the actual cost of educating each student. Rather, the school is privately funded.
Through individual and foundation contributions, students are able to receive a high quality education in an environment that is helping them grow and flourish.
"It would be a hardship if it wasn't free," Jackie said. "But I would try my best to make it happen. Private schools are very, very expensive. It would be difficult. And I don't know what I would do, but I would try my best."
Over the past few years, we have seen other private schools launch to serve similar missions.
In Hattiesburg, United Christian Academy began as an outreach of United Christian Ministries, a ministry that serves low-income families and students in the area. A decade after the ministry began, the school was born. Similarly, Redeemer Church in Jackson launched The Redeemer's School in the fall of 2014 to offer a new option to neighborhood families.
Delta Streets, United Christian Academy, and Redeemer each have their differences. Delta Streets serves young men in grades 7-12. Redeemer serves younger students. United Christian Academy serves a wide range of ages while operating under the homeschool umbrella.
But for their differences, they have a similar mission: To provide a high quality education in a Christian setting to families who, in many cases, could not afford private school.
——————————————–
While each of these ministries is doing great work in its  community, we could open the doors to similar schools throughout the state.
"If we had school choice, we could have more schools like Delta Streets," Jackie added. "Parents should have the right to send their children where they think is the best fit. Who know a child better than their parents? Your child might do well in one place, and not in another place.
"As a parent I believe that I know my children better than anyone else, so I should be able to send them to a school of my choice."
For new schools to open and all parents to be able to choose the right schools for their children, the legislature would need to act and make those options available.
As for Jackie and her family, the future is bright.
"I see my boys going to college, graduating, and being successful," Jackie said. "I don't see anything else and I will do everything I can to push them in that direction."