Pauline Rogers Standing in the Gap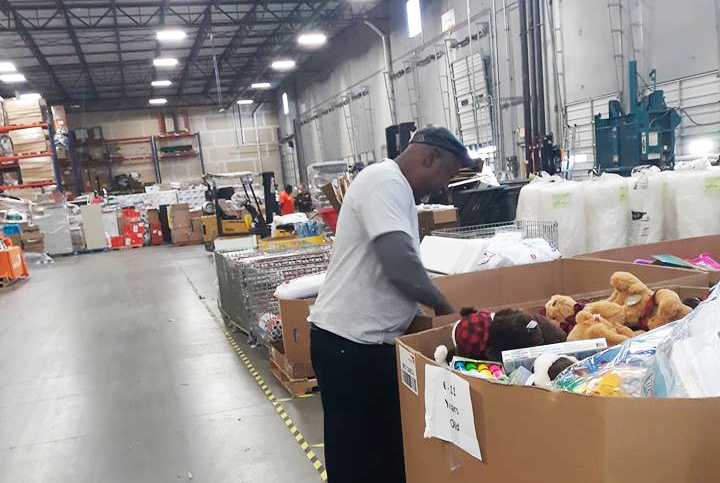 Broken is a series that highlights broken pieces of our criminal justice system, how they impact people, and how we can fix it.
Pauline Rogers is on a mission to help the children of those incarcerated in Mississippi, and she's enlisted a large army.  As a field representative with Prison Fellowship, Pauline works directly with families in the state to be the arms of those parents who are currently incarcerated.
It's an especially difficult job during the holiday season as families find themselves separated.  Rogers was among those who helped organize Angel Tree which is a ministry that ensures the children of those incarcerated receive not only a gift at Christmas but are nurtured and loved throughout the year.
A new report released by FWD.us in collaboration with Cornell University shows that nearly half of adults in the United States have an immediate family member that has been incarcerated.
"We are standing in the gap for these families," said Pauline of her mission.
Because incarceration imposes hardships not just on the individual in prison, but also their families, policymakers are reexamining when and how incarceration should be used.
Pauline first got involved through her church New Horizon International where she began volunteering to minister in prison – an all too familiar setting for her.
Pauline, once incarcerated herself, has made it her life's mission to help the families of those who are incarcerated.  The oldest of 11 children, Pauline witnessed her mother kill her father in self-defense.
"As a little girl all I knew was that I watched this person shoot that person and I was stuck in the middle.  I found myself being told afterward that it was my responsibility to help with my younger siblings," she said.
As a young girl struggling to help make ends meet, Pauline turned to shoplifting to help feed her siblings.  After continuing down this path, Pauline found herself as an adult with a six-year prison sentence.
Finding Her Purpose
Entering prison, Pauline had no idea what to expect.
"I was terrified," she said.  "All I knew about prison was what I had seen on television."
Sitting in the county jail, Pauline was introduced to Frank and Joyce Horton.  The Hortons were volunteers who entered the jail to minister to the inmates.
"Mr. Horton was one of the co-founders of The Reformed Theological Seminary," Pauline said.  "They stopped at the jail on their way to a Presbyterian meeting.  Mrs. Horton prayed over me, and I became a Christian at that point.  I used to slam the doors when volunteers would come in because I thought I knew all there was to know about church.  My grandmother was a Sunday School teacher and I knew church, but the Hortons were talking more than church and church attendance.  They were talking about a relationship with Him and giving Him your heart."
While she was incarcerated, Pauline surrendered her life and became a Christian.
"In prison I saw people just like me," she said.  "There's where the vision and passion came from.  I knew I had to do something.  I came from this background of being a helper and the helper always had to find a way to fix the problem.  I couldn't say that I came from a bad family.  We had needs and I thought we were the poorest of the poor, but I learned later that wasn't true.  We had a lot."
Pauline first encountered Wendy Hatcher early on in her sentence.
"Ms. Hatcher was the first female chaplain in the state of Mississippi.  She was a little short lady from England who had no reason to be in prison working that job other than God raised her up as a helper for a lot of us."
Pauline quickly caught Ms. Hatcher's eye.
"She picked me out of the inmates before I was classified to work for her," said Pauline.  "She mentored and groomed me while I was in prison.  She had me helping her."
With Pauline serving as the lead inmate on the project, Ms. Hatcher initiated the construction of a chapel at the Central Mississippi Correctional Facility so that inmates would have a place to worship.
"At the time we were sitting in the dining room on those steel benches, and you had to yield right of way for the next building to get fed because security and feeding the inmates was top priority – not a church service," Pauline said.
Pauline was granted approval by the Governor to travel around the state with Ms. Hatcher telling her story.  They used the money collected at the church services to help fund the construction of the chapel.
Looking back, Pauline recognized that Ms. Hatcher was grooming her.  Pauline was told by Joyce Horton early on that she could use her story to help others.
"She said, 'Pauline, you can do this,' and that's what I did when I got out of prison.  I kept it going," she said.  "I would go to different churches and speak.  She taught me how to keep it going doing shoeboxes and packing Ziplock bags filled with toiletries for the inmates."
Return to the Inside
Before her release Pauline understood the rule to be that no inmates would be allowed back inside the prison after their release.
"I got out on December 4, 1989, and became a volunteer on December 5," she smiled.  "I still have my ID badge.  I was able to go right back in and minister to inmates just like what I saw other churches doing and what Mrs. Horton used to do.  I started doing the same things I saw them do, and the more I did the more the Lord would speak to my heart."
As Pauline walked those dark hallways, this time outside the confines of those prison bars, she felt a yearning to help those incarcerated – not only those individuals but their entire families.
"I don't think people really understand the lifelong effects that are there when a child has a parent incarcerated," she said.  "The trauma that these kids go through because of the separation is awful, and we are creating another problem to fix the original problem.  The same goes when they put young offenders in jail with adults.  They are going to come out learning to do adult crimes."
Pauline said she tries to focus on respecting those with whom she comes in contact while volunteering in prison.
"There's no air conditioning in the facilities and it's like walking into a jungle.  There is madness all the way around, and it's about surviving in prison.  It strips someone of all humanity, and we are getting what we are creating.  You get animalistic behavior because you treat a person like an animal and you get the fragments that remain."
Desire to Help
Pauline and her husband have a desire to help those impacted by the prison system whether it's the children or those incarcerated, and that's why she got involved with Angel Tree.  Created in 1982 by a former inmate in Birmingham, AL, the program has helped countless children in the state of Mississippi.
"Our church got involved and we not only give them a gift at Christmas time, but we check in with them throughout the year," she said.  "We make sure they have the school supplies they need, we invite them to camp during the summer, and we offer help to keep them on the right path by plugging them in at the church and in the community."
This year Angel Tree has served over 1,200 children compared with 800 last year.
"They know we are serious about Angel Tree," Pauline said.  "We have gotten calls this year from people wanting to sponsor a child because they heard Miss Mississippi Asya Branch's story."
Branch, who is herself a child with an incarcerated parent, has made advocating for these families her platform.
The program provides a resource to children by giving them mentors in the community.
"It gives them greater self-esteem and it's good for our community.  It also gives our volunteers an opportunity to find value," Pauline said, "because a lot of them are ex-offenders.  Where they were once a liability to the community, now they are able to give back and have been transformed into an asset."
Angel Tree Volunteers
One Angel Tree volunteer served 32 years in prison and is now one of the charity's top volunteers.
"When he got out of prison, he didn't know what he was going to do," said Pauline.  "He went to a pawn shop and bought a lawn mower and he's been doing landscaping ever since.  He's had a successful job for many years and has decided to give back through Angel Tree and we are blessed by that."
Angel Tree has welcomed others who were formerly incarcerated.
"My husband did time with a guy and I did time with his wife," said Pauline.  "They've been married 34 years now and both were incarcerated.  They drive every year from Hattiesburg to help us with Angel Tree.  They've been doing that for seven years now because they believe in what we are doing helping these families."
Pauline believes that the volunteers recognize the value in their mission.
"We are real.  We're authentic.  We aren't just talking the talk," she said.  "We are concerned about what they are concerned about.  A mom and her children that she has been separated from are what's important to us."