Miss Mississippi Shines a Light on Criminal Justice Reform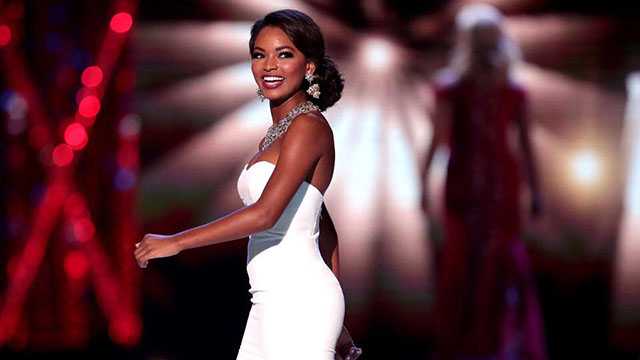 Miss Mississippi 2018 Asya Branch
Miss Mississippi 2018 Asya Branch is on a mission to raise awareness for children of Mississippians who are incarcerated – a group of which she became a member at the age of 10.
"I remember coming home from school and pulling into the driveway to see all of the government vehicles at our house," she said.
Asya and her brothers and sisters waited in the car while her mother entered the family home in Tupelo to speak with agents. As they searched the home, Asya anxiously watched through the car window not knowing what was happening. Although her father was not home at the time, agents eventually located and arrested him for kidnapping and armed robbery.
"That day our lives changed forever," she recalled. "We had a beautiful home and a great life."
Asya's mother worked as a teacher's assistant while her father had retired from the military. After her father's arrest things drastically changed for the family.
"My mom was doing all she could to make ends meet," said Asya. "We ended up moving because the bank foreclosed on our home and we had to live a much different life."
It was during those dark days that Asya learned how cruel people could be.
"People looked at us differently when they found out that my father was in prison," she said. "That was a critical stage in my life and it ended up changing me. I felt this overwhelming shame."
She closed herself off from her friends and learned to cope with her father's incarceration by keeping it quiet.
"I swept it under the rug. I learned to hold my head up and be strong and not talk about it," she said. "I did that for eight years and it was very hard. There were no social workers or people to help us get through that time."
It wasn't until a pageant interview that she discovered her experience would become her platform. She found herself in the interview for a local pageant title discussing her then platform of blood donation with the judges.
"I had always talked about my father in pageant interviews," she explained. "It was just something that I would put out there."
While Asya told the story of her family's struggle the opportunity presented itself.
"That should be your platform," the judge said.
"I was very surprised by that," she said. "I realized there were 50,000 kids living in the same circumstances as me. This was an opportunity for me to be a mentor and a motivator and do away with the family sentence that is handed down when someone goes to prison."
Asya has visited many classrooms around the state speaking to students.
"I try to stress that we are not all perfect and that the actions of our parents or guardians do not define our future," she said. "I think they understand that because they see the success that I have had. I have tried to explain the importance of good education and good behavior because with those two things they are less likely to end up in the criminal justice system."
What does Asya's father think of the work she's doing?
"He loves the fact that I'm helping others," she said, "and that I'm using my story for good."
She and her father communicate via letters and pictures. The pair recently had their first in-person visit in three years.
"It was emotional," she said. "We talked for a few hours and it was sort of a release. It calmed some of my worries to see him and know that he is doing well. He's leading a prayer group behind bars and working to do positive things."
What does Asya want others to know about families of those incarcerated?
"Our family members are not monsters," she said. "People make mistakes every single day. Some are worse than others. Some got caught and some got away with it."
Having seen the devastating impact that incarceration can have on a family firsthand, Asya joins a growing group of Mississippians supporting common-sense criminal justice reforms.
"I believe that we do need changes made in our criminal justice system. There should be alternative options for different crimes. We need a more understanding view.
Asya hopes that by sharing her story she can encourage other children with incarcerated parents to rise above the shame and stigma, and that supporting reforms will help keep more Mississippi families intact.