Mississippi's Crime Rate is Down
Crime in Mississippi is down.
In their annual report released this week, the FBI noted that the crime rate across the country continued in a multi-year decline, and Mississippi was no exception. The report shows that in Mississippi from 2017 to 2018, rates of violent crime decreased by 8%, while property crime decreased 13%.
The crime rate is calculated based on the number of crimes reported and the state's population. The reports are divided into violent crimes and property crimes. Mississippi experienced declines in each type of property crime, including burglary, larceny, and motor vehicle theft. Violent crimes decreased in each category except aggravated assault, in which twelve more cases were reported. However, larger declines in murder, rape, and robbery led to an overall decrease in violent crime. The data also shows that Mississippi's violent crime rate is lower than the national average, while property crimes are slightly higher than averages from other states.
This decline has happened while the federal government is implementing the First Step Act, a criminal justice reform bill aimed at decreasing the federal prison population. The new data supports research showing that it is possible to decrease both crime and incarceration at the same time. These findings have led to a host of states pursuing criminal justice reforms to reduce prison populations.
While this decline in crime should be noted and celebrated, it's important to remember that this is part of an overall trend of declining crime rates since their peak in the 1990s.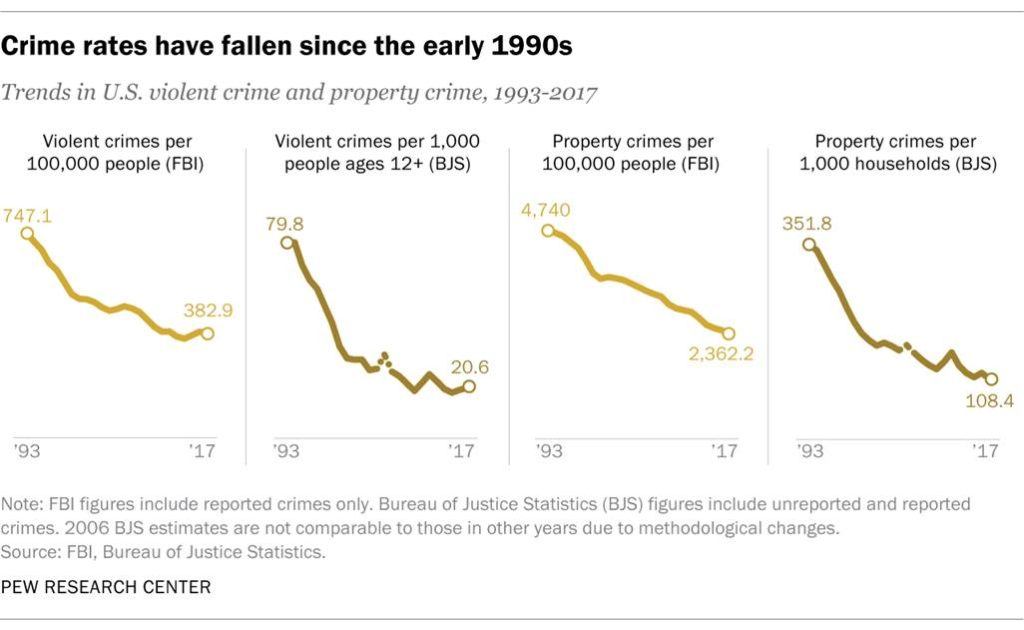 Source: Pew Research Center
While rates of specific crimes might be higher in certain metropolitan areas like Jackson, these can be localized problems that require localized solutions. And while the rate may fluctuate slightly from year to year, it's clear that the overall trend reflects a decrease in crime and an improvement in public safety.
Recent criminal justice reforms in Mississippi have aimed to decrease the state's notoriously high prison population while protecting public safety, and the new crime data point to the fact that this is working. In 2019, the legislature passed a criminal justice reform bill aimed at removing barriers to work for Mississippians re-entering the labor force. Despite these positive reforms, Mississippi remains the third most incarcerated state in the country.
Advocates and policymakers are continuing to explore reforms that can further reduce the prison population and protect public safety, including eliminating the state's overly broad three-strikes law, which can subject people with low-level offenses to long mandatory minimum sentences.
This news should encourage Mississippians and policymakers that public safety is improving, and future reforms can build on these successes.