Save Our ESA: "We will do what we have to do for our daughter"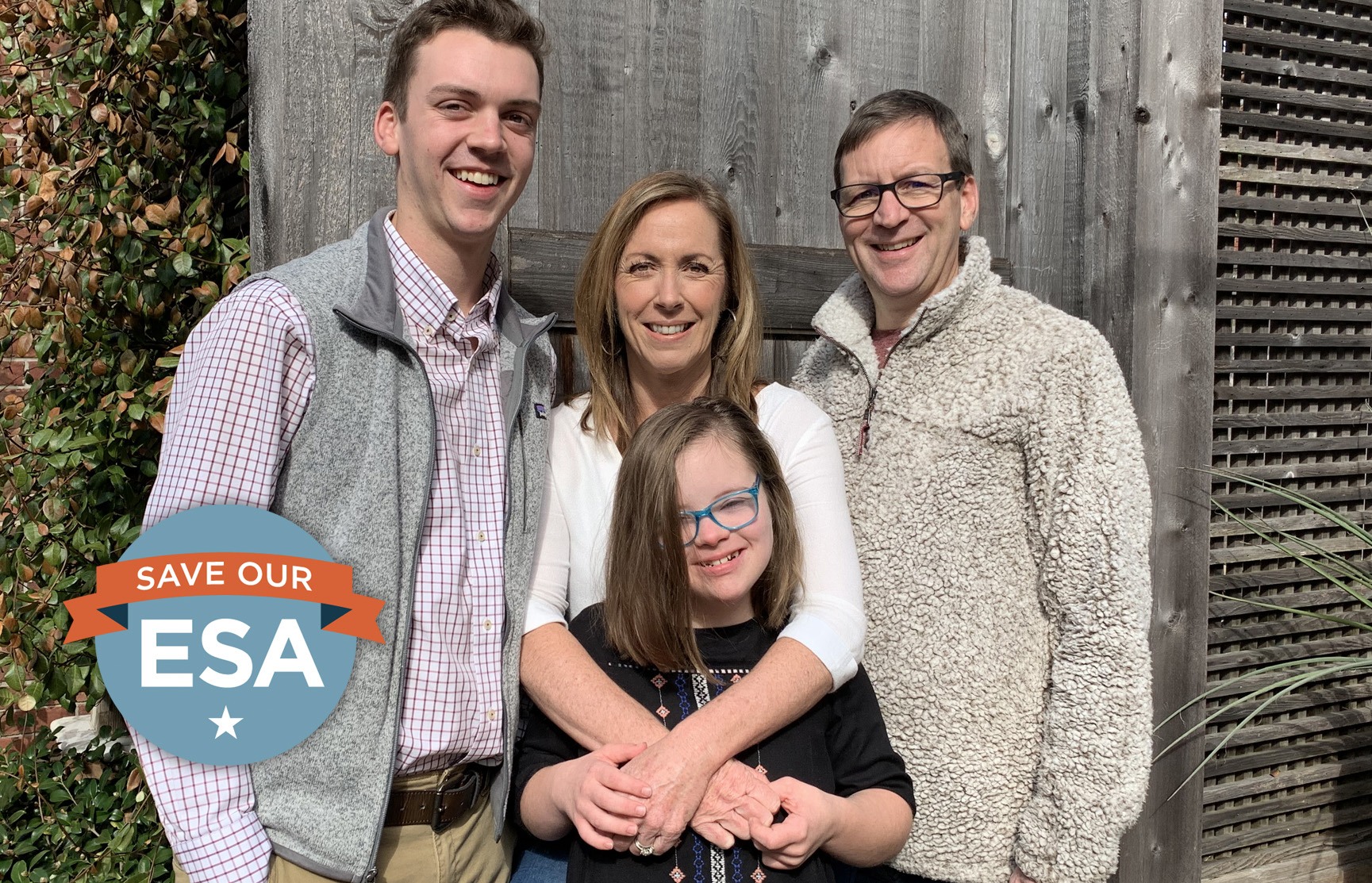 "About 85 percent of parents of kids with special needs end up in divorce. It's a constant stress on a family, and they don't need the additional financial stress. They need this ESA so they can sleep at night, work their jobs, and not worry about how they are going to provide for their child's education."
A happy, loving, thriving child. That's how JoEllen Talley's parents would describe their 12-year-old daughter, and that happiness comes, in part, due to the fact that she is in an educational setting that works best for her specific needs.
When JoEllen was born, Allison and Andy Talley of Ridgeland immediately faced a reality that they had not even considered.
"After she was born, the doctor came in and said she had Down Syndrome which completely shocked us because we had been monitored the whole time because of my age and there were no issues," said Allison.
Allison and Andy immediately took a few moments to themselves in that hospital room. They prayed and discussed what JoEllen's life might look like.
"The two things we knew from that very first day in the hospital that would have a huge impact on her life were parenting and education," Allison said. "We agreed we would do whatever we could do as parents to make sure she was loved and taken care of at home, and we knew we had to do everything we could to ensure that she got an education."
Allison said she quickly recalled a classmate from high school who had cerebral palsy.
"I was in a small private school in Madison County out in the middle of nowhere, and I watched that small, local private school cater a program to that child. He graduated from high school and went on to college and received a college degree," Allison said. "That had a huge impact on my life to know that it can be done, but I saw that it had to be done non-traditionally."
Customizing JoEllen's Education
When JoEllen turned three, Allison called Jackson Academy (JA) where the couple's older son Philip attended school and asked if she could try the school for her daughter. The Talleys enrolled JoEllen in the school's pre-K program. The school embraced the opportunity and JoEllen excelled.
"The other kids loved her and at the end of the year she had learned everything they had learned," Allison noted.
The next year JoEllen went to school for two weeks and it was determined that the setting wasn't working.
"Every year is different," Allison said. "Not only is every child different and every school different, but every year in the developmental cycle is different. Four-year-old kindergarten just didn't work. It was too difficult for her."
The Talleys pulled JoEllen from JA and enrolled her at another private school. JoEllen was placed in a classroom with 12 total students.
"It was a beautiful situation and she did the exact same thing there that she did in pre-K. We immediately knew that the small classroom setting was a trend that was taking place with our child," Allison said.
JoEllen did well throughout the year and as the next year was approaching, Allison received a call from the principal telling her that they were not going to take JoEllen for the new school year.
"They said she was special education and they didn't want the liability," said Allison. "That completely threw us off and upset us, but we didn't fight it because we knew we could do the same thing with small classrooms somewhere else. We decided we would just figure out something else."
Finding a Specialized Environment
That's when the Talleys visited St. Richard Catholic School.
"We had visited the school when JoEllen was a baby," Allison said, "but it didn't feel right at the time."
Desperate to find a school for their daughter, they returned to St. Richard.
"We fell in love with it that day and enrolled her. We paid the full tuition and were happy to do it. When you're happy with something you'll do whatever to make it work. I picked up some extra work and Andy (a nurse) picked up an extra shift. We just made it work because the same model was there in that small classroom."
While JoEllen was at St. Richard, the state legislature enacted the Education Scholarship Account (ESA) program which is designed to give parents of students with special needs the ability to direct their state tax dollars to the educational setting that works best. Allison learned of the program from a friend who worked for the Mississippi House of Representatives.
"She sent me all the information and we applied and got the ESA," Allison said. "It allows us, from a financial perspective, to be able to do extra things for JoEllen because tuition is expensive. We are able to give her the resources she needs. If I need to send a tutor for her and pay for that, we can do it."
JoEllen, now in the sixth grade, has found a family at her school. She's a cheerleader, plays basketball, and is beloved by her fellow students.
"They are very intentional about keeping her in the classroom," said Allison. "It's harder for her, but they have two certified special education teachers. It's a mainstream situation that they can manage because the classes are so small. JoEllen doesn't communicate really well verbally, but she is able to communicate in other ways, and they know that."
Concern for JoEllen's Future
As the Talleys look ahead to seventh grade they know there are decisions to be made. St. Richard serves students only through sixth grade.
"We toured the school where she would have to go after sixth grade in Ridgeland," said Allison. We walked in and saw hundreds of kids. There were more kids in the seventh grade than there were in JoEllen's entire school at St. Richard."
As a parent, Allison feared her daughter could be easily abused in that setting.
"Kids like JoEllen are so loving and trusting, and they don't fear anything," Allison said. "I was willing to hire someone to go to school with her every day if that's where we ended up. It's expensive, but I would do it. You do what you have to do as parents."
The Talleys saw two special education classrooms at the school – one for mild disabilities and the other for students with profound disabilities.
"We left there knowing that they were going to try to stick her in that classroom with those profoundly disabled students, and she didn't need to be in there. Most of those students had medical needs, and JoEllen does not have that," Allison said. "I knew that's where they were going to stick her because the school was so large, and nobody was going to be able to take the kind of time out with her that we know she deserves."
Allison left the school ready to search for another option and found it at St. Joseph Catholic School. JoEllen was accepted at St. Joseph and will begin seventh grade next year.
Fear of a Future without an ESA
"They have a program at St. Joseph that is administered by a former Madison County special education teacher, and we were so thankful to find out that JoEllen was accepted. It's a small program, small classroom, and just what she needs," said Allison.
As they prepare for JoEllen's future, Allison and Andy are concerned about the possibility that the state's ESA program could end without action from the legislature to save the program. The popular program, which began in 2015 as a five-year pilot program, will expire on June 30, 2020, unless legislators extend it. So far, legislative efforts to keep the ESA program in place beyond 2020 have failed, leaving parents in the dark about their children's futures.
"It would be a terrible blow if the program died," said Allison. "It would put us in a more difficult situation financially, but, more important than that, it would probably put people back in public schools that shouldn't be there. Their needs are too great to be in a classroom that's non-attentive to them. It's more important that this program continue for all special needs families in Mississippi. About 85 percent of parents of kids with special needs end up in divorce. It's a constant stress on a family, and they don't need the additional financial stress. They need this ESA so they can sleep at night, work their jobs, and not worry about how they are going to provide for their child's education."
Allison's message to legislators as they consider the future of the ESA program?
"Do you have a child with special needs? Have you ever been a parent and experienced the stress of wondering what happens to your child who cannot verbally communicate when you're not around? Who is their voice? Who is their advocate? Put yourself in that situation. Would you send your kid to a school with 1,000 people in it?
"I think the answer would be, 'No.'"
Click here to sign the petition to #SaveOurESA.