Save Our ESA: Jalyn finds a home and an education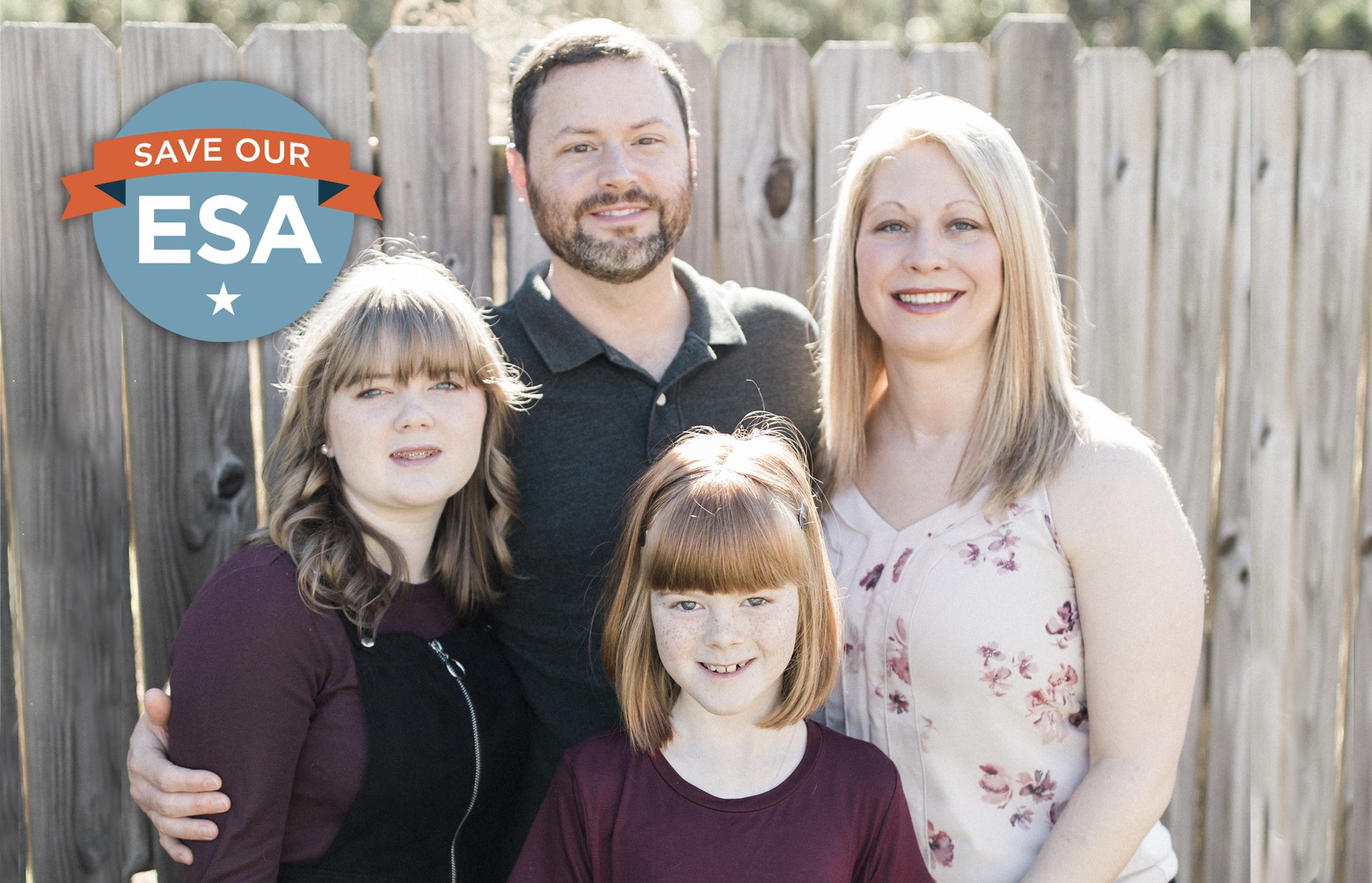 "We overwhelmingly felt like somebody had to fight for these kids. Even though we didn't know them and didn't have an attachment to them, we felt like everyone needs someone in their corner."
A voice for the voiceless.
John and Ashley Wells of D'Iberville embarked upon that mission when the couple began discussing adoption.
"Ever since I was a little girl I've wanted to adopt," said Ashley. "It's been a constant conversation in our marriage. I've always felt like I wanted to take the children that people didn't want."
That's exactly the situation in which they found themselves in 2014 when they were approached by a child advocate friend of theirs who had two little girls in desperate need of a loving home. At the time, John and Ashley had been through the application process and were moving forward with preparations for adoption.
"She called to tell me about an emergency situation involving these kids who had no viable family options," said Ashley. "They had been placed in an emergency shelter because of neglect and abuse and they needed a foster home with potential to adopt within 30 days."
John and Ashley learned that one of the girls had a developmental delay due to brain damage from encephalitis and would need special attention. The couple discussed the possibility of adopting the sisters.
"We overwhelmingly felt like somebody had to fight for these kids," said Ashley. "Even though we didn't know them and didn't have an attachment to them, we felt like everyone needs someone in their corner."
Jalyn and Macayla's journey
John and Ashley adopted the two sisters, when Macayla was nearly 14 and Jalyn was nearly 7. Macayla was malnourished and behind on shots, but determined that she and her sister would be together and survive. Jalyn, however, had more serious medical issues. As an infant she developed HSV encephalitis, a viral infection that enters the brain and causes destruction of tissue, brain swelling, and permanent damage. The virus was treated but left her with destruction of the left temporal lobe of the brain.
At the time of the girls' adoption, they had already experienced much trauma in their young lives. The girls were living with Jalyn's biological father and had been victims of neglect.
"Jalyn got sick at 18 months old and went through an extensive amount of physical therapy to learn how to walk again. She was profoundly disabled for a period of time just like you'd be if you had suffered a stroke," Ashley said. "When Jalyn was two, their mother died of a drug overdose, so they lived with her dad, Macayla's step-dad. It's a little patchy at that point, but we know they hopped around and Macayla moved schools seven times. The girls were taken from him a couple of times when they were in Mississippi and Florida. He was constantly running from the law."
Macayla was left to care for her younger, disabled sister.
"There was never food in the house so when Macayla would come home from school she would lock Jalyn in her room, scrounge up some change, and walk to the corner store to buy them something to eat," said Ashley. "He wanted them there for Jalyn's social security and disability checks, but they were never cared for. He was strung out on drugs and on at least two occasions, Macayla called an ambulance when she got home from school and saved his life. There were times that Macayla would get home and Jalyn would be on the floor playing with whatever pills he had."
The girls were removed from the home by the State of Mississippi, and they had only been in John and Ashley's care for two weeks when they received word that Jalyn's father had died of a drug overdose.
Providing a home and an education
John and Ashley worked tirelessly to provide medical care, education, and most importantly a loving, safe environment for Macayla and Jalyn. The girls found hope and healing in their new home on the gulf coast.
A priority for Jalyn was to get her the care and education she needed.
"When she came to us (at age 5), she couldn't count to three," said John. "We had a lot of work to do."
The couple recognized that Jalyn would not be able to keep up in a public school classroom.
"Macayla was going to D'Iberville Middle School at that time and there were hundreds of kids in her grade," said John. "We knew that if Jalyn went to the elementary school that was assigned to us, she would never get the attention she needed. She needed a tough hand and a ton of structure, and we needed a teacher who would keep us involved in what was going on day-to-day. I don't think you can get that in a school of 700 kids. That's why we decided we needed another setting for Jalyn."
After paying out-of-pocket to send Jalyn to Cedar Lake Christian Academy in Biloxi, John and Ashley learned about the state's Special Needs Education Scholarship Account (ESA), which gives parents of students accepted into the program the ability to direct state tax dollars allocated for their child's education to the school and services that best fits their needs.
"That was in 2016, and we applied for the ESA and got it," said Ashley.
Cedar Lake Christian Academy's small classrooms, involved teachers, and specialized curriculum have been the keys to Jalyn's progress.
"It's still a struggle each day for her," said John. "Jalyn works hard. She puts in a full day at school and then comes home and works with Ashley at the table often until bedtime. She would not survive in public school. She would never survive the curriculum that is required for all students to complete. She has to have someone who knows her and understands her disabilities."
While they've found the right setting for both of their girls, it so happens that it's not at the same school. Macayla is attending St. Patrick Catholic High School in Biloxi.
"You have to realize that if you have two children, they might have to go to two schools because each one has different needs. You might have to really bend yourselves to make it fit. The school she is in right now is the best fit for now, but next year it might not be. Jalyn needs flexibility. The problem with public school is it's one way or you don't learn it. There's no deviation. There's no thought pattern outside of 'This is what the state requires., this is the test we are teaching for, and this is how you do things,'" Ashley said.
The ESA means progress
Now in the fourth grade, Jalyn has experienced incredible growth in her education.
"The ESA has allowed us to afford additional curriculum that we use at home with Jalyn. We have also been able to provide a special education tutor who comes every Saturday for two hours," said Ashley, "and we've been able to have a tutor through the summer to provide a continuum."
"Jalyn doesn't get summers off like other kids because it takes a lot longer for things to be embedded," said John, "so if she got three months off, everything she learned the previous year would be gone."
John and Ashley have been amazed at her progress.
"We weren't sure she would be able to count, and now she's doing math. It's still really tough, and she has to work really hard, but she's doing it," said John.
"We were fairly certain she wouldn't read because of her injury," said Ashley, "and now she's reading on a second-grade level. She's working very hard."
Save Our ESA
One thing Ashley and John know without a doubt is that they have the freedom to find the best setting for Jalyn thanks to her Education Scholarship Account, and they want to see the program continue. It was created by the state legislature as a five-year pilot program in 2015, and there are hundreds of families like theirs using the ESA with hundreds more on the wait list. Parents report a significant increase in satisfaction with their child's education after receiving an ESA. However, the program will expire on June 30, 2020, unless legislators extend it. So far, legislative efforts to keep the ESA program in place beyond 2020 have failed, leaving parents in the dark about their children's futures.
"It would be imprudent and show a lack of good judgment for lawmakers to take this program away," said John. "The money spent on this program would make absolutely no difference when spread among all the school systems in Mississippi because it would be such a small amount, but for special needs kids like Jalyn it's making a huge difference."
Click here to sign the petition to #SaveOurESA.