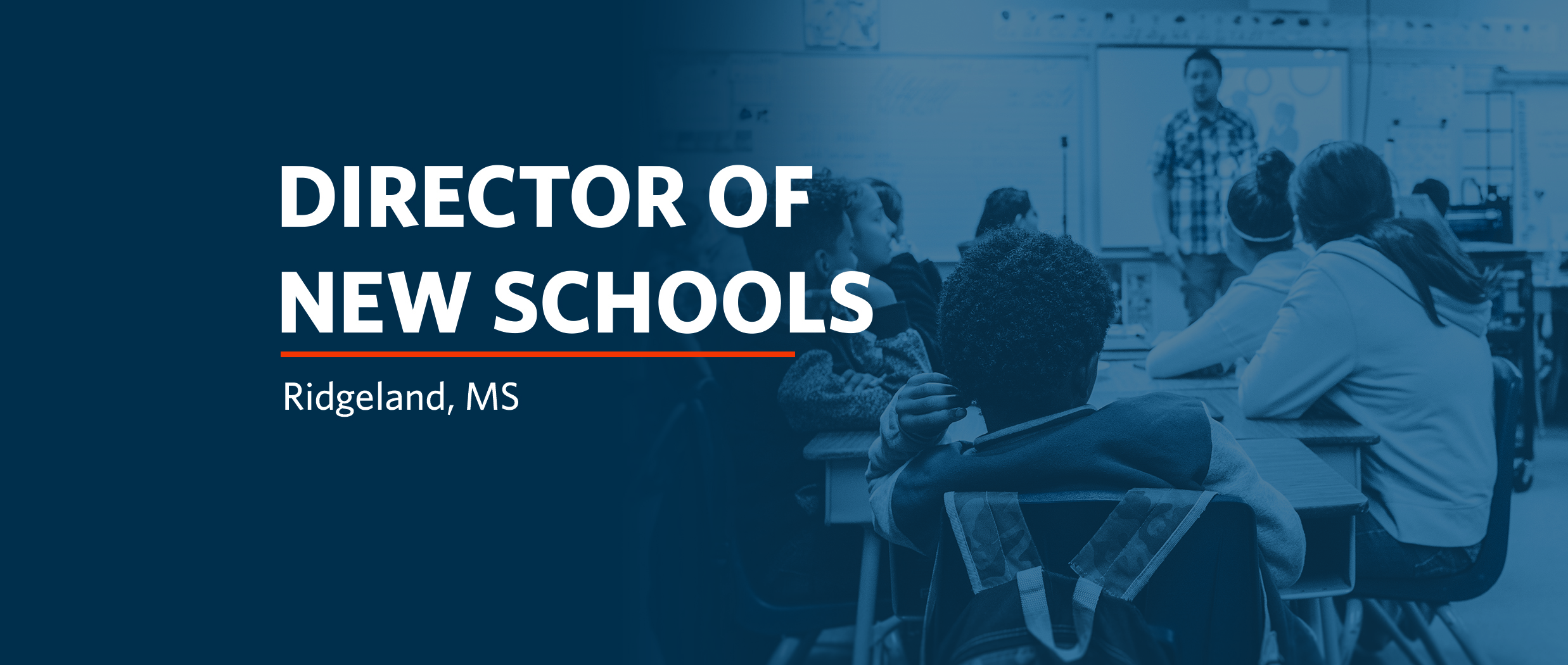 Director of New Schools
Empower Mississippi Foundation
Ridgeland, Ms or Virtual Office
https://talentmarket.org/dnsem/
About Empower Mississippi:
Founded in 2014, Empower Mississippi Foundation is a 501(c)(3) nonprofit organization located in Ridgeland, Mississippi, and is affiliated with Empower Mississippi, 501(c)(4). Our mission is to help every Mississippian rise by removing barriers to opportunity. We focus our work on three areas that impact the lives of Mississippians: education, work, and justice.
About the New Schools Initiative:
From our founding, Empower has worked to expand educational opportunity in Mississippi by partnering with stakeholders to lobby the state legislature to establish school choice programs and improve education options. Our efforts have produced some notable victories, but the road to legislative change is long and tortuous. Mississippi was late to the charter school game but passed enabling legislation in 2013. Since then, we have averaged one new charter school approved per year. In 2019, sixteen entities applied to start a charter school, and only one made it all the way through the process. Our charter school authorizing board would like to approve more schools, but the applicants have not been able to put strong proposals before the board. As we considered other ways to increase quality education options in late 2020, the New Schools Initiative was born.
The initiative's goal is to identify the greatest school needs and challenges in the state and partner with communities and individuals to open new schools – private or charter, small or large, traditional or non-traditional – by coming alongside them to identify what type of school to open, to assess demand, to confront challenges, and to provide advice and support until the school doors are open.
No individual or organization plays this role currently with regard to homegrown efforts to open schools. The academic, staffing, operational, and fundraising challenges associated with starting a school can make the prospect daunting. With a partnership model, the initiative seeks to strategically improve the state's education landscape by identifying communities of need and aiding those ready and willing to provide quality education options to Mississippi students.
About the Director opening:
Many states have a charter school association or a "harbormaster" organization to shepherd promising education entrepreneurs through the process of starting a school, but Mississippi has neither. Sixteen charter school applicants in a single year tells us the demand is there, but the support is missing. The Director of New Schools will fill this need and provide the support. The new hire must be based in Mississippi and remote work outside of the state is not available.
The Director will focus on achieving five goals:
Generate interest in starting new schools: Meet with parents and community leaders — especially in regions of the state that lack strong education options — to cultivate interest and investment in starting new schools; and encourage national operators to consider opening schools in Mississippi
Create a new schools toolkit: Sometimes people want to start a school but do not even know whether they are interested in a charter school, private school, small school, or specially themed school. This toolkit would help guide interested parties toward the best model of school to accomplish their goals
Identify the most promising school leaders: We would create a checklist of requirements for starting a school to evaluate new school ideas and invest time and resources into the most promising plans
Develop partnerships with investors: Often, struggling to raise start-up capital or find funding for a facility are the reasons a great school idea never comes to fruition. But we know there are funders—inside and outside of the state—who are interested in investing in school start-ups, so we aim to be a connector between these two parties
Coach the school leaders from idea to doors open: Provide processes and expertise to enable schools to open their doors by helping leaders gauge demand and assess need, identify challenges and solutions, find necessary training and support, and develop a plan to successfully apply or address other requirements
Responsibilities:
The Director of New Schools will establish the New Schools Initiative and work to increase the number of new schools in Mississippi, particularly in areas with fewer education options. They will be a knowledgeable guide and partner for individuals and communities interested in starting schools with the expertise to offer or help find solutions. They will:
Conduct outreach to communities of need and promote the creation of new schools
Develop processes, priorities, and annual goals for the initiative
Track progress toward goals
Identify individuals interested in starting schools and aid them in gauging demand, assessing challenges and opportunities, finding necessary training and support, and developing a plan to successfully open
Maintain relationships with state and national education partners
Be a connector between those who want to start schools and potential investors in school startups
Identify additional opportunities and areas of research or need
Qualifications:
5+ years in education policy and/or practice
Experience in new schools preferred
Strong research, analysis, written, and oral communication skills
Relationship Building: The ability to invest (not just transactionally) in relationships to achieve shared goals
Strategic Thinking: The ability to analyze the current state of affairs and chart a course to execute components of a strategic plan
Problem Solving: The ability to define a problem, generate alternatives, evaluate and select alternatives, and implement a solution
Initiative: The ability to identify what needs to be done and do it
Adaptability: The ability to adjust duties and expectations with new information and as the situation demands
Effective Communication: The ability to comfortably use a broad range of communication styles and choose appropriate, effective ways to communicate to audiences in diverse situations
Collaboration: The ability to work in an advisory role and partner with individuals to accomplish a goal
How To Apply:
Qualified candidates should submit the following application materials in one PDF document:
Résumé
Cover letter detailing the reasons why you are a strong candidate for this position, your interest in Empower Mississippi's mission, and salary requirements
Applications should be submitted to Talent Market via this link:
https://talentmarket.org/candidates/apply-for-your-dream-job/
Questions can be directed to Katelynn Barbosa, Talent Engagement Manager at Talent Market, who is assisting with the search: katelynn@talentmarket.org.
Only direct applications will be considered. No phone calls, please.
Talent Market is a nonprofit entity dedicated to promoting liberty by helping free market nonprofits identify talent for critical roles. We provide free consulting and recruiting services to free-market think tanks, policy organizations, research centers, and capacity-building institutions dedicated to advancing the principles of limited government and free enterprise.