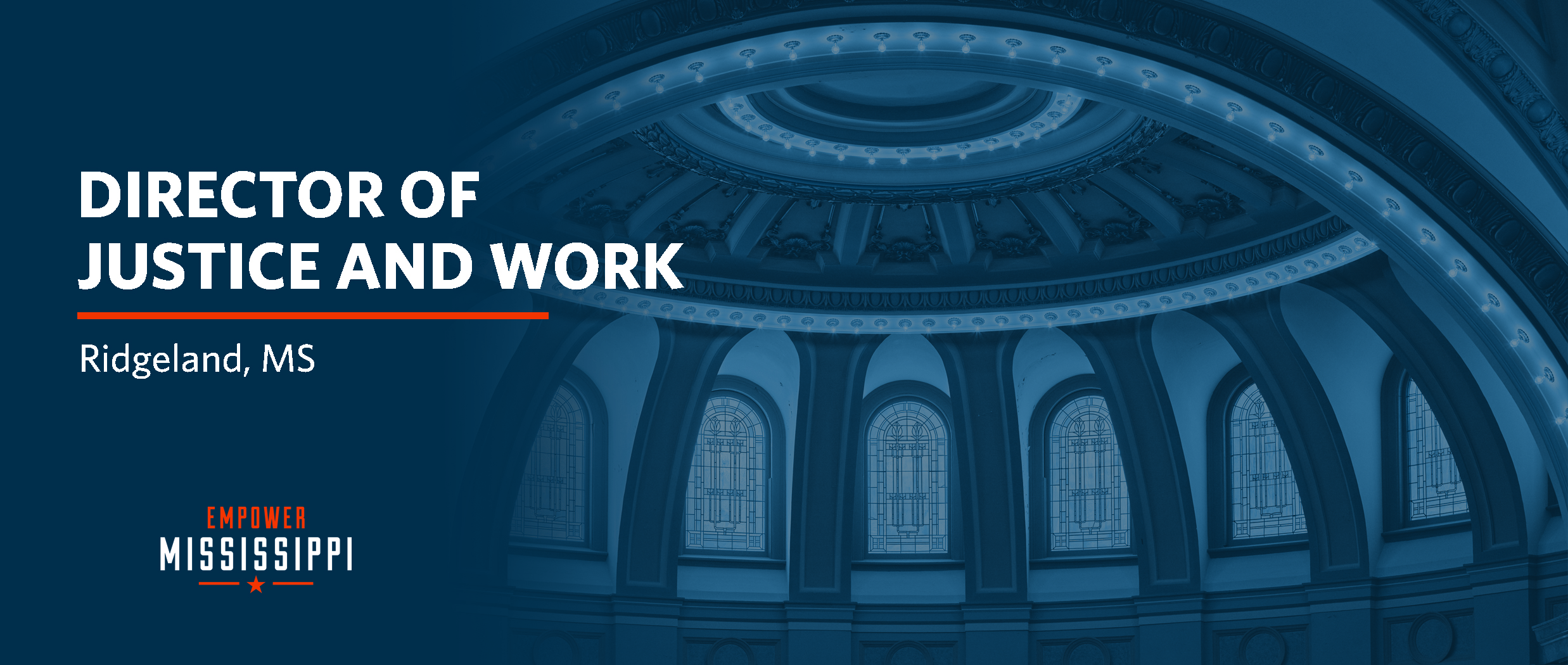 Position: Director of Justice and Work
Office located in Ridgeland, MS
Organization
Empower Mississippi is a 501(c)(4) nonprofit organization and is affiliated with Empower Mississippi Foundation, 501(c)(3). Our mission is to help every Mississippian rise by removing barriers to opportunity in education, employment, and our justice system. We are action oriented and work to educate and engage citizens.
In the last few years, tremendous strides have been made in Mississippi to both expand job opportunities and address our broken criminal justice system.  Leaders have pushed for regulatory reforms, such as occupational licensing protocols built on free market principles, to create a more fertile environment for would-be entrepreneurs and Mississippi businesses.  Leaders have also worked to implement new policies to help released offenders re-enter their communities.  Despite the progress experienced on both fronts, Mississippi remains one of the heaviest regulated states in the South and suffers from significant pre-trial process deficiencies, a complex web of sentencing laws that creates inequity, the second highest incarceration rate in the country, and reticence to push new reforms that would help to rehabilitate and restore offenders.
Only two years after taking on employability and justice initiatives, Empower Mississippi has distinguished itself as Mississippi's most effective advocate for reforms in these spaces. This year, we worked on legislation, signed into law, to strengthen the Occupational Licensing Review Board Act—a bill that allows for review of both prospective and existing regulations against a "least restrictive" regulation framework, and we pushed two bills to reform our parole system and provide a path for record expungement.  The latter bills passed the legislature but were unfortunately vetoed by the Governor.  For Mississippians to rise, we believe that we must continue to find ways to adapt and address these pressing issues.
Job Description
The Director of Justice and Work will help design and ensure implementation of a strategy to advance our mission. They will help shape and execute the policy and implement components of the strategic plan, including:
Research of employment and criminal justice issues
Collect, analyze, and interpret relevant data
Write blog posts, op-eds, and other communications
Track and review legislative proposals
Assist in legislative bill drafting
Lobby for Empower agenda items
Coordinate advancement of annual policy agenda, including government affairs work
Oversee implementation of issue strategies
Manage outside contractors
Identify areas that need additional research
Core Competencies of the Ideal Candidate
Relationship Building: The ability to invest (not just transactionally) in relationships to achieve shared goals.
Strategic Thinking: The ability to analyze the organization's current position and chart a course to execute components of strategic plan.
Analytical Thinking: The ability to tackle a problem by using a logical, systematic, sequential approach.
Problem Solving: The ability to define a problem, generate alternatives, evaluate and select alternatives, and implement a solution.
High Velocity of Work: The ability to work quickly, manage multiple projects, determine project urgency in a meaningful and practical way, and organize and schedule people and tasks.
Initiative: The ability to identify what needs to be done and do it before being asked or before the situation requires it.
Effective Communication: The ability to comfortably use a broad range of communication styles and choose appropriate, effective ways to communicate to audiences in diverse situations.
 The Ideal Candidate Will Have
Strong leadership, organizational, and managerial skills
Excellent research, analysis, writing, and oral communication skills
3+ years of experience in public policy, with strong preference for expertise in issue areas
Experience in the policymaking process/government affairs.
To Apply
Qualified candidates should submit the following in one PDF document to Gina Metzger at gina@empowerms.org:
Résumé
Cover letter detailing your sincere interest in this position/mission of the organization and your salary requirements
While we thank all applicants in advance for their interest in this position, we are only able to contact those to whom we can offer an interview. No phone calls, please.