"We Knew We Had To Do Something"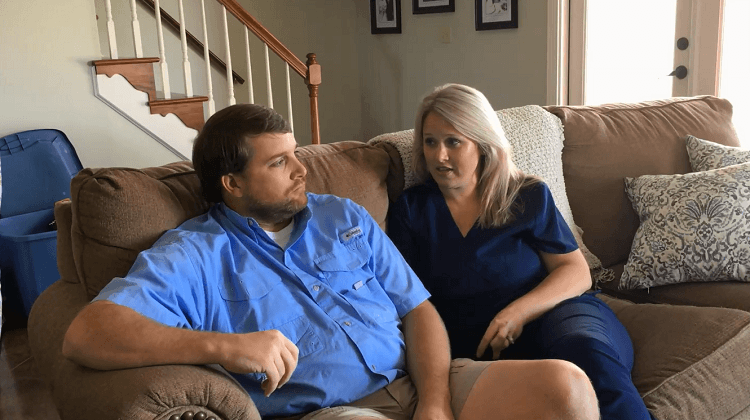 As you approach Bolivar County, driving past the fields that produce cotton, soybeans, rice, corn, and catfish, you enter the city of Cleveland, a college town that doesn't really feel like a college town.
Cleveland is in the heart of the Mississippi Delta, a region that introduced America to blues music and served as a focal point of the Civil Rights movement a half-century or so ago. But for many, the region is known for one thing: poverty.
And while there is certainly poverty in Cleveland, it seems like it's doing better than its neighbors. The downtown area is booming with live music, boutique shops, and local restaurants. When you visit a dying area, you can usually tell you are in a dying area. That isn't Cleveland.
Cleveland also stands out as the one city in the Delta where the public schools are considered a strength rather than a weakness. That is one of the reasons Blake and Leah Ferretti settled in Cleveland. They assumed their children would attend the local public school, would receive a good education, and would be prepared for success in life.
But life isn't always as easy as you plan, especially when you are a parent.
When their oldest child Thomas was four, it was recommended that he wait a year until beginning kindergarten but Blake and Leah opted not to hold him back. After kindergarten, the district again, recommended retaining Thomas, and Blake and Leah honored the recommendation. At this point Leah, who is a teacher, noticed something was not right. It was not that he needed another year to proceed, but that he might have a learning disability and need specialized attention.
More time was not the answer.
The Ferrettis took Thomas to Hattiesburg to be tested. It turned out he had dyslexia. The recommendation was Orton-Gillingham based therapy three to five days a week, which would be a change for the Ferrettis. But they would take the diagnosis to the district and he would get the services he needed.
Or so they thought.
Going Back To School
"We received no response from the school district," Leah said. "We just assumed the district would provide the services and move on, but we were told they did not have therapy for students with dyslexia. The district was doing nothing for the kids with dyslexia."
So the Ferrettis hired an attorney. But the back and forth was taking too much time while Thomas' future just stood still, and they had already lost one precious year.
Knowing the local public schools were not a viable option for their family, they had to make a decision. When they could not find services nearby, they contemplated Leah and Thomas moving to Petal to attend the 3-D School. It is not unheard of for families to temporarily break up so their children could attend the 3-D School, but this was not something they wanted to do. So Leah went back to school and enrolled in the Master's of Education in Dyslexia Therapy program at Mississippi College.
"I never planned on becoming a dyslexia therapist; I just became one by default," Leah said. "We always planned on sending our children to public school, but we knew we had to do something and we didn't have another choice. But God works in crazy ways and this was part of His plan."
Today, Thomas and their middle child, Henry, who has also been diagnosed with dyslexia, are enrolled at Bayou Academy. While Bayou didn't – and still does not – have a formal dyslexia therapy program, they opened their doors to Leah, and she comes in in the afternoon to provide therapy for her children and other kids in the school.
"Life-changing"
The difference between a couple years ago and today has been life-changing for Thomas and the entire family.
"When Thomas was five he would often complain that his stomach hurt or say that he felt ill," Blake said. "That was because he knew he was going into a battlefield. He would come home mad at the world and no one understood him and he didn't understand why. Today, he's in a smaller classroom getting the individualized education he needs and the extra time he needs to be successful. He comes home happy. He loves school. He's not beaten down. He's only eight years old and an eight-year-old should not have a negative connotation with his school."
"It is very neat that we have this relationship and I can understand more of what he is living with on a day-to-day basis," Leah added.
When asked to speculate on what life for Thomas, and their entire family, would be like if they remained in public school, Blake and Leah just shook their heads as if it was something they simply could not think about. Phrases like "he'd be done" or "he'd give up" were commonly used to think about that situation.
While the Ferrettis are thankful for the choices they had, this has been a sacrifice for the family.
"We are paying for private school tuition out-of-pocket, we're paying for speech therapy out-of-pocket, we are paying for my tuition at MC to provide dyslexia therapy out-of-pocket," Leah said. "If we were able to receive the ESA that would have removed such a burden off our family. But what are we supposed to do? We all want our children to succeed."
The Ferrettis applied for the Special Needs Education Scholarship Account (ESA) before this school year, but like about 200 other families they were placed on the waiting list. But they could not wait.
School Choice Is The Answer
"There is no one way or one setting that can be the right fit for every child," Blake said. "Who knows the child better than everyone else? The parents. It should be up to the parents to decide where they want to send their child to school."
That is what school choice is all about.
But school choice has the opportunity to do more than help parents choose the right school for their child; it can bolster an entire region of the state that for so long has suffered from failing public schools.
"When people outside of the Delta think of the Delta, they think of poverty," Blake said. "And we know the way out of poverty is education, but we can't keep doing the same thing over and over again and expect different results. School choice would provide competition, open new doors, and industry will come if you are producing a good product in our schools."
Right now, there are many other families with the same stories, just different faces. For the Ferrettis this is about more than just their family. This is about trying to help all the other families in a similar situation who might not be able to make the choices they did.
This is not, and has never been, about one school or one type of school versus another. This is about finding the right school for every child.
The Ferrettis know families need options, and those options should be available to everyone, not just those that can do without and pay out-of-pocket or are willing to go into debt for the sake of their child's happiness and success.