"We are willing to provide care in all areas of the state"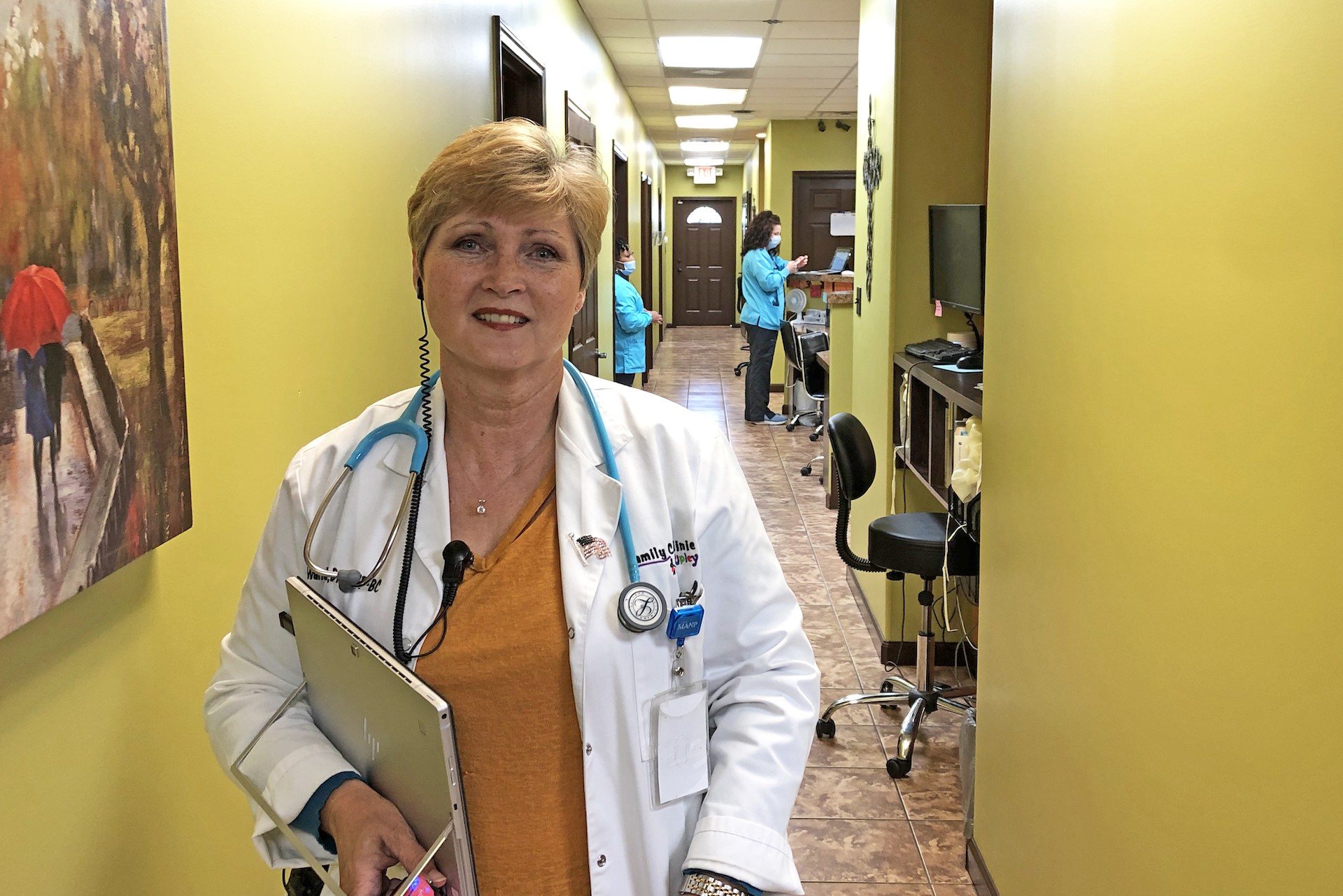 In the small north Mississippi town of Ripley, Dr. Wanda Stroupe, NP has been seeing patients for 18 years.
Wanda is a Nurse Practitioner who opened her own practice Family Care Clinic of Ripley, and a few short years later built her own building.
"I started with a staff of three and today we are up to 18 with four providers," she said.
In her clinic they cover everything from pediatrics to adults.
"We can do a lot here in the clinic," she said. "We can see an entire age group and we are able to treat a wide range of problem and perform a number of procedures that keep people close to home. In an area of Mississippi this small, the fact that we can do a biopsy or joint injections and x-rays right here in the clinic for our patients is a major convenience for them.
"We are able to keep patients close to home, and we can get them to the proper provider when they need to be referred to a specialist."
"We can do a full range of treatment because my collaborating physicians are internal medicine and Pediatrics," she noted. "My collaborators have been with me through my entire career and I'm very fortunate to have really good collaborators. Some nurse practitioners are not that fortunate. If their collaborators don't see the full range of patients, then even though the nurse practitioner is trained in pediatrics they cannot see children.
State law requires that nurse practitioners have a collaborating physician audit 10% or a total of 20 patient charts, whichever is less for each nurse practitioner per month. Often, according to Stroupe, that chart review comes up to 90 days after the patient has been seen and treated.
"It really doesn't benefit the provider or patient, because they are reviewing the charts after the fact," she said. "One misconception is that nurse practitioners are supervised by physicians and that is not the case," according to Stroupe. The collaborative agreement is not direct supervision, it is the ability to call someone for advice if needed and the requirement to have charts audited as well as periodic meetings with the collaborating physician.
Although there is a set scope of practice for nurse practitioners, Wanda, who also serves as member of the board of the Mississippi Association of Nurse Practitioners as well as chair of the Clinic Owners' committee, said many nurse practitioners are restricted from practicing to the full scope of their practice because the collaborating physician is not skilled in that area.
For example, if the collaborating physician does not suture and the nurse practitioner is very skilled in suturing she would still not be able to treat her patients who need sutures. Those patients would have to be sent to another clinic or the emergency room which is much more costly for insurances.
For instance, while she can see and treat children, she is not able to diagnose ADHD because for nurse practitioners this is a psych diagnosis that must be evaluated by psychiatric providers.
"We have to refer them out for that," she said, "which delays care because of waiting time for psychiatric providers. There are several psychiatric certified nurse practitioners in the state that could provide care, but Mississippi has a limited number of psychiatrists in our state that meet the requirements to be a collaborator. With the elimination of the collaborative agreement these nurse practitioners could practice in the field they are trained in and provider the patient care Mississippi so desperately needs ."
She stressed the importance of access to medical care in small towns which is why, she believes, she's seen an increase in patients at her clinic in the last 10 years.
"We are a small community, but to meet our patient needs we must be aware and educated in the changes in the health care field. Our focus is excellent patient care and that's important for our patient population and our community," she said.
Wanda, along with many of her colleagues across the state, is hoping to see the collaborating physician requirement lifted from nurse practitioners.
"Our scope of practice, skills, and knowledge tells us what steps to take and where a patient needs to be referred," she said. "We make appropriate referrals and calls to collaborate with specialists when needed. That's what collaboration is, and should be, all about."
However, collaboration in Mississippi currently means oftentimes restricting the practice of a trained nurse practitioner. If the collaborating physician doesn't practice in one of the areas within the nurse practitioner's scope, then the nurse practitioner cannot practice that area of medicine. In addition, a nurse practitioner is not able to move freely from one part of the state to another because a move is based on finding a collaborating physician who is willing to enter into a collaborative agreement with that practice.
"The collaborative agreement is costly to a nurse practitioner's business," she said. "With the average cost in Mississippi for a collaborating physician is $2,500 per month, some more, some less. If nurse practitioner practices didn't have those fees, that's money that could put back into businesses for equipment, salaries, and wages as well as growing and expanding practices."
Wanda added that nurse practitioners are just as responsible as physicians for the care they provide to their patients.
"A nurse practitioner's responsibility is no less to a patient that that of a physician," she stressed. "We can't get by with less treatment or care. We are still responsible for our clinical judgement, diagnosis, and treatment of that patient."
Currently, there are 24 states in the U.S. with full practice authority for nurse practitioners.
"Mississippi is last in everything. This would be a positive step for our state," Wanda said. "We have nurse practitioner providers who are willing to step up and provide care in all areas of the state, and we do it within our own already established scope of practice. It's time to allow nurse practitioners to freely do what we are trained to do without the restriction of the collaborative agreement."