The Dillons: 'Out Here Walking Alone'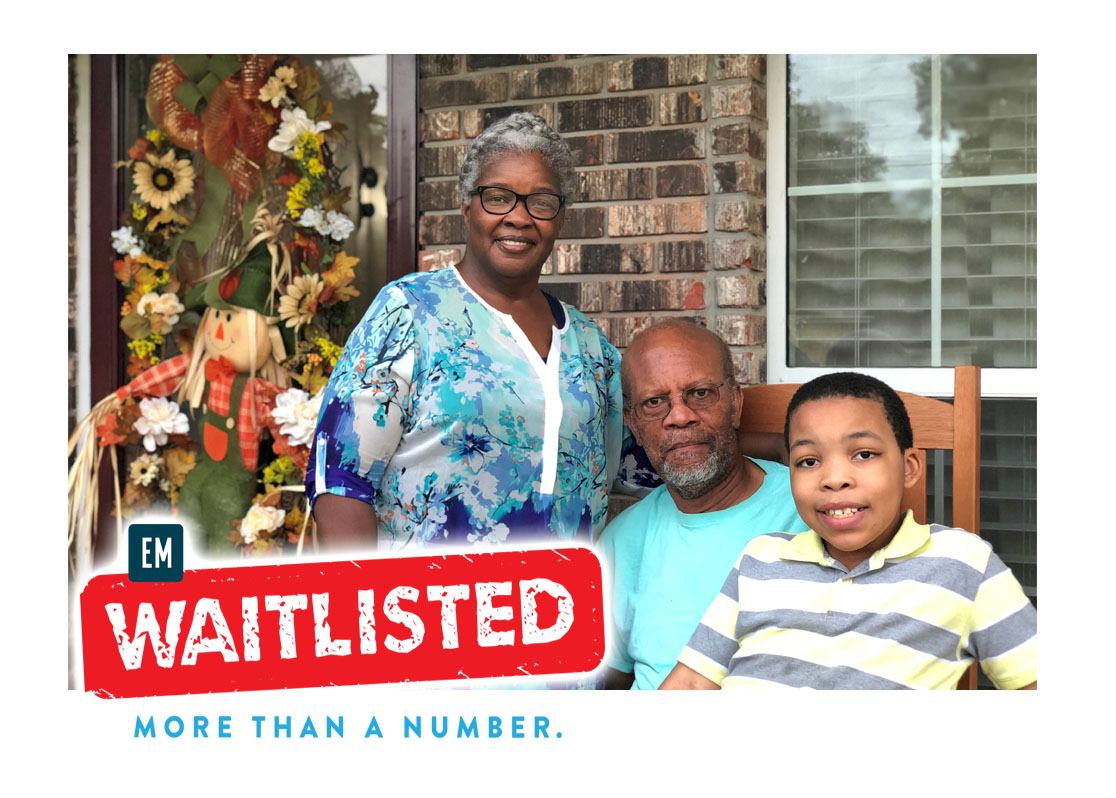 Note: The Dillon family received an ESA last year (2019) for Demyrion after legislators voted to increase funding for the program.  Under the current bill that will be considered by the House to renew the program Demyrion will lose his ESA because he is enrolled in an online school due to his medical condition.  The Dillons are asking legislators to #SaveOurESA.
These kids don't have anyone to stand up for them, and the parents are having to take a walk alone to get something done. No one wants to be held accountable for special needs children.
Alice Dillon arrives home from work and begins cooking dinner at her family's home in Tylertown.  While she's preparing the meal, her son Demyrion, 9, sits quietly at the counter busy with schoolwork.
Dillon and her husband Louis have found themselves fighting for a better education for their adopted son.  They fight for accommodations and the possibility of a better and brighter future than what he has been offered by his assigned school district.  Demyrion was diagnosed at the age of three with an RYR1 gene mutation.  Mutations in the RYR1 (ryanodine receptor 1) gene are associated with malignant hyperthermia, central core disease, and minicore myopathy with external opthalmoplegia.
"When we got him he was very sick," said Alice.
Alice watched over Demyrion vigilantly, tending to his many needs and providing care.
"He would break out in purple whelps," said Alice, "and we figured out that it was heat-related."
Demyrion was also diagnosed with the accompanying malignant hyperthermia. Because of his condition which affects his eyesight, breathing, and the various muscle systems in his body, it is critical to keep his body temperature regulated.
"If we can keep his body temperature at 95-96 degrees we are good," said Alice.  "He can't go outside and get too hot because his muscles begin to collapse.  If he gets too hot it affects his eyesight and his breathing."
In fact, after adopting Demyrion, the Dillons paid to have central air installed in their home to help keep him comfortable.
"We did that because it was best for him," said Alice, a teacher's assistant.  "It was expensive, but it was something we had to do."
As time went on the Dillons enjoyed their new normal with Demyrion.  He was doing well and becoming adjusted to life with RYR1.  It was even something that they would laugh about, said Alice.
"When we take him anywhere that he has to be outside, we freeze his Capri-Sun drinks and pack them around his body to keep him cool," she said.  "He even wears one under his hat to keep his head cool.  We have ourselves something to deal with for life."
When the time came for Demyrion to attend school, it was difficult.
"Demyrion went to kindergarten, and the problems began," said Alice.  "They said he was a problem.  He was getting into trouble."
According to Alice, part of Demyrion's disorder includes the inability to control impulses.  Because of that, Demyrion would get into trouble in the classroom.
"You add on that they weren't following his IEP (Individualized Education Plan) which said that he did not need to be outside and it was really bad.  They would bring him to me covered in hives with his shirt torn, and I knew he was outside when he should not have been."
They made the best of his kindergarten year, and Demyrion advanced to first grade where he had a better year in school.
"He had a great teacher who taught him well, and he learned to love school," said Alice.  "We were on our way."
When Demyrion hit second grade, things changed.  He was not receiving the individual attention he needed, and the teachers were not taking his medical conditions seriously, according to Alice.
"They would tell him that it wasn't that hot outside and he could go," she said.  "Of course, then they'd bring him back inside to me and he would be vomiting and couldn't walk because his muscles were so weak.  I requested several times to have a meeting about his IEP, but we have still not had that meeting this many years later."
Seeing that their son's life was at risk, the Dillons removed him from public school and sent him to a private school in Tylertown.
But things didn't get better.  There, Demyrion was evaluated and sent back to kindergarten.
"He was doing coloring sheets and not being taught," Alice said.
After much consideration, the Dillons made the decision to bring Demyrion home and enroll in an online school where they could customize the environment to meet his needs.
"It's working for now," Alice said.  "He likes school."
As they have struggled to get the best accommodations for Demyrion, the Dillons have applied for the state's Special Needs Education Scholarship Account (ESA) which enables parents to direct their state education tax dollars to the educational setting and services of their choice.  The ESA can be used for tuition, therapy, textbooks, tutoring, transportation and other qualified expenses, and it is valued at $6,594 this school year.
The Legislature authorized 500 seats in the first year of the program (2015) and an additional 500 new seats each year, bringing the total number of authorized seats to 2,000 this school year.  However, because the program continues to be level-funded, the Dillons remain on a growing wait list while the number of seats available slowly shrinks.  Account funding fluctuates so that a slight increase in the value of an ESA translates into a decrease in the number of ESAs available – 428 this school year, down from 435 last school year.
"It would be a great help for us in getting the best education for Demyrion," said Alice.  "We need school choice and we need for our schools to hear us about our kids because the parents know what's best for their children.  We want our voices to be heard."
The Dillons have been through two rounds of the lottery and have not been selected for an ESA.
"It's not right," she said.  "It's not right when someone who has just applied has their name drawn while there are those of us who have been waiting for an ESA and have been through several rounds of the lottery."
Frustrated by the lack of help from the Legislature, the school district, and MDE, Alice has made it her mission to share her story in hopes it will bring about change.  "MDE does not need to be over the ESA," Alice said, noting that she gets little help and "no direction" from the agency.  "They are using that money to pay people and they are not helping families like ours.  These kids don't have anyone to stand up for them, and the parents are having to take a walk alone to get something done. No one wants to be held accountable for special needs children."
By law, MDE may use up to 6% of appropriations, or $180,000, to run the program.  This year and last, the agency budgeted 5.9% of funds for administrative expenses.
Alice said that she has taken her frustrations to legislators but received little help.
"We should have a right to say where we want our children to go to school," she said.  "They tell me that if I don't like the school district I'm in, we should just move.  Well, I've lived in my house for almost 40 years and I'm not moving, but I'm fighting for my son's rights.  I have hope for tomorrow.  I'm here to make sure they listen.  I will fight every single day to have our voices heard in Jackson."
For now, the Dillons remain at the mercy of the Legislature as they try to make the best choices possible for their son.  They hope to explore online schooling options with the help of the ESA soon.
"I come home from work every day and we start on Demyrion's school work," she said.  "We are figuring it out as we go, but it's not right that we don't get to make the choice that's best for our son and our family."