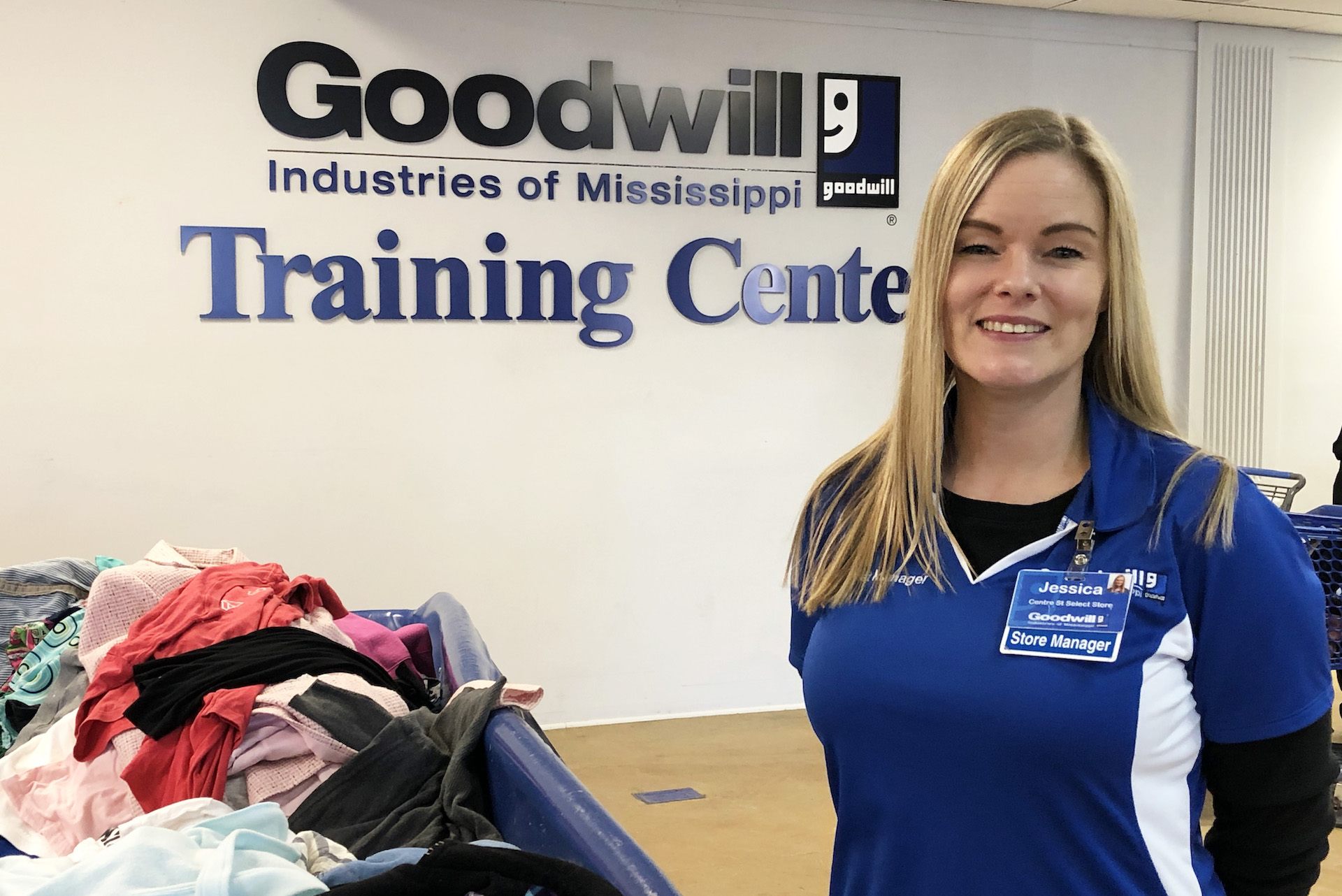 "Goodwill gave me a career."
That's something Jessica Maxwell-Flowers never dreamed possible while she was serving five years in prison at Central Mississippi Correctional Facility (CMCF). In fact, a career was the furthest thing from her mind during those days in the deadly grips of addiction.
Jessica grew up in a home where drugs and alcohol were a part of the daily routine.
"My mom drank, and smoked pot, and my stepfather did crack," she said. "I was living in a community where we were all poor. It just seemed normal."
As a teenager, Jessica began experimenting with drugs and alcohol which eventually led her to heavier drugs.
"I had a lot of issues. I was dealing with abuse and I had no self-worth," she explained. "I would do drugs so I could feel numb."
At age 21 Jessica caught her first drug charge in Ridgeland for possession of cocaine. She was placed on probation and assigned to pre-trial diversion. Three years later she was arrested for possession of meth in Warren County and six months after that was again arrested in Ridgeland for possession of meth.
Jessica went to prison and served just over two years at CMCF.
"It was the closest thing to hell that I've ever experienced," she said.
She was assigned to alcohol and drug treatment (A&D) in the prison – a treatment program with little success.
"It was horrible," she said. "They don't give you any tools or do anything to help you. You don't learn anything in A&D. There are more drugs in there than there are outside of prison."
Jessica was released and with no direction, no tools to help her break her addiction, and nowhere to go, she immediately went back to what was familiar. She was arrested in Hinds County in a drug house.
"I had marijuana, meth, pills, and heroin. It was a meth lab," she said.
Jessica was sent back to prison and after watching the horrors unfold in front of her made up her mind that she would not use drugs while she was incarcerated.
"I went into the bathroom and watched eight girls on one needle," she said. "It was awful. I didn't use drugs because I was scared."
She recalled watching a female inmate who was in a wheelchair roll into the bunkroom where they were staying.
"She was in the bed next to mine," Jessica said, "and I remember wondering about her. The next morning when we jumped up for a count, she didn't get up. She had died in the bed overnight and it took the guards several hours to come get her. Prison is the most inhumane place you can imagine. It's like a third-world country."
Jessica leaned on her faith and believed that her life could be good one day.
"I knew I needed the tools to help me not use when I got out. I prayed that God would help me," she said.
She was transferred to Marion County in South Mississippi to finish her 5-year sentence.  Jessica was sober and scared. She didn't know where she would go. She had no one to call.  She knew she needed treatment – real treatment – to break her addiction. Jessica began researching and found The Friendship Connection in Jackson.
"I knew that when I got out, I was going to treatment," she said. "Friendship was semi-free and with not much money it was the only option for me."
She immediately entered treatment when she was released.
"Some of the other girls would complain about things at the house, but it was like the Hilton to me," she laughed. "I had my own little room, and I was safe."
She was lucky to have a counselor who helped her along the way.
"I related well to my counselor and was able to make the most out of everything. I knew I never wanted to go back to prison again. I just wanted to be a normal person."
Jessica had to get a job, but that wasn't easy. Public transportation in Mississippi is scarce, but Jessica was determined. She climbed aboard the J-Tran bus in Jackson and went out in search of a job.
"Someone told me that Goodwill would hire you even if you had a record, so I got on the bus and went over to put in an application," she said.
Goodwill Industries of Mississippi is in the business of offering second chances to those who need it most. Jessica was hired and began working in the back sorting and tagging clothes at the distribution center.
"I was OK with it because I was in the back and could keep to myself. I worked hard," she said, "and I never really looked at anyone or talked to anyone."
She was soon promoted to cashier but was terrified of the responsibility.
"I didn't want to mess up anything with anybody's money," she said. "It scared me to handle money because if something came up missing, I didn't want to get in trouble."
She hesitantly agreed to the promotion.
"I wouldn't look at anyone who came through my line," she laughed, "but it was in that job that I really came out of my shell. We have amazing people here, and I finally felt like I fit in."
She blossomed and was promoted to assistant manager. She found worth and confidence in herself that she had never known before.
Jessica and her boyfriend had been sharing a van, walking, and using public transportation to get to and from work. With her promotion, Jessica was able to save her money and buy her own vehicle – an accomplishment that she never thought possible from behind the prison wall. Today, Jessica serves as the manager of the Goodwill Store.
"I love that I'm able to give back to someone who was in the same situation that I was in," she said. "It has been therapy for me to be able to give to the next one."
Jessica is going back to school and working toward a degree in business.
"I am blown away with myself," she smiled. "I thought I was a nobody. I think the thing that people who have been in my situation need to hear most is that it doesn't matter how many times you mess up, there is always hope. It's hard because there are so many barriers – employment, family support, and a good community, but if you take it very slowly and just go one day at a time you can make it."