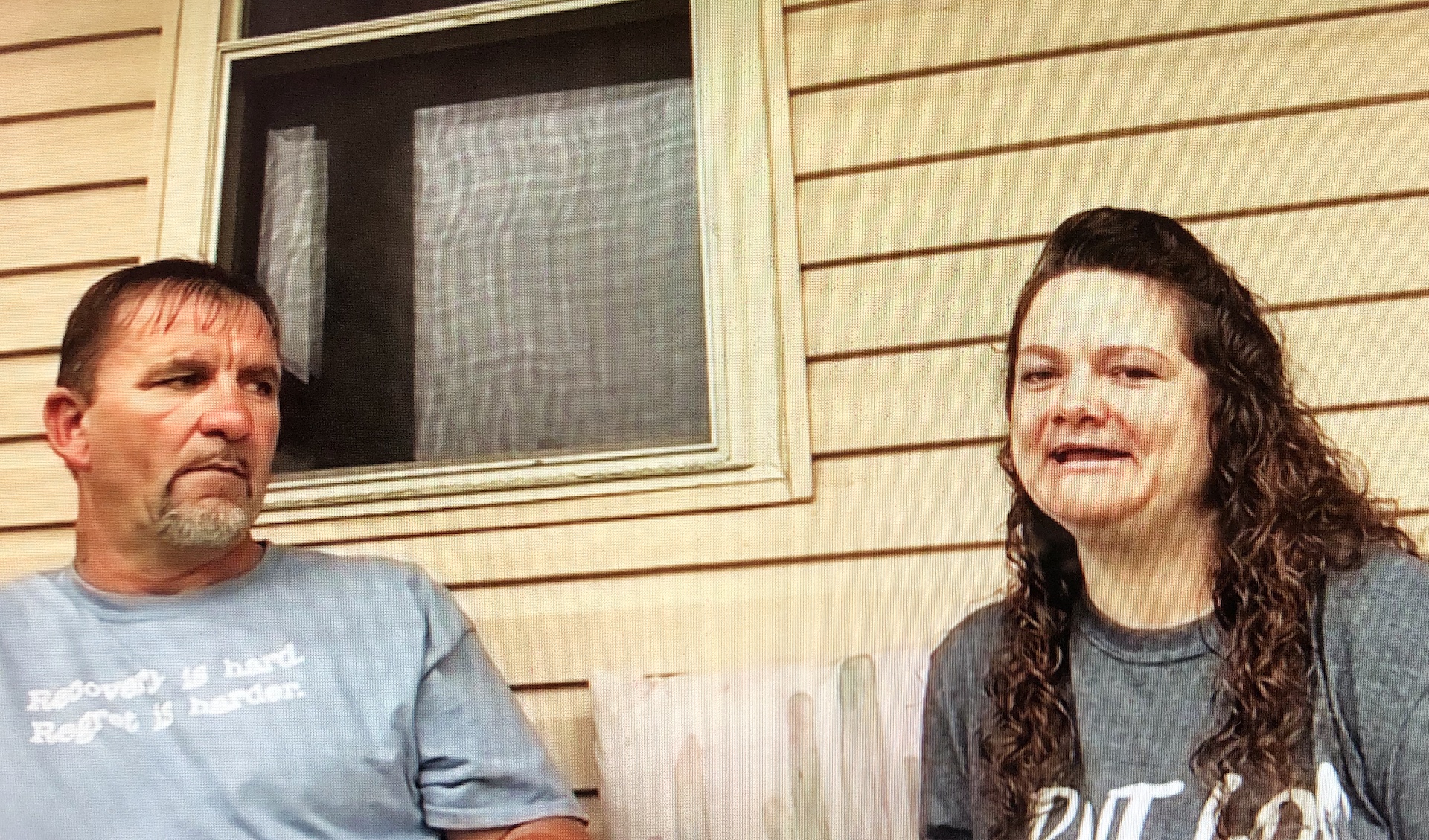 There is always hope.
That theme is reflected in the lives of Danny and Christy Austin of Corinth. The couple has struggled with addiction through much of their adult lives, but both are clean and beginning a new chapter in their life.
"The one thing we know is that there is going to be heartache and struggle," said Christy, "but you have to be willing to do the work. It takes time."
Danny and Christy met when Danny was on the run in October 2012. It was at the height of Danny's addiction.
At the age of 26 Danny's grandmother and father died in the same year.
"It was a really hard time for me," he said. "I didn't have anywhere to go."
Danny found himself using drugs and stealing. He was also involved in gangs.
"I smoked weed for a long time and started doing hard drugs with the gangs," he said. "The very first time I ever used meth, I injected it. I lost my mind with it."
He said the drugs were a way to cope with the death of his grandmother. After his father's death, Danny's mother remarried his uncle and Danny had a very difficult time processing that.
"I hated my mom for that, and the drugs were a way to deal with the emotional trauma."
One night Danny broke into the local police chief's house.
"I didn't know it was the chief's house, but we got away with it for three months," he said.
Law enforcement finally caught up with Danny and arrested him. Danny was sentenced to 25 years and served 10. He came home on parole and spent the next two years reporting to his parole officer.
Life After Incarceration
"The hardest part about coming out of prison is that you have no one. I had no one there to help me. My family and my kids didn't want to talk to me," he said with tears welling in his eyes.
"One of the hardest parts of getting out of prison that people don't really talk about is how alone you are," he said. "It's hard when you don't have anyone to help you and you don't have any good prospects for a job."
Danny walked wherever he needed to go because he didn't have transportation and didn't have anyone who was willing to help him.
"Not having that relationship with my kids is something that hurts a lot, but I'm praying that maybe that will change one day."
The loneliness and hopelessness led Danny back to the streets and back to the drugs.
"I was still using during that time," he said. "I would always get clean before I went to check in."
Danny got clean long enough to report to his parole officer but did not sign the book.
"I left my parole officer that day and pulled over and got high," he said. "Well, about that time I got a phone call from his saying that I hadn't signed the book and needed to come back. I asked if I could come back the next week and he told me I had to come back right then."
Danny threw his phone away and fled. He hid out for several months, and it was during that time that he met Christy who was struggling with her own addiction.
The Throes of Addiction
Christy was a functioning addict who eventually lost her children and her job.
"Living a life that was hard and fast is an understatement for me," Christy said.
She had been arrested for felony possession of meth and was dismissed from the nursing program where she was enrolled.
"Everything was falling apart," she said.
Danny was hiding out at Christy's house when he was arrested.
"My parole officer gave me all of my time back," he said.
The couple was married while he was in jail and went through very difficult times. Christy was in and out of jail. She had once worked in law enforcement and during that time was bringing drugs into the jail to Danny until she got caught.
Danny had gone back to prison, and Christy was running the streets looking for drugs wherever she could find them.
"It was standing in a bathroom in a dope house in Corinth on July 3, 2014, when I really saw myself," she said.
Christy stared at her reflection in a filthy mirror in that tiny bathroom and knew something had to change.
"It was like time stood still," she said. "I looked at myself and knew I couldn't live like that anymore."
Four hours later Christy was arrested and charged with robbery from an old crime she had committed.
Finding Salvation in the County Jail
"On my third day sitting in the Tishomingo County Jail, the chaplain came in and talked to me. He talked to me about the woman at the well in the Bible, and I was saved sitting in that jail," she said.
Christy was denied bond and remained in jail. During that time, she wrote letters to Danny.
"I had done a lot of things that hurt our marriage," she said. "He was mad at me and wouldn't talk to me, but I kept writing those letters. I sent them all to myself so that I could send them to him in prison when I got out."
She was transferred to Alcorn County where she was well-known for her crimes.
"The judge came in and told me he was aware of the transformation they had seen in me while I was in jail in Tishomingo County and that he was going to give me one more chance," she said. "I was shocked! He also told me that if he saw me back, he was going to give me the maximum sentence."
Christy was released on July 29, 2014, began attending church and the Living Free Ministries group in Corinth.
"I knew I couldn't fail anymore," she said. "I had to get it right."
Christy's life began to take a turn and things were improving.
"I was working on myself and knew there were things Danny was going to need to do when he got out too," she said.
Danny was released on July 28, 2015 – a year after Christy.
"We had messed up our relationship," he said, "but she had worked hard, and I had a place to go, and a job lined up."
Christy was determined – so determined, in fact, that she kicked Danny out for a period of time.
"He relapsed and ended up going to Homes of Grace," she said. "He finished the program and it's been better. Things are hard, though."
Living Day by Day
Christy and Danny agreed that the depression and anger he was dealing with might be something that needed a doctor's help.
"We went to the doctor, and he's been taking a mood stabilizer when he goes to bed," she said.
"It has helped a lot," Danny added. "I'm not so angry anymore. Before, I hated waking up because there were so many difficult things to face. I just wanted to hide."
Danny added that it has helped him with his work. He feels more confident on the furniture deliveries he makes.
"I feel like I can look people in the eye," he said. "There had been a long time when I wouldn't look at people because I felt like they were always looking down at me."
Today, the couple is clean and sober and just celebrated their eighth anniversary. They have experienced transformation in their lives because of their faith and the work that they were willing to do.
Christy is preparing to re-enter nursing school and Danny is working with Tommy Wilson of Living Free Ministries.
"Life is getting better," said Christy. "We could not have done it without God, though. You can have the desire to want to do better, but it is something that you can't do without Him."