The McCools: 'Where Do We Go From Here?'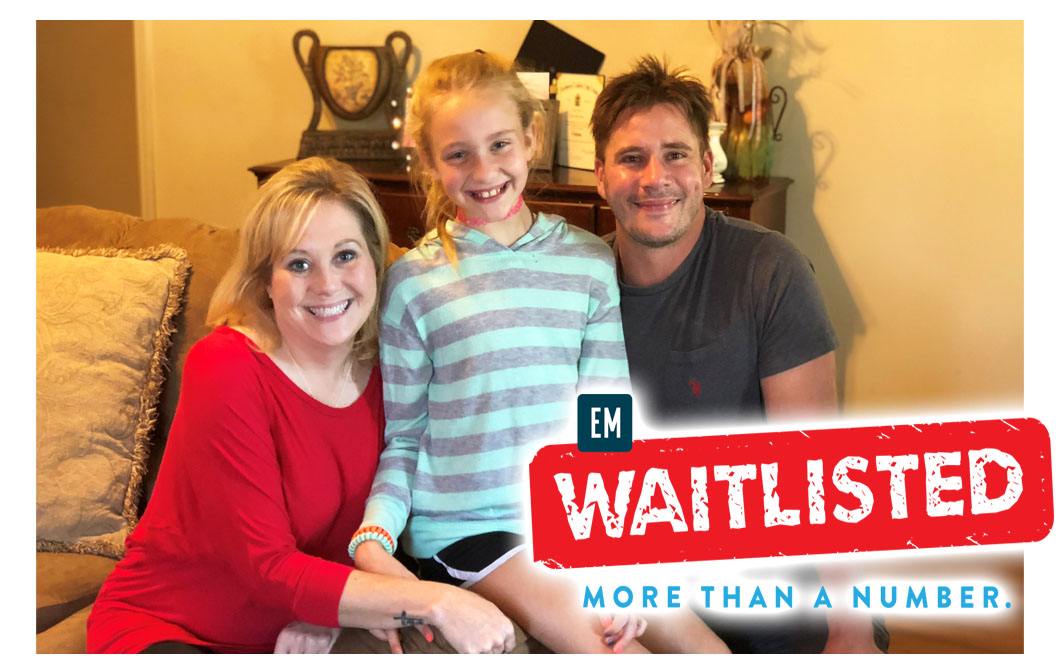 "Where do we go from here?"
That's the question Donna McCool of Flowood finds herself asking when it comes to the cost associated with educating her daughter Kensley. Entering school, a time when most children are excited and eager to learn, Kensley was struggling. By the time she reached the first grade Kensley's teachers recognized a problem.
"When Kensley was in kindergarten, I went through a divorce and had to move where the jobs were," said Donna.
She enrolled Kensley in the first grade at their local elementary school. Soon after, Kensley began having problems.
"She was new, and I thought that might have been the problem," Donna said. "We got through first grade and Kensley's teachers said she was not ready to move on. I was okay with that because I didn't think she was ready either. She had been through a lot."
A New School Year Looks Promising
Donna said her daughter struggled with separation anxiety, something she attributed to the changes in the family dynamic at home. Now, a single mother trying to provide for her family, Donna moved again – this time to Brandon – and enrolled Kensley at another district school."While Kensley was there I felt like I was constantly battling the district," Donna said. "I told them up front that Kensley had not passed the first grade. I was looking to them to find out what we could do to help her, and they didn't want to test her for any learning disabilities until the middle of the school year. She was tested halfway through her second time in first grade and they said nothing was wrong with her."Fighting what she felt was a losing battle with the school, Donna was met with little willingness to help her daughter.  As Donna's job changed, she moved again – this time to Flowood, still in the same school district. Kensley prepared to begin another school year still in the first grade.
"This was our third time in first grade," said Donna. "We were at Highland Bluff Elementary School, and I went to the administrators and said, 'Look, I need some help. This is my child's third time in first grade.'"
Donna said they assured her that they had the teacher for Kensley, and they were right.
"She was wonderful with Kensley. I would get her there before class and her teacher would work with her. She was tutored in the afternoon as well," said Donna. "I paid extra for tutoring and did whatever I could for Kensley. They all made her feel loved and like she was part of the family."
During that time, Donna met and married her husband Jon.
"Jon's mom had retired as principal at Highland Bluff," she said.
Things were going well early on in Kensley's school year, but in December Donna met with Kensley's teacher who explained her concerns.
"She said that Kensley was not where she needed to be age-wise."
Kensley was performing the tasks well on the first-grade level, but her teacher was concerned about her interactions with children so much younger than she.
"She was about to turn 9 and was being held back with six-year-olds. Kensley's maturity level was not where it needed to be."
Testing Spurs a Change
Kensley's teacher suggested having her tested again to pinpoint the problem. Donna agreed, and the results were reading and learning disabilities. Kensley was given an Individualized Education Plan (IEP).
"They didn't specify exactly what the disabilities were," said Donna, "and they suggested summer school for Kensley. I told them we had to figure out what the problem was first. We needed to know. I talked to John's mom about it and that's when she suggested New Summit."
New Summit School in Jackson is a private school that recognizes the need for non-traditional instructional settings that provide individual academic attention while encouraging emotional and social growth.
"I talked to administrators and counselors at New Summit about the time school ended in May," said Donna, "and we had Kensley tested for dyslexia about that same time."
Kensley was diagnosed with dyslexia and Attention Deficit Disorder (ADD).
"She did not have hyperactivity," Donna said, "It was just her inability to stay focused.  We worked on getting her medicines just right and she began school at New Summit in August 2017."
Donna was informed of the dyslexia scholarship that is provided by the state of Mississippi to families of children with dyslexia.
"We went ahead and enrolled Kensley at New Summit. I didn't know if we would get a scholarship. All I knew was I had to do this for her. I prayed and prayed about it, and the lady there said we could apply for an ESA as well."
Applying for an ESA
Education Scholarship Accounts (ESA) give parents the opportunity to direct their state education tax dollars to the private school of their choice and can also be used for tutoring, therapy, textbooks, transportation, and other education-related expenses. By law, students cannot participate in both scholarship programs at once, and the ESA offers around $1,500 more. The Legislature authorized 500 seats in the first year of the Special Needs ESA program (2015) and an additional 500 new seats each year. However, the number of seats has not increased, and the program continues to be level-funded so that a slight increase in the value of the ESA accounts translates into a decrease in the number of ESAs available: 428 this school year. Kensley and her family are one of over 200 families on a wait list to receive one of the ESAs which are handed out by the Mississippi Department of Education in a lottery twice a year.
"The lady at New Summit told us to apply for both because you never know which you might get," said Donna.
National research indicates special education students on average cost twice the amount to educate that general education students do.
Donna applied and Kensley was not chosen in the February lottery for an ESA. She did get a dyslexia scholarship which helped some, but Donna was left to come up with the balance for Kensley's schooling.
"I was still a single mom at that time," she said, "and I was paying for everything for Kensley with no assistance. The cost for her to attend New Summit was an extra $400 per month, and I figured out a way to make it happen."
Immediately, Donna saw changes in Kensley at New Summit.
"The first year there was spent overcoming the labels and challenges she had faced previously," said Donna. "Kensley had to find out who she was.  She had to find out what age she was. She got to be with people her own age because they put her in third grade and that made all the difference. She became much more independent and began to grow up."
Kensley also did not experience the anxieties she once had about attending school.
"The teachers and staff welcomed her every morning," said Donna. "A lot of her first year was about building up her self-confidence. Kensley had never taken a test where she received an A. She received her first A at New Summit, and boy, did we celebrate!"
But, while she watched her daughter excel in school—something that had not happened before—Donna had a sinking feeling in her stomach as she wondered how she would continue to provide this opportunity for Kensley. Once again, she turned to the ESA program.
"For this school year, I decided I was going to be one of the first ones to get our application in," Donna said boldly. "I was watching the website ahead of time and waiting to see when the deadline was."
In the meantime, Donna was working diligently getting all the information together for Kensley's application.
"I decided to overnight Kensley's application to MDE, so it would be one of the first ones to hit the desk," Donna said. "I sent a certified letter that had to be signed for, and I got an email the next morning saying it had been delivered and who had signed for it. I thought that was great. Kensley had to be one of the first ones they received. The way I read it, it was first come, first serve for the first 50 percent."
Donna anxiously awaited the lottery to see if her daughter would receive an ESA.
"I kept calling, and finally found out the lottery would be on July 5. I waited and waited and never got any information after the lottery."
Anticipating an answer, Donna called MDE and told them she had not received a letter informing her if her daughter had or had not received an ESA.
"I told them I wanted to be sure they had my address correct because we had not received any communication," Donna said. "I gave my address to the lady at MDE and she said, 'Yes, we have everything correct.'"
Donna asked if Kensley had been chosen for an ESA and was told she had not received one.
"I told the lady that I thought it was a first come, first serve basis," Donna said, "and she told me that was not really true."
Donna was informed by MDE that the lottery was random and that it did not matter how long a child had been on the wait list.
The law states that applicants will be admitted to the ESA program on a first come, first serve basis until 50 percent of annual enrollment limits are reached. However, this language envisioned a program that would grow each year. Because the number of seats is capped, every new applicant now falls into the last 50 percent of applicants.
A few weeks later, she received a call from a friend who told her that MDE was going to hold an additional lottery in August to award more ESAs.
"We were so excited and agreed to pray for each other that we would both get an ESA for our child," Donna said.
Frustration and Disappointment
Again, Donna received no word on whether Kensley had received an ESA. She called the office again to inquire if Kensley had been chosen in the lottery.
"The lady asked me what my child's name was," said Donna. "Then she asked for my name and the date I sent in the application. I was then told that they did not even have an application on file for Kensley. She asked me if I was sure I had sent the application in and I said, 'Yes, ma'am. I can even tell you who signed for the application.'"
Frustrated and feeling defeated, Donna went through her story again with the MDE representative.
"'So, you're telling me that all this time I've been calling up here asking if you had my correct address and you have been answering that question, you never thought to tell me you didn't see where my daughter's application was even on file?' I asked the lady. She couldn't even give me an explanation. All she did was tell me to hurry and get my application in now for the next lottery. Oh boy, I'm so anxious to try to get in an application when they've had one for months and months and Kensley's name has not even been in the lottery."
Donna then asked when the next lottery would be held and was given little information.
"She couldn't tell me when the next lottery would be but insisted that I should hurry to get my application in for Kensley. I asked her if she was going to put my daughter's name in the drawing three times since they had lost her application. Her answer to me was, 'I just don't know how we will handle that.'
"They have nothing for me. They have no help or direction at all for what I should do next for Kensley," Donna said angrily. "We've been let down by the school system, we've been let down by MDE, and I don't know what else to do. It's not right. They have Kensley's application because they signed for it, but there's nothing else I can do right now but just hope and turn it over to God."
Determined to Stay at New Summit
In the meantime, Donna refuses to give up on her daughter. She has advocated for Kensley throughout her years in school and will continue to fight for the best education possible. Currently, Donna says, that best education is at New Summit.
"Right now, we have the dyslexia scholarship, and we thank God for that because I would not have been able to do any of this without that," she said.
She is determined to find a way to keep Kensley at New Summit because it has proven to be the most beneficial option.
"She is a different child," said Donna.
Kensley came home recently and informed her mother that she wanted to participate in the school's upcoming talent show.
"She practiced a gymnastics routine for a week and got up on that stage and performed it in front of the entire school," Donna said, "and it brought tears to my eyes. I was so proud of her because she would have never in a million years gotten up and done that before her time at New Summit. John and I could not believe she did it. We know for a fact that her self-esteem is back up.
"Before, Kensley was afraid of failure because that's all she ever knew. Now she will try new things because she knows how it feels to overcome challenges. She's not embarrassed anymore. She's not embarrassed about her age because she's with kids her own age. She has found her place, and I'll do whatever I have to in order to keep Kensley at New Summit."
Jon agrees that New Summit is the place for Kensley.
"I work with her every day," he said. "We do homework and read, and it's amazing how much she's changed since being at New Summit. We've seen a 180 degree turn in her attitude about school, her personality, and in her ability to grasp what's being taught. Before, she wasn't being taught in a way that she could understand."
Donna said it is heartbreaking to see the success her daughter has achieved in the right educational setting and know that her future relies on a number being drawn in a lottery.
"The IEP is only good for five years, and you can only get that in a public school. She's in her second year at New Summit now, and if we don't get the ESA soon, Kensley is not going to have an IEP anymore and she won't have a chance at an ESA. It's tough."
To be considered eligible for the ESA program, applicants must have had an IEP within the last five years.
For now, Donna continues to advocate for her child and others. "I know we are not the only ones out there. There are so many kids that need this, and they can't wait."