The Malones: How Can We Choose?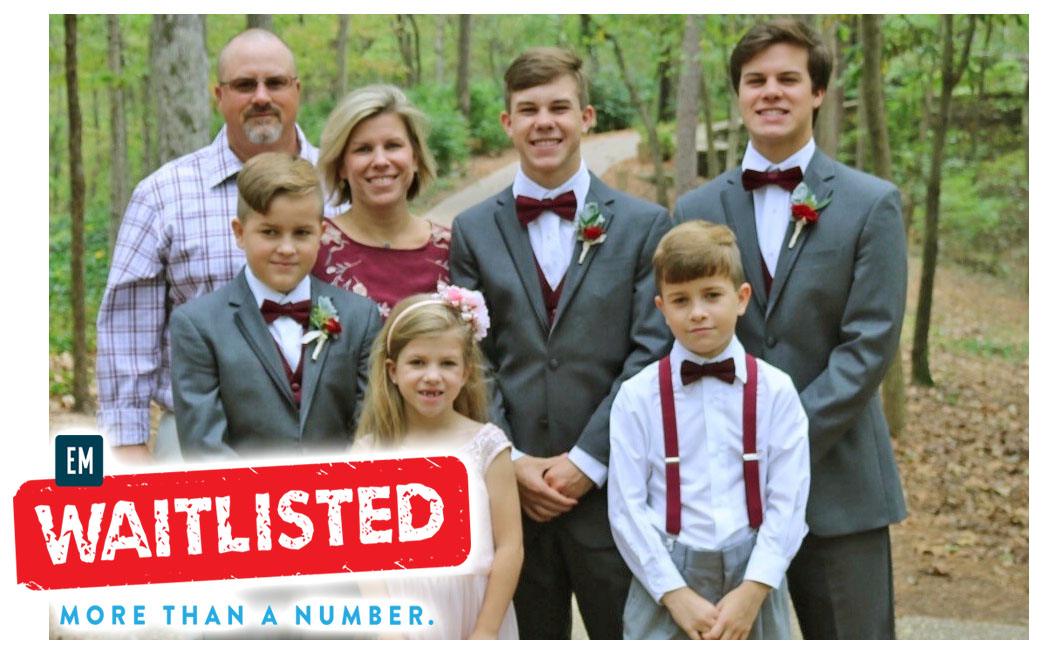 "How am I supposed to choose?"
That's the question Allyson Malone of Pontotoc asks with tears in her eyes as she and hundreds of other families sit on a Special Needs ESA wait list. Malone and her husband Chris have five children, two of whom are on the wait list.
"It would mean the world to us to receive an ESA," said Allyson.
The receipt of an ESA would mean both of her children would be able to attend the private school where they once flourished and felt confident about learning.
Currently, Sawyer, 10, and Maynor, 8, are in the local public school where they are struggling to keep up. It's a daily battle filled with stress and anxiety compounded by the sorrow of knowing there is a better option for the children, but it's not something that the family is able to take on financially.
Of the Malones' five children, four are dyslexic. Allyson's attempts to help her children pushed her into a career she never dreamed of.
"I went back to school, something my husband and I agreed upon although it was an added expense, to become a dyslexia therapist so that I could help our children," Allyson said.
Gabe
Allyson noticed changes in her middle son, Gabe, when he was very young.
"He struggled in school," she said, "but they pushed him through. When he was in the third grade, I approached the school because he was really struggling. Gabe had been tested early on and it showed him as gifted, but he was having such difficulty with reading and grammar."
School officials explained to Allyson that Gabe's struggles were typical for boys his age.
"They told me he would grow out of it," she said.
Meanwhile, Gabe was feeling defeated and had given up on himself because the demands at school were too much for him to handle.
"We struggled through his fourth grade year and by the time he entered fifth grade I took him to Mississippi College to have him evaluated after repeated attempts to get help at the school," said Allyson. "He couldn't read or write. He couldn't spell and had given up on school."
As Allyson desperately searched for help for her son, the school offered none.
"Gabe was diagnosed with double deficit dyslexia," she said, "and when I took that diagnosis back to the school and asked what services were available to children with dyslexia, they admitted that there were none. I was told there was only one other student that they were aware of in the whole school that had a 504 and was receiving services due to his dyslexia diagnosis."
Frustrated but determined to help her son, Allyson herself went back to school. She entered the dyslexia therapy program at Mississippi College in Clinton to become a certified dyslexia therapist.
"At the end of fifth grade, Gabe received an IEP (Individual Education Plan), and that's when we found out about the Special Needs ESA through a friend."
ESA Lottery
The Special Needs Education Scholarship Account (ESA) allows parents to use their tax dollars to send their child to any accredited private school that best fits their needs and use funds for tuition, therapy, textbooks, tutoring, transportation, and other qualified expenses. The ESA is valued at $6,594 this school year.
Yet the program is limited.
The Legislature authorized 500 seats in the first year of the Special Needs ESA program (2015) and an additional 500 new seats each year, bringing the total number of authorized seats to 2,000 this school year. However, funding has never met demand and there are only 428 seats this school year. The Malones are one of over 200 families on a wait list to receive one of the ESAs which are handed out by the Mississippi Department of Education in a lottery twice a year when seats are available.
The Malones received an ESA for Gabe and used it until the end of the sixth grade at which time he begged his parents to let him go back to school with his friends.
"Gabe had a great year academically, but it was tough for him socially because he had left his friends," said Allyson. "He had grown a lot but wanted to go back to the public school. It was a very tough decision, but we gave up the ESA and let him go back and he is very happy there and doing well. He's done OK there this year and it's because he received the instruction early on that taught him how to read and write in his own way."
Earlier last week, MDE announced a special mid-year lottery to be held on December 13 to award 41 ESAs that are currently available. The Malones will be among those in that lottery.
Sawyer
While Allyson worked diligently to get Gabe the help he needed, his younger brother Sawyer also began to display signs of dyslexia.
"Sawyer was struggling as well," said Allyson, "and I asked the school for an evaluation."
Allyson voiced concerns that Sawyer was struggling to keep up in his second grade classroom.
"We had a meeting at school and we were told that he was not likely to be considered for an evaluation because he was passing and meeting the benchmarks that had been set," said Allyson, "but they had no idea he was passing and meeting those benchmarks because we were spending hours at a time on homework at night."
By the time Sawyer entered third grade, his struggles seemed insurmountable.
"I was told by the school that he was immature, and they wanted him to repeat the third grade," said Allyson. "That flew all over me. He has three older brothers and I knew that was not the case. That's when I decided to pull him out."
Seeing her son emotionally beaten down and exhausted, Allyson knew something had to change. She pulled him out of the public school and placed him in a local private school.
Sawyer blossomed with a change in curriculum, a smaller classroom setting, and more specialized instruction to meet his needs.
"He had a beautiful year," said Allyson.
Sawyer enjoyed a year of growth without the chokehold of standardized tests and assessments.
Maynor
The Malones decided to move their youngest child, Maynor, to the private school as well.  Although she was not diagnosed at the time with dyslexia, Allyson saw the same signs in her daughter that she had seen with her older children.
Maynor was later evaluated and also received a dyslexia diagnosis.
"She did very well at the private school," said Allyson. "Our children were all happy at the private school because they were successful. It helped them gain confidence."
In the 2017-2018 school year the Malones had three children in the private school – Gabe had an ESA, and they were paying tuition for Sawyer and Maynor.
Back to Public School
When Gabe decided to go back to the public school, Allyson and Chris agreed that maybe the younger children could also go back.
"At that point we were paying so much in tuition that it was like we were making another mortgage payment in order to keep them in private school," she said.
The children are all in the public school now, and while they are doing okay, their parents know it's not ideal for their education.
"My children have had wonderful teachers in the public school," said Allyson, "but they are just not equipped to teach my children."
Sawyer is passing, but full of anxiety, said Allyson.
"He's stressed out and struggling to make B's and C's. He's having to jump through hoop after hoop and the school is not going to provide what he needs," she said. "We have seen a difference in our children in the public school. The standardized test demand unnerves them – especially Sawyer. He is struggling to the point now that we are desperate to get an ESA."
The family has made the decision to move Sawyer back to the private school in January but will have to leave Maynor behind because they cannot afford to send both children at a cost of nearly $16,000 annually.
"It's heartbreaking," said Allyson as her voice trembled. "There are no words to describe how difficult it is to have to choose. I wish I could articulate it, but at this point we have to weigh out which child is the most emotionally damaged."
An ESA would mean an answer to prayer for the family as the children would be able to attend school together.
"It's tragic because we do have to rely on a lottery, and it's the luck of the draw as to whether or not life will get better for us," Allyson said. "We know the place where we want our children. It's been lifechanging for them. It's an awful feeling to see your child stressed and anxious and to know that there is a better way and they have experienced it."
Sadly, that better way is out of reach for the Malones until their number is called.