The Berrys: Hitting Wall After Wall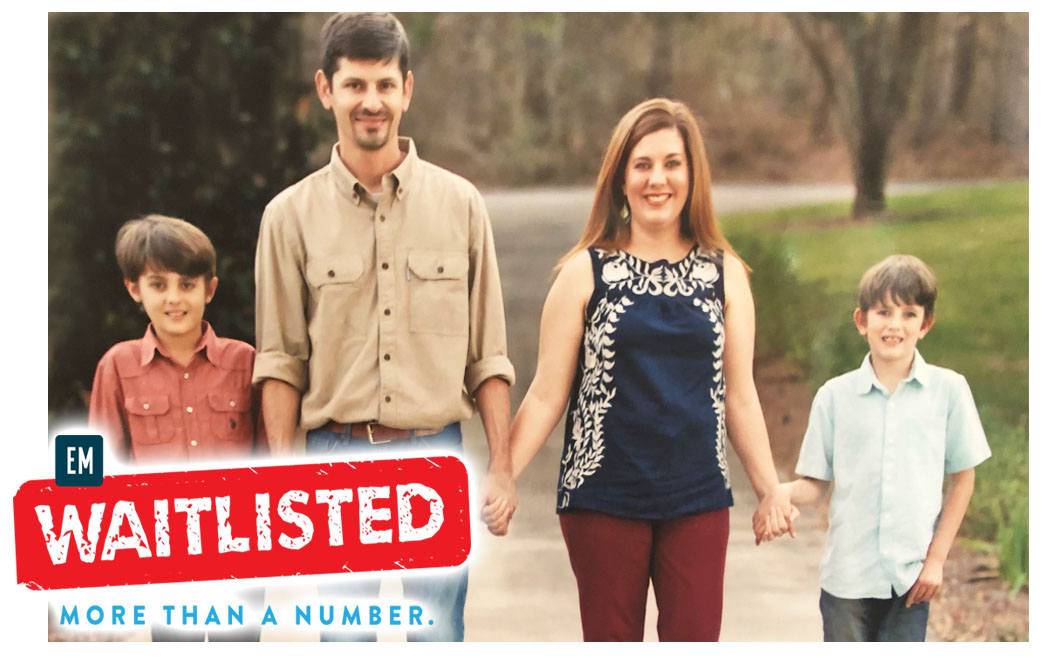 Will and Jodi Berry of Sumrall are not unlike other parents when it comes to their worries and hopes for their children. But the couple has an extra burden to bear regarding their younger son Nathan because of the struggles he has faced in school.
"He has had to go through so many hardships in his short 10 years," said Jodi, "and I worry so much about him."
The Berrys recognized early on the differences in their sons Nathan and Ethan when it came to learning. The boys were enrolled in their district school where Ethan was thriving, but they were troubled by Nathan's lack of progress.
"He didn't learn as quickly as Ethan," said Jodi. "We knew something wasn't right, but we didn't know what it was."
Ethan's teacher urged the couple to allow him to repeat kindergarten because he was not where he needed to be in order to advance to first grade.
"It was during his second year of kindergarten that we decided to get him tested," said Jodi.
The couple took their son to the Connections Clinic in Hattiesburg – a regional resource center providing medical, educational, speech-language, and dyslexia evaluation services for children and teenagers.
"They tested him for everything," Jodi explained. "They were looking for ADHD, speech-language disorders, dyslexia, and we even tested his IQ which showed that he was extremely bright."
Nathan underwent an additional round of testing before receiving a dyslexia diagnosis.
"The whole process took us about five months to complete," said Jodi, "and once we received the diagnosis, we were told by the school that there was nothing they offered for kids like Nathan with dyslexia."
Jodi requested accommodations for her son, but Nathan began his first grade year with none. When Nathan was given accommodations, there was no written plan given to the Berrys notifying them of what his accommodations would look like.
"He was given the standard extra time on tests and pulled out of class for extra help," said Jodi. "He was at an excellent school, and we are very thankful for them but that was just not the best place for Nathan."
By the end of his first grade year, Nathan had an Individualized Education Program (IEP) in place. An IEP is a written plan that is developed for each public school child who is eligible for special education services.The IEP is created through a team effort and reviewed at least once a year.
Nathan advanced to the second grade where he struggled.
"He would cry when it came time to do homework. He hated reading," said Jodi. "We ran into wall after wall. It's the worst feeling in the world as a parent to feel like you can't do anything for your child when he is having a problem. He wasn't in the category of children that the school could help."
Nathan had begun private dyslexia therapy at the beginning of his second grade year, but the school setting in which he was placed was not meeting his needs.
As Nathan moved through the second grade, his therapist informed the Berrys that his struggles were only going to increase as he advanced in school.
Jodi had researched the 3-D School and Evaluation Center in Petal which is a specialized dyslexia school where students are taught a comprehensive dyslexia therapy curriculum. She inquired about moving Nathan during his second grade year, but they did not have an opening. As the time came for Nathan to enter third grade, the 3-D School had a spot available.
"The thought of third grade seemed terrifying," said Jodi. "That's when we made the decision to move him because he was reading on a preschool level, and we didn't want them to pass him on to third grade."
Nathan entered the third grade at the 3-D School and began to thrive.
"He had been embarrassed about being pulled out of class. It made him feel like he was different than all the other kids," Jodi said. "But now his confidence level has gone through the roof. He is not afraid of learning anymore."
Equipped with the tools to be successful in school, Nathan no longer experiences the anxieties and hurts that he once associated with school.
"It is amazing the ways they teach these kids to read," said Jodi. "I've never seen anything like it. He doesn't dread reading anymore. Before, we were not able to get him to read anything to us. He wouldn't even try, but now he reads every day for school and will even read the instructions on his video games. It's been a huge change."
The successes Nathan has experienced in the right school environment, far outweigh the financial burden the family has taken on in order to send him to school.
"It's been a very long road, and, of course, nothing is covered by insurance. We've spent tens of thousands of dollars," said Jodi, "but we are going to do what we have to do for our son."
In addition to private therapy, school tuition, and medical expenses, the Berrys recently purchased a listening device for their son who was diagnosed in October with Auditory Processing Disorder.
"Those devices are not cheap, and they are not covered by insurance," said Jodi. "Just when you think you have things figured out, there's another hurdle you have to jump over. But what else are we to do? We are going to do everything we can for our son."
The Berrys received the dyslexia scholarship for Nathan. Adopted by the legislature in 2012, the Dyslexia Therapy Scholarship became Mississippi's first private choice program. The scholarship may be used for tuition at one of six state-approved schools including the 3-D School.
The scholarship, valued at $4,985 this school year, goes to help cover the $10,000 tuition price tag for the 3-D School.
Jodi also learned about another program offered by the state called the Special Needs Education Scholarship Account (ESA) which allows parents to use their tax dollars to send their child to any accredited private school that best fits their needs and use funds for tuition, therapy, textbooks, tutoring, transportation, and other qualified expenses. The ESA is valued at $6,594 this school year.
Yet the program is limited.
The Legislature authorized 500 seats in the first year of the Special Needs ESA program (2015) and an additional 500 new seats each year, bringing the total number of authorized seats to 2,000 this school year. However, funding has never met demand, and there are only 428 seats this school year. The Berrys are one of over 200 families on a wait list to receive one of the ESAs which are handed out by the Mississippi Department of Education in a lottery twice a year when seats are available.
The Berrys have been through two rounds of the lottery with no luck.
"It is disappointing," said Jodi. "We know there are many families out there who need these ESAs. It's a hardship for us, but if there are others out there who need it more then we can wait our turn. I don't understand though how the tax dollars I pay are not able to be used for my child."
As the Berrys move ahead on the journey with Nathan, Jodi said she is disappointed in the state's attention to children with special needs.
"It is extremely disappointing to understand how little special needs kids are valued by our state leaders," she said.
While the Berrys are frustrated, they have made their son's education top priority.
"I want him to be able to graduate," she said. "I want him to go to college and be successful in life. I have felt devastated more times than I should have to when it comes to my son's education. We just want to see him succeed."