"Teaching was always what I loved to do"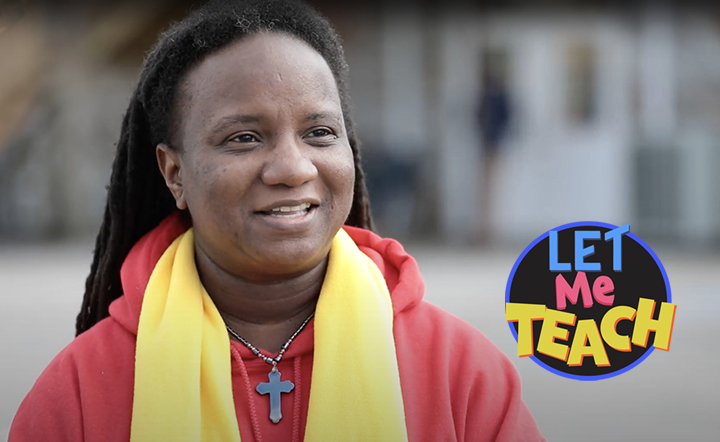 The passion to teach runs through the veins of Keeba Smith of Laurel.
"I come from a family of educators," she said, "my mom taught for 27 years. My aunt was a teacher and so are my two sisters. It runs in the family."
But Keeba ran from a career in education early on, she said. Spending time in the military and on the road, she realized that it was time for her to come back to where her passion lived and that was in the classroom.
"Looking back at it, teaching was always what I loved to do," she said. "I enjoyed taking things I knew and instilling them in other kids."
Keeba decided it was time to pursue that love of teaching and she did so by going back to school to get a Master of Arts in teaching at Jackson State University.
In 2012 she entered the classroom as a student teacher.
The Unexpected Classroom
"It was a lot different than I expected," she said. "I taught fourth grade at Boyd Elementary in Jackson."
What Keeba had been taught about using creativity in the classroom and making learning fun for students was not the way things were in reality.
"I saw so much emphasis on testing and test strategies," she said. "That took up so much time that it took away the opportunity for activities with the students. It felt like a prison."
Children were not engaged in learning. Children were bored. Children did not see learning as fun. That's what Keeba saw as she ventured out on this new path.
"School was no longer fun," she said. "It was the hand we were dealt as teachers, and we had to make the best of it for our students. I saw that kids were missing key life skills because they were not on the test and so they were not being taught."
As a new teacher at home in Jones County, Keeba waited to go into the classroom so that she could focus on her young children who were ages five and three at the time.
"My husband and I realized that my whole check was going to pay for daycare, and we decided it was not worth it, so I waited to teach."
Not long after, her daughter was diagnosed with dyslexia.
"I needed to be able to focus on her," she said.
Keeba enrolled her daughter at the 3D School in Petal – about 30 minutes south of her home.
Teaching At Home in Laurel
In late October of 2018, Keeba was approached by the school district to teach fourth grade in Laurel.
"They needed a certified teacher, and they knew I was certified," she said.
She explained that she needed to be able to drive her daughter to school every day, and the administration agreed to work with her schedule.
Keeba entered the classroom with the understanding that she would be teaching STEM (science technology, engineering, and math) related lessons.
"That's what I love," she said, "and I was excited about it."
Again, upon entering the classroom Keeba was saddened to see the rigidity.
"Everything was catered to the tests," she said. "Everything was about reading and math. The kids did not know social studies and science because they were not tested on them in elementary school. It was disheartening."
Keeba spent a year in fourth grade before moving to Laurel High School in 2019 where she taught science. She was charged with the task of teaching the foundations of science as well as remedial tutorials for the biology test to prepare students for the biology exit exam which is required for graduation. Keeba saw students who were falling through the cracks.
"They missed so much," she said. "They didn't have any of the elementary science knowledge or know any of the terms which are needed to build upon."
Sadly, so many students are passed along from grade to grade without mastery of skills necessary for success.
"The students have an 'I don't care attitude' because they know they are going to be passed along," Keeba said. "The only test that they have an incentive to do well on is the third-grade reading gate because they know they will fail third grade if they don't pass it. Then, they get to ninth grade and are shocked when they find out they have to pass the four exit exams (U.S. History, Algebra, Biology, and English)."
The frustration for Keeba as a teacher was to see students who could do well in her class but couldn't pass the exit exams.
"We have a whole generation of kids who pass high school but didn't pass their exit exams so they couldn't graduate," she said. "These state tests that people keep campaigning to do away with need to go."
What's the solution?
"Do away with the tests," Keeba answered quickly. "There is so much pressure on teachers – so much pressure on students. There is so much paperwork and documentation. The decisions about education in our state are being made by people who have not stepped foot in our classrooms."
Let Teachers Teach
Keeba noted that teachers must be allowed the freedom to teach in a way that they know is best for their students.
"My son's teacher called me one day after a test he had taken. She told me he got every answer on the math test right, but he didn't work the problems the way she wanted him to – the way they have to be worked on the test, so she was going to let him do it over and do it the way that they are supposed to be worked on the test. That's ridiculous!
"Why can teachers teach? As long as they are teaching according to Mississippi standards, teachers should be able to teach."
The future of education in Mississippi is bleak according to Keeba.
"You've got teachers leaving the profession because of the hassle," she said. "It's not worth it. Teachers are struggling and nobody cares. Administrators are not seeing the whole picture. We have a nationwide crisis and it's not because of teacher pay."
She noted that, in her opinion, teacher pay is not one of the top reasons that teachers are leaving.
"It's a lack of respect from administration. It is overloaded classrooms, and it's the fact that teachers feel like they don't have a say in the policies that impact their classrooms. They do not respect and appreciate the efforts of the teachers."
Keeba left the classroom in October of 2021 because of a change in her school's administration and an unwillingness to honor her previous arrangement with the district which allowed her to drop her daughter off at school and be back in her classroom before her students arrived.
"It came down to my job or my child and I chose my child," she said. "They can barely keep the teachers they have. My mom is on the school board and last month they had seven teachers resign from just the high school. It's a real problem."