Students, Families Rally For School Choice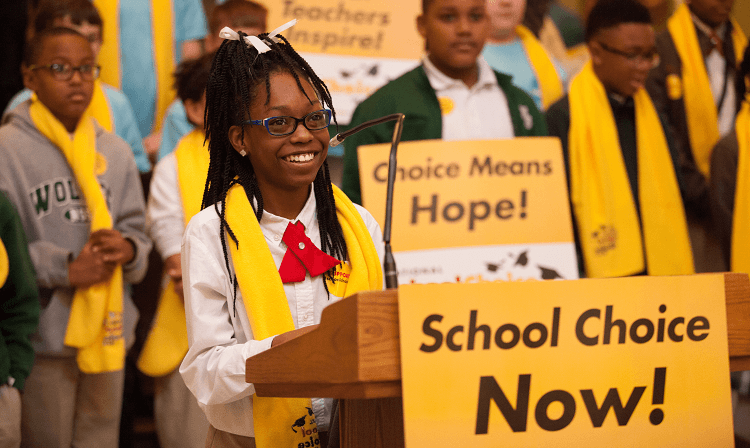 This morning nearly 1,000 students, teachers, and families from around the state descended on the State Capitol to take part in the 2nd Annual Mississippi School Choice Rally.
Some students travel hours, from as far as DeSoto County, Tupelo, and Hattiesburg; others had only a few blocks to drive from their school. But all came, donned matching yellow scarfs to signify "school choice," and joined their voices in support of one simple message: Every single Mississippi child deserves the opportunity to choose where they go to school.
The crowd was as diverse as the types of education options represented, from charter schools, private schools, homeschoolers, to magnet schools and other traditional public schools.
We heard from Lt. Governor Tate Reeves, who applauded the progress Mississippi has made, but said there is "significantly more work to do" to ensure every child has school choice. We heard from two parents of charter school students who shared their jubilation at experiencing the life-changing power of school choice in their families.
The star of the rally was Kyla Jackson, a sixth grader at Midtown Public Charter School who spoke with eloquence and spunk about how much she loves her charter school.
The Lt. Governor is right, Mississippi has made a lot of progress, but the vast majority of Mississippi students still do not have access to high quality education options. When you add up all the students in charter schools and those utilizing the ESA and voucher programs, it still only amounts to less than one half of one percent of the total Mississippi public school population.
We must expand school choice programs to more students. Every day we delay, another student falls behind, another student drops out of high school, and another student settles for something less than their full potential.
I was deeply encouraged by the turnout and passion of these parents and student. Clearly, the movement for school choice is growing every day. And with a soon-to-be US Secretary of Education in our corner, doors of opportunity are opening everywhere. With your help, we will continue to spread the word and grow the movement.
Until every student in Mississippi can choose their school – public, private, charter, etc – our work is not done.
To stay connected with what is happening in Jackson and up to date with the school choice and education reform movement in Mississippi, Join The Movement today.