Senate bows to public education establishment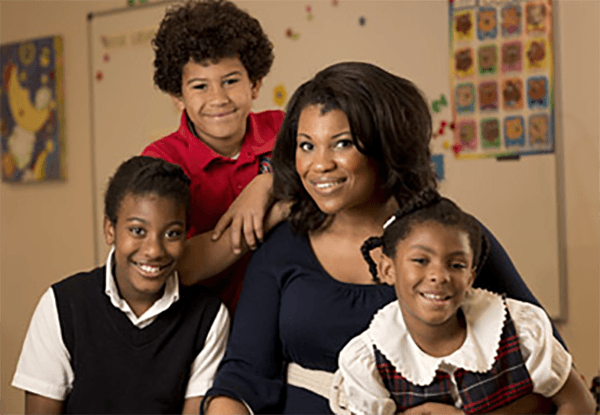 A few weeks ago, Governor Tate Reeves appointed Carra Powell to the State Board of Education. Powell is a single mom with two children who graduated—and one more graduating soon—from DeSoto County Public Schools. She has been a member of SouthPoint Church of Southaven for 15 years and she teaches child birthing and parenting classes at The Care Center of Southaven. In short, she's a Mississippian with deep roots and deep connections from serving in her community for decades.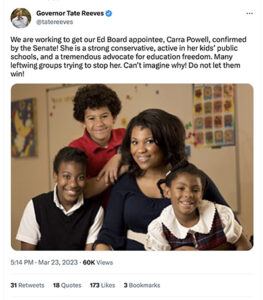 Her appointment to the state board had to be Senate confirmed. Sadly, Sunday afternoon, while the Governor was tending to tornado victims in another part of the state, the Senate Education Committee took up and tabled (effectively killing) the Governer's appointment. This committee with ten Republicans and five Democrats killed Powell's nomination with a voice vote, so there wouldn't be any record of how people voted.
Her disqualifying characteristic, apparently, is her unwavering support of charter schools. A few Senators raised questions over Powell's job, working in Memphis for the Tennessee Charter School Center, but when pressed about concerns, they acknowledged that Mrs. Powell did in fact meet the legal qualifications to serve on the Board, and further, the Mississippi Ethics Commission had cleared her to serve. Senator David Jordan (D-Greenwood) stated that the committee should instead seek someone who was "for public schools", implying that Mrs. Powell was, in fact, anti-public schools. The most vocal opposition to Powell's nomination came from a State Senator in Powell's backyard, Sen. Mike McClendon (R-Hernando).
This from Magnolia Tribune:
Sen. McClendon's stated opposition to Powell was that he believed the Governor should have appointed a current employee of Mississippi public schools, referencing the DeSoto County School System's 4,500 employees. However, Sen. McClendon's preference was not possible under Mississippi law. Miss. Code Ann. § 37-1-1 governs the appointment of members to the State Board of Education. Under the statute, the Governor is limited to two appointments of current employees of public schools (an administrator and a teacher). Neither of those appointments were vacant. So his appointment had to be outside of current employees of Mississippi public schools.
All these objections are really beside the point because the root issue is that Powell was opposed by the public education establishment and when that happens, you can bet the Mississippi Senate is going to follow their lead. If you look at the education bills that have been passed by the Senate this four-year term, you'd be hard-pressed to find even one bill that was not supported by the public education establishment. They demand 100% loyalty, a standard the Mississippi Senate has been pleased to meet.
Powell has always stood up for children, parents, and education freedom—while celebrating the great public schools her children attend—but because she didn't demonstrate absolutely fealty to public education, her confirmation in the Mississippi Senate never stood a chance.