Reforming Mississippi's criminal justice system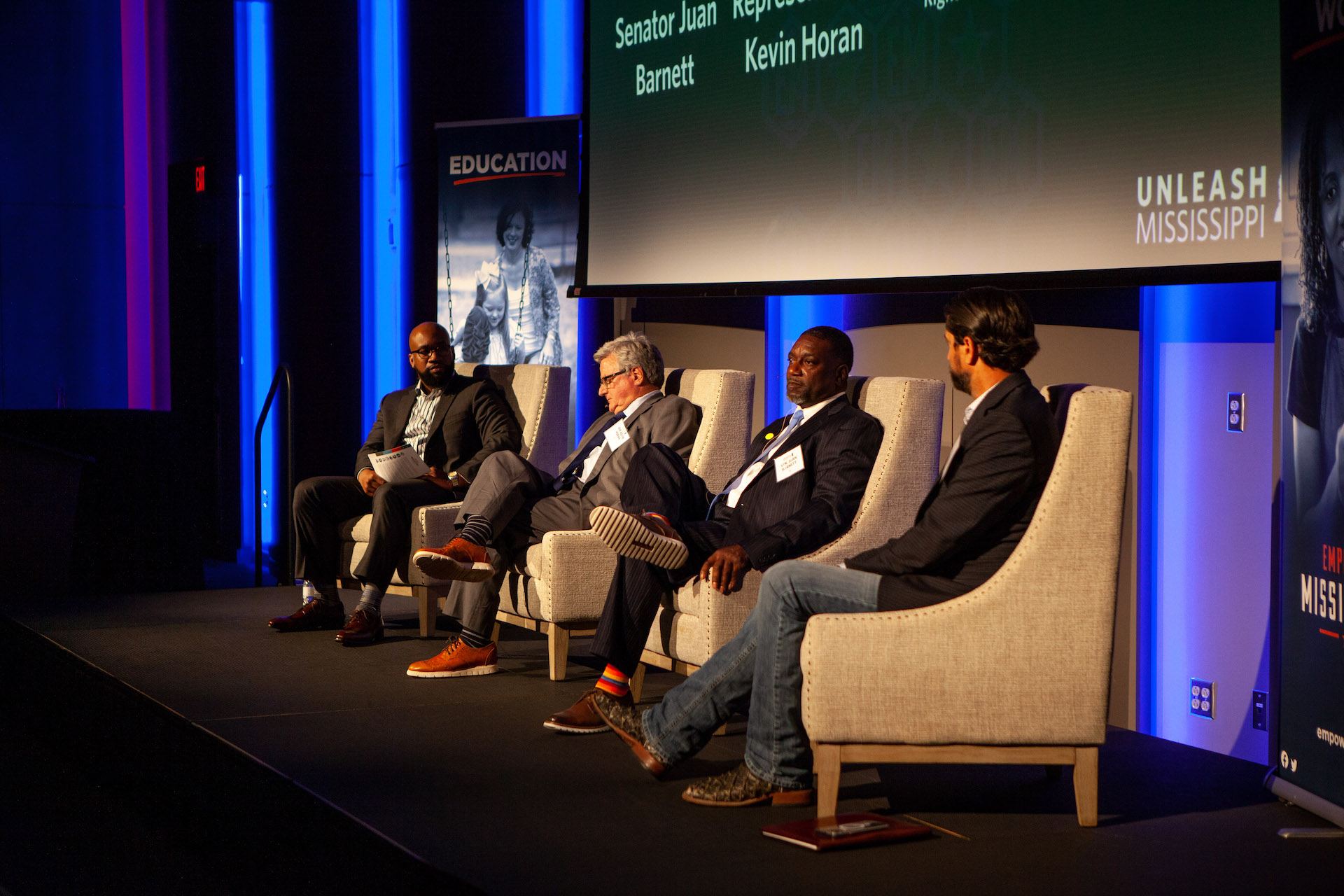 Sen. Juan Barnett never imagined that he would be a leading voice for criminal justice reform in Mississippi.
When he was younger, Barnett's father was killed. He was mad as any child would be. He believed the killer received a light sentence and he once told a judge he couldn't sit on a jury because he would sentence a man to life in prison for stealing a pack of gum.
That anger and bitterness hung around.
"It never got any better for me until I sat down with myself," Barnett told the audience at Unleash Mississippi. "You have to learn how to forgive. There are some that should be incarcerated for the rest of their lives, but there are some individuals who need a second chance.
"We can and do make mistakes. But there should be forgiveness."
Today, as the Chairman of the Senate Corrections Committee, Barnett is a leading voice in the Mississippi legislature for second chances. And this week he was on a panel with Rep. Kevin Horan, Chairman of the House Corrections Committee, and Brett Tolman, the Executive Director of Right on Crime, at Empower Mississippi's Unleash Mississippi.
Barnett spoke about forgiveness, but also about how those who are in prison, many of whom did not have a solid foundation growing up, can be transformed. And the policies lawmakers put in place can play a role toward rehabilitation.
"If we forgive those individuals and let them know that we have forgiven them, it makes them a better person," Barnett added. "Because some of those people in prison never had anyone to believe in them and now, they know that somebody cares about me, somebody is trying to make sure that I do better than I did when I came in this place, that's what makes a difference."
From prosecutors to reformers
Horan and Tolman, both former prosecutors, echoed those comments and outlined how we can incentivize prisoners through parole reform, as Mississippi did with parole reform legislation that passed last session.
"I came down here and lobbied for the prosecutor's association back when I was a prosecutor and I never wanted to hear a legislator say we're going to lower the maximum on possession of cocaine, or selling cocaine," Horan said. "I would be shaking in my boots if I heard that.
"But we got to take a hard look at what we want to do in the poorest station in the nation. The highest incarceration rate, and the highest penalties for some crimes that are the least offensive to our society."
The three panelists noted we need to give people an incentive while they are incarcerated.
"If you incentivize incarcerated individuals, they'll lower their recidivism if they think there is something else they will receive except just the length of time that they have ahead of them," Tolman added.
Tolman talked about Texas has been able to address these issues. Because of reforms, the state was able to save money by shutting down or not opening eight prisons as prison rolls swelled more than a decade ago.
"And no one will accuse Texas of being soft on crime," Tolman joked.
Mississippi is in a similar position to Texas of years ago.
"When I left prosecuting there were 11,000 inmates, we're up to an average of 19,500 now," Horan said. "Crime hasn't gone up that much, you hear more about crime, but violent crime has not gone up that much. We incarcerate a large number of people who have mental health issues as opposed to criminal conduct."
Tolman said conservatives should be leading the charge for reforms, both from a financial and moral standpoint.
"We arrest and we want to punish," Tolman said. "The over-incarceration problem is not based on data. We created and expanded areas for prosecution and then we enhanced sentences. We started punishing because we were mad at people rather than a punishment that fits the crime."
There is an economic and human burden of incarceration. There is also a societal impact of families being torn apart.
"I want to see Mississippi fix this themselves," Tolman added.