Rankin County Sheriff (Part Two): 'They need a brand new life and I'm going to help them'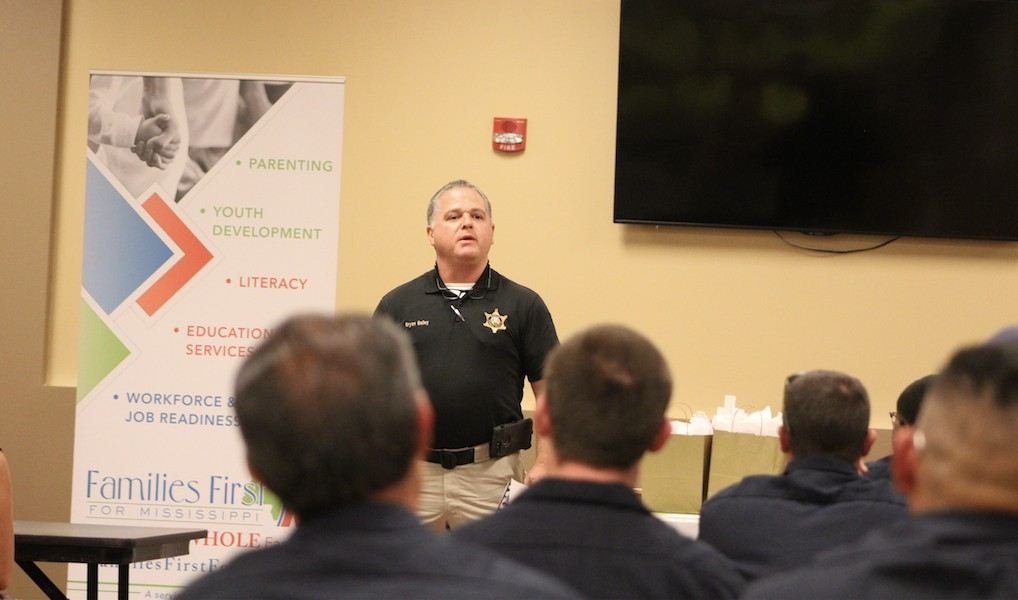 "It breaks my heart to see the talent we have in this jail that is wasting away."
The Rankin County Sheriff's Department has adopted a new approach when it comes to rehabilitating non-violent offenders.  The Sheriff's Trustee Program has had great success in helping those who have struggled with addiction and run-ins with the law go on to lead productive lives in the community.
Sheriff Bryan Bailey and those in his department are determined to help non-violent offenders turn their life around through the Trustee Program, and so far, have had great success in doing just that.
"Some of our trustees have realized they don't want to go back to their old lives," said Bailey. "They need a brand new life and I'm going to help them."
Members of Bailey's department were skeptical with his approach early on.
"When I started, it was about getting criminals off the streets and sending them to prison," said Captain Barry Vaughn.
Vaughn has been with the Sheriff's Department for 22 years and has been jail administrator for the last two years and during that time has changed his way of thinking when it comes to those incarcerated in his jail.
"Seeing how MDOC is broken and just doesn't work and then seeing how this program works and changes people's lives is amazing," said Vaughn.  "We have guys come back and mentor other inmates.  I've seen it work, and I'm amazed that it's not done in other places.  Prison isn't always the answer."
Vaughn has developed a bond with the inmates and has found himself working to help them succeed.
"We love when people succeed," he said.  "We very rarely see it, but that's what we want to see."
He has a core group of about 20 inmates who meet three days a week at 4:30 in the morning to go on group runs and participate in physical training.
"It's a huge thing for morale building," he said.  "We had five of them who just ran a half marathon, and we got churches to donate for the purchase of their running shoes.  People think it's crazy, but training for a half marathon is a life lesson – to reach that goal is a life lesson."
Vaughn noted that giving the inmates something to strive for gives them a purpose.
"It gives them answers to questions they never knew they had," he said.  "What we realized when we talk to them is that a lot them weren't taught those lessons.  They were taught to survive and not trust anybody.  We try to set the tone that there are rules to follow and if you mess up you will hear about it from me, but if you follow the rules and guidelines then you'll get rewarded." 
Jennifer
Those rewards come in far larger forms that just what the inmates are working towards.  For many it comes in the form of rebuilding their lives and relationships.  That was the case for Jennifer a female inmate.
"I've been here since October of 2017," she said.  "I was addicted to drugs and had lost my relationship with my family."
Jennifer described herself as bitter and angry when she arrived at the jail.
"I was broken," she said.
As she struggled to find her way, her hurt was compounded by the fact that her son worked as a deputy in the Sheriff's Department and would not acknowledge her.
"That was one of the most devastating moments in my life was when he walked right past me in the jail and wouldn't even look at me," she said.  "I realized how much pain and hurt I had caused him as well as myself."
Jennifer entered the program and began working her way through the levels as well as healing not only her wounds but her relationships with family members.
"I got everything I needed here to develop a strong foundation," she said.  "I have also been able to develop a relationship with Christ."
As she began to improve her own life, the relationship with her son was slowly being restored.
"He would walk by and speak to me," she said.  "We'd talk and then one day he turned around and called me 'Mama'.  And this year he got me a Mother's Day card."
Written inside the card, Jennifer said, was the message, "Keep pushing forward, Mom."
Tears began to stream down Jennifer's face.
"I would never have gotten my life back had I not ended up here," she said.  "It's been a blessing."
That's the way many who are participating in the program feel.
Success
Bailey recalled one of his early success stories.
"I had a guy who was a meth-headed burglar when he came to jail," he said. "He was getting out and he came to me because I have an open-door policy with our blue suits.  They can come talk to me about anything.  He was about to get out and the only place he had to go was to his mother's house in Jasper County.  He told me his brother was still living there and he was on crystal meth."
Bailey laughed and said that several in his department thought he was crazy when he agreed to let the man move in with his own mother where he traded out rent for cutting her grass and doing jobs around the house.
"I got him a job working for the county and today he's been out three years," he said.
In that three years' time, the former inmate has had three promotions at work, gotten married, bought his first home and been able to establish visitation with his children.
"He is now an upstanding citizen of Rankin County," Bailey said.
"I had a lot of resistance from employees when I started," said Bailey.  "There are a large number in that jail who will never change, but there's a percentage that if we help them will never be back in this jail."
Rankin County Criminal Justice Reform
With the success rate, nearly 50 percent of those who complete the program, Baily has begun to think more about criminal justice reform.
"What I'd like to do is get with members of the legislature to introduce a Rankin County Criminal Justice Reform program where you have about 12 classes that are offered and whatever is agreed on – if you complete three or six of those classes and get a certificate then you are eligible for an additional expungement or early release," he said.  "Then what we really need is a halfway house."
Bailey said the county owns a five-bedroom house as well as its old juvenile detention center.
"We could make mini apartments and transition people who are getting out of jail.  Then we need a way for them to legally make money before they get out of jail.  We could give them six months to earn money, and we could pay for their room and board during those six months.  We would require them to save a percentage of that money in a savings account so that once their six months is up, they are ready to go out on their own, but this would be a one-shot deal.  If they mess up, they would go back to the state prison."
Bailey said the talent in his jail is second to none.
"It breaks my heart to see the talent we have in this jail that is wasting away.  As far as expungement go, they may have messed up and have a drug charge, but there are some of these people I'd much rather hire than some of those applicants I have coming in here.  We need to be able to help them with expungements so they can move on."
Vaughn agreed.
"We have some skilled guys," he said.  "We have some very talented people that save us tons of money.  We have plumbers, electricians, and carpenters."
"Some of these people are my best friends," said Bailey.  "Let me read you a text I got from one of them the other day. 'You are the big brother I never had in my life.  I can't believe a man of your stature could see the good in me.'"
When applauded for his work, Bailey has a simple response.
"It's not me.  It's definitely God."