Open Letter Of Support: Betsy DeVos For U.S. Secretary Of Education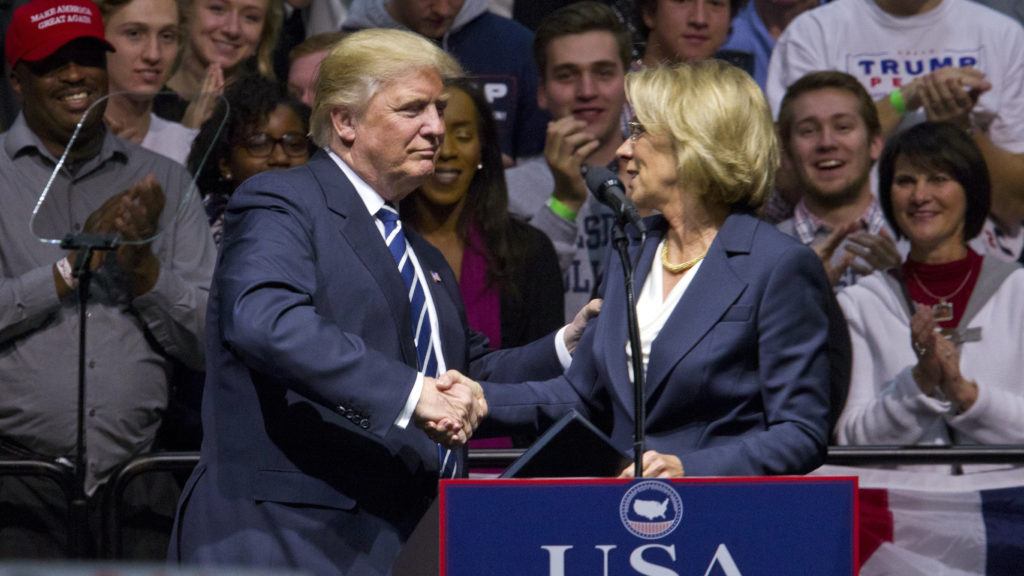 Empower Mississippi joined more than 70 state leaders and organizations in showing our support for Betsy DeVos to be the next United States Secretary of Education.
Betsy DeVos is an undisputed champion of families and students. For nearly 30 years she has devoted time and resources to improving education options for our nation's children. Yet millions still languish in failing schools in an education system more than a century old. It's time for a new vision.
Betsy DeVos provides that vision. She embraces innovation, endorses accountability and—most especially—trusts parents to choose what is in their unique child's best interests. She also believes in providing every parent with the resources and choices to pursue those decisions.
On this week, National School Choice Week, we the undersigned endorse this champion of choice and the education reforms needed to improve the future of every child in America. And we strongly advocate for her confirmation as our next U.S. Secretary of Education.
Sincerely,
Jeff Atwater, Chief Financial Officer, State of Florida; State Representative Robert Behning, Indiana; State Representative Michael Bileca, Florida; State Representative Buzz Brockway, Georgia; State Representative Wes Cantrell, Georgia; State Representative David Clark, Georgia; State Representative Kim Coleman, Utah; State Representative Manny Diaz, Jr., Florida; Steve Durham, Member, Colorado State Board of Education; Lt. Governor Dan Forest, North Carolina; State Senator Dolores Gresham, Tennessee; State Senator Don Gustavson, Nevada; State Senator Joe Hardy, Nevada; State Senator Owen Hill, Colorado; State Representative Paul Lundeen, Colorado; Pam Mazanec, Member, Colorado State Board of Education; Adam Putnam, Commissioner of Agriculture, State of Florida; State Senator Michael Roberson, Nevada; State Representative Rebecca Roeber, Missouri; State Representative Ed Setzler, Georgia; State Representative Valencia Stovall, Georgia
Agudath Israel of America-Washington Office; Alabama Federation for Children; American Association of Christian Schools; Arizona Federation for Children; Frederick Hess, Resident Scholar and Director of Education Policy Studies, American Enterprise Institute*; American Federation for Children; Americans for Prosperity; Americans for Prosperity-Arizona; Arizona Chamber of Commerce and Industry; Arizona Charter Schools Association; Black Alliance for Educational Options; Business Council of Alabama; CarolinaCAN; Center for Arizona Policy; Children's Education Alliance of Missouri (CEAM); Civitas-North Carolina; EdChoice; Educate Nebraska; Empower Mississippi; Foundation for Excellence in Education; Florida Charter School Alliance; Florida Coalition of School Board Members; Georgia Charter Schools Association; Great Lakes Education Project (GLEP); Hispanic CREO; Idaho Charter School Network; Independence Institute; Independent Women's Voice; Institute for Better Education; Institute for Quality Education; Jeffersonian Project; Louisiana Association of Business & Industry; Louisiana Federation for Children; Mackinac Center for Public Policy; Maggie's List Missouri Education Reform Council (MERC); National Alliance for Public Charter Schools; Parents for Choice in Education; Parents for Educational Freedom in North Carolina (PEFNC); Pennsylvania Coalition for Public Charter Schools; Public School Options; Ready Colorado; Reason Foundation; Rio Grande Foundation; SchoolForward; Tennessee Federation for Children; Texans for Education Opportunity; The Center for Education Reform; The Libre Initiative; Thomas B. Fordham Institute; Wisconsin Federation for Children
* Signing as an individual. AEI as the organization does not take a stance on such matters.
A PDF of the letter can be found here.
To stay connected with what is happening in Jackson and up to date with the school choice and education reform movement in Mississippi, Join The Movement today.