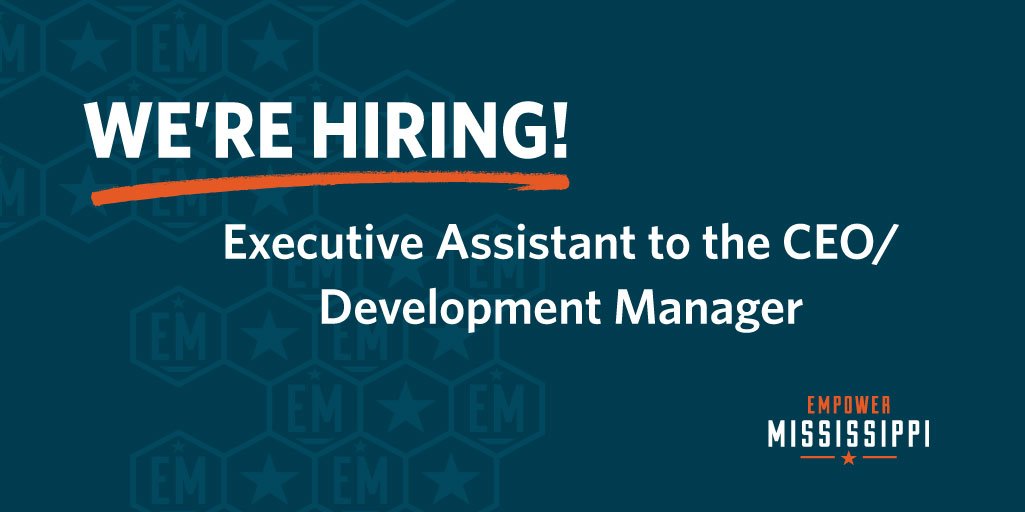 Empower Mississippi is in search of a full-time Executive Assistant to the CEO and Development Manager who will support the CEO at a high level, work with him to maintain and improve our strategic fundraising plan, help connect him with new donors, and manage cultivation for existing donors.
The position will have full authority to manage Empower Mississippi's prospecting strategy and process with the goal of maintaining, and where necessary, improving a system that continually brings new donors into the organization, especially major donors. They will be able to put their best ideas to the test for how to generate promising leads, research potential donors, leverage existing relationships to create referrals, and assist the CEO in converting them into long-term financial partners. They will also have the goal of maintaining, and where necessary, improving the existing cultivation process to ensure world-class communications with donors. Lastly, they will provide high-level support to the CEO by managing his communications, scheduling, and other tasks as necessary.
RESPONSIBILITIES
Maintain and improve systems and processes for sophisticated donor prospecting pipeline
Keep projects and commitments on track
Coordinate the CEO's schedule and travel/meeting arrangements, and help him prioritize his time
Assist with CEO's communications
Maintain contacts and files
Create and prepare metrics reports
Lead prospect research on new donor prospects and schedule initial meetings for the CEO
IDEAL CANDIDATE WILL HAVE 
Entrepreneurial spirit and self-starter work style
Forward-thinking, strategic mindset
Solid writing and communication skills
Professional manner and ability to extend hospitality to donors and other high-level individuals who may interact with Empower Mississippi
Ability to multi-task, organize numerous moving parts of a project, and meet deadlines
Highly organized style with an appreciation for systems, processes, and checklists
Superior research skills with no fear of making introductory calls
Relentless approach to generating new donor relationships for the CEO and to following up with CEO to ensure that tasks stay on track
Bachelor's degree
Empower Mississippi offers competitive compensation, a generous health insurance package, paid time off, paid holidays, and a retirement matching contribution.
HOW TO APPLY
Qualified candidates should submit the following application materials:
Résumé
Cover letter detailing:

Interest in the position and a compelling case for why the applicant is a good fit for Empower
Salary requirements
Materials should be emailed in one PDF document to Gina Metzger at gina@empowerms.org.