New Opportunity For Clarksdale Students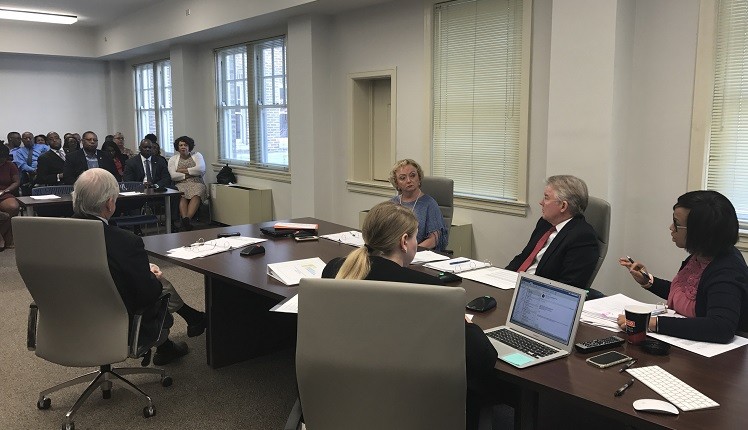 Yesterday, I attended a public meeting of the Mississippi Charter Authorizer Board in which the group approved a new charter school:  Clarksdale Collegiate Public Charter School.  This school is the fifth to be authorized in the state, but the first that will open its doors outside of the state's capital.
Clarksdale is located in Coahoma County in the heart of the Mississippi Delta.  Both the Coahoma County School District and Clarksdale Municipal School District are failing under the state's accountability rating system.  Neither one of these is a fluke – these districts have struggled for years.
| | | | | | | | | |
| --- | --- | --- | --- | --- | --- | --- | --- | --- |
| | 2015-2016 | 2014-2015 | 2013-2014 | 2012-2013 | 2011-2012 | 2010-2011 | 2009-2010 | 2008-2009 |
| Clarksdale School District | F | D | N/A | D | Low Perfor-ming | Low Perfor-ming | At Risk of Failing | At Risk of Failing |
| Coahoma County School District | F | D | D | F | F | Low Perfor-ming | Academ-ic Watch | Failing |
This information might lead you to believe that legislators and administrators who also call Coahoma home would be excited for this new opportunity for their local children.
Instead, at the September 11 meeting, both local representatives and district superintendents argued passionately against the opening of Clarksdale Collegiate, described by its founder, Amanda Johnson, as a place that will prepare kindergarteners through 8th graders to "excel in high school and college by providing rigorous instruction within a structured, ambitious, and jubilant school community."
Only a few minutes after the board voted to approve this school, State Senator Robert Jackson offered a head-scratching response: "I will continue to work until it's no longer there," he said, referring to the newly authorized school and adding that the same goes for the state's charter law.  Clarksdale Superintendent Dennis Dupree scolded the authorizers and Johnson for not visiting his school district to see the issues they are having now.  Johnny Newson from the Coahoma County Board of Supervisors asked what to say to his public when taxes go up.
Local officials made plain that they do not want this school.  They asked for "more time" to consider schools like Clarksdale Collegiate.  One commenter said if public schools were "good enough" for them, they had to be good for kids now.
The lack of urgency was palpable, and I sat there wondering how these leaders could demand more time when Delta students do not have that luxury.
No one is claiming that one charter school can eliminate generational poverty or years of inadequate instruction forced upon students who did not choose it.  No one is claiming that one charter school will work for everyone.  But it is the very definition of insanity to keep doing the same thing and expecting a different result.
Research shows that choice is good for students.  Clarksdale has students who desperately need a change.  Added together, these two realities equal schools like Clarksdale Collegiate that aim to help students faced with the depressing prospect of attending schools that have not met state-mandated benchmarks for years without repercussions.
Alternatively, when Clarksdale Collegiate opens, it will be the result of a rigorous application process and accountable to its public – unlike other Clarksdale public schools, it must close if it fails to deliver on its promises.
Furthermore, this debate is already over, so why are we still having it?  Introducing competition into a region raises expectations and performance for everyone, including traditional public schools.  Charter schools provide autonomy that is attractive to quality educators who desire support and freedom, not paperwork.  Students perform better in choice programs, and it is their families' tax dollars that follow them.  In fact, charter schools must offer better outcomes with fewer public dollars, not more.
The tiresome excuse that more funding and more time would solve all ills has been disproven over and over, and yet naysayers continue to bring it up to the detriment of students.
Last year, I was in a charter school classroom leading a 7th grade discussion of the dystopian novel Fahrenheit 451.  At the end of the book, one man who has given up everything in his fight for freedom of choice and individual prosperity exclaims, "I hate a Roman named Status Quo!"  My bright, young students were wise enough to applaud his stance against the ruinous, existing state of affairs (the translation of the Latin phrase).
The status quo has not worked for years in Coahoma County – if only those who claim to represent the interests of Mississippi students and to want the best for them would applaud this opportunity to change it.