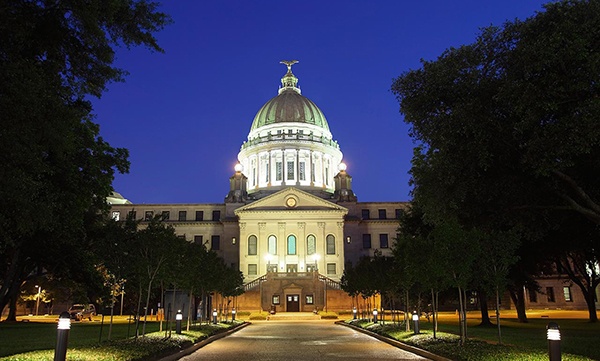 As the 2020 legislative session winds to a close, it's important to take stock. COVID-19 has dramatically altered everyday life for Mississippians, and the legislature was not immune from its effects.  The virus shifted lawmakers' focus away from regular business, presented new opportunities and new challenges.
At Empower Mississippi, we doubled down on our mission to create an opportunity rich environment for all Mississippians and address the biggest hurdles that stand in their way.  This year, that meant fighting to keep alive an education scholarship account program that helps families of children with special needs find the education fit that is right for them, supporting virtual learning options as COVID-19 forced our schools to close, removing regulations that prevent people from finding meaningful employment, and working to address a growing and tragic prison crisis unfolding in Mississippi.
Progress has been made, but more work remains.  At the same time we are reflecting on successes and misses from 2020, we are busily planning to be even more effective in the years ahead.
Special Needs Education Scholarship Accounts
Five years ago, Empower Mississippi championed the development of an innovative program to ensure that families of students with special needs had education options for their children.  This journey began on the shoulders of beleaguered parents, who agonized over their children falling further behind, and students with special needs, who deserve every chance at a quality education.
The result of this journey was the passage of a groundbreaking law aimed at providing these families with choice. In the intervening years, countless families have shared with us their stories of opportunity and success under the education scholarship program.
This year, the legislature had its own choice—to continue providing hope for these families or to discontinue the program. (This program was created as a five-year pilot program and was scheduled to sunset if the legislature took no action.) Empower Mississippi went to work, launching its Save Our ESA campaign.  We are pleased to report the legislature did just that.
Unfortunately, the efficacy of the law was dramatically impaired by changes made to it.
The state's Education Scholarship Account for children with special needs was one of the most non-restrictive choice programs in the country – until now.  With opponents of the program eager to cripple its effectiveness at offering some of our most vulnerable students with the educational setting they desperately need, the ESA program was passed (SB2594), but included changes such as eliminating online and out-of-state options, requiring students to take pre and post-assessments and narrowing the window of eligible applicants to the program.
We've traveled the state getting to know families who treasure this program because it is the only option that works for their children.  Thankfully, many of them have been able to keep their ESA with the renewal of the program, but still others have found their school of choice ineligible for the program.
In addition to eliminated options, legislators saw fit to reduce the program's funding by $2 million.  The total funding for the upcoming year will be $3 million – the amount allocated at the program's inception.  While we are still working to calculate the impact of this, it appears that up to 100 students may lose their scholarships because of this funding reduction.
Expanding Employment Opportunities
Occupational licensing is simply understood as government permission to work.  Licenses are often sold as a tool to ensure quality and safety of work, but with mounting, and often unreasonable, fees, training requirements and restrictions, can become a stumbling block to people earning a living.
In the 1950s, less than 5% of all workers required an occupational license—doctors, lawyers, airline pilots.  Today, nearly a quarter of all American workers must obtain a license to work, many in professions that do not represent a public safety threat—landscapers, hair braiders, interior decorators. That's over 30 million people, with tens of millions more who are locked out of professions entirely.  And when it comes to low to middle income jobs, Mississippi has one of the highest rates of licensing requirements, with over 60 different licenses.
Three years ago, a broad coalition worked to pass occupational licensing reform in Mississippi.  The 2017 law, which was championed by our new Senior Vice President Russ Latino in conjunction with then-Governor Phil Bryant, represented first-in-the-nation comprehensive licensing reform.  The law sought to implement a review process for new licensing regulations to make sure those regulations did not place unreasonable restrictions on entry to work.
This year, Empower supported HB1104, a law which expands the review process to include not only new licensing regulations, but existing regulations, as well.  We are proud to say that Governor Reeves signed this legislation into law, opening doors of employment for countless Mississippians.
Addressing a Prison Crisis
Mississippi's numbers are up – and it's quite concerning.
Over the last few months we've all watched the death count within the walls of Mississippi's correctional facilities climb to record numbers. We've found our state centerstage as violence and deplorable living conditions were displayed in national headlines and sparked an investigation by the Justice Department at the urging of President Trump.
In addition to this national black eye, Mississippians pay hundreds of millions of dollars in taxes each year to maintain the second highest incarceration rate in the nation, and despite spending billions over the years to maintain this overly large prison system, many who leave our prisons are unable to hold a job and end up back behind bars.
Where does it end? When is enough enough? How can we fix it?
During the longest legislative session in history, lawmakers took giant steps towards fixing our state's prison crisis beginning with the passage of SB2123, which addressed the problem head-on.  The Correctional Safety and Rehabilitation Act empowered corrections officials with the tools to restore and maintain order in our state prisons while eliminating some of the exemptions to parole eligibility and allowing the Parole Board to take a "second look" at sentences to ensure that our tax dollars were being spent wisely.
The bill implemented long overdue parole reforms that will safely reduce the number of people in prison and incentivize those incarcerated to follow rules and participate in rehabilitative programs – the ol' "carrot and stick approach".
Does this mean that early release was guaranteed?  Of course not.  The bill put a higher standard in place for parole for violent offenders and ensured that no violent offense would be paroled without an intensive process that includes the right of victims and prison officials to oppose release.
We are a state in crisis – a pandemic crisis, a prison crisis, a budget crisis – and this bill would have saved critical tax dollars, while demonstrating to the Department of Justice that Mississippi is committed to addressing its incarceration crisis.
Unfortunately, a late surge of unfounded opposition and scare tactics ruled the day and Governor Reeves ultimately vetoed the bill.  We were deeply disappointed by this veto, but we remain committed to this legislation and hope to work with Governor Reeves to find a solution soon.
HB658 was designed to help those leaving the criminal justice system by expanding the state's expungement provisions to allow individuals with multiple felony convictions to apply for an expungement meaning they would longer have to disclose those convictions when applying for a job.  Ineligible crimes included crimes of violence or embezzlement, and all expungements would have required judiciary oversight as to whether or not it was granted.
This bill would have allowed tens of thousands of Mississippians to clean up their records and improve their job prospects.
Unleash Mississippi
In the midst of the pandemic, Empower Mississippi released a plan to "Unleash Mississippi."  Recognizing that COVID-19 had changed the playing field, we went to work identifying new opportunities for lawmakers and community leaders to build upon.  This roadmap will play a vital role as we build upon past success and expand our reach.
This year's legislative session was a mixed bag under difficult circumstances.  We are undeterred in our commitment to removing barriers to opportunity to all Mississippians can flourish.  There is still much work to be done.