Jackson's JRTOC program prepares young leaders for life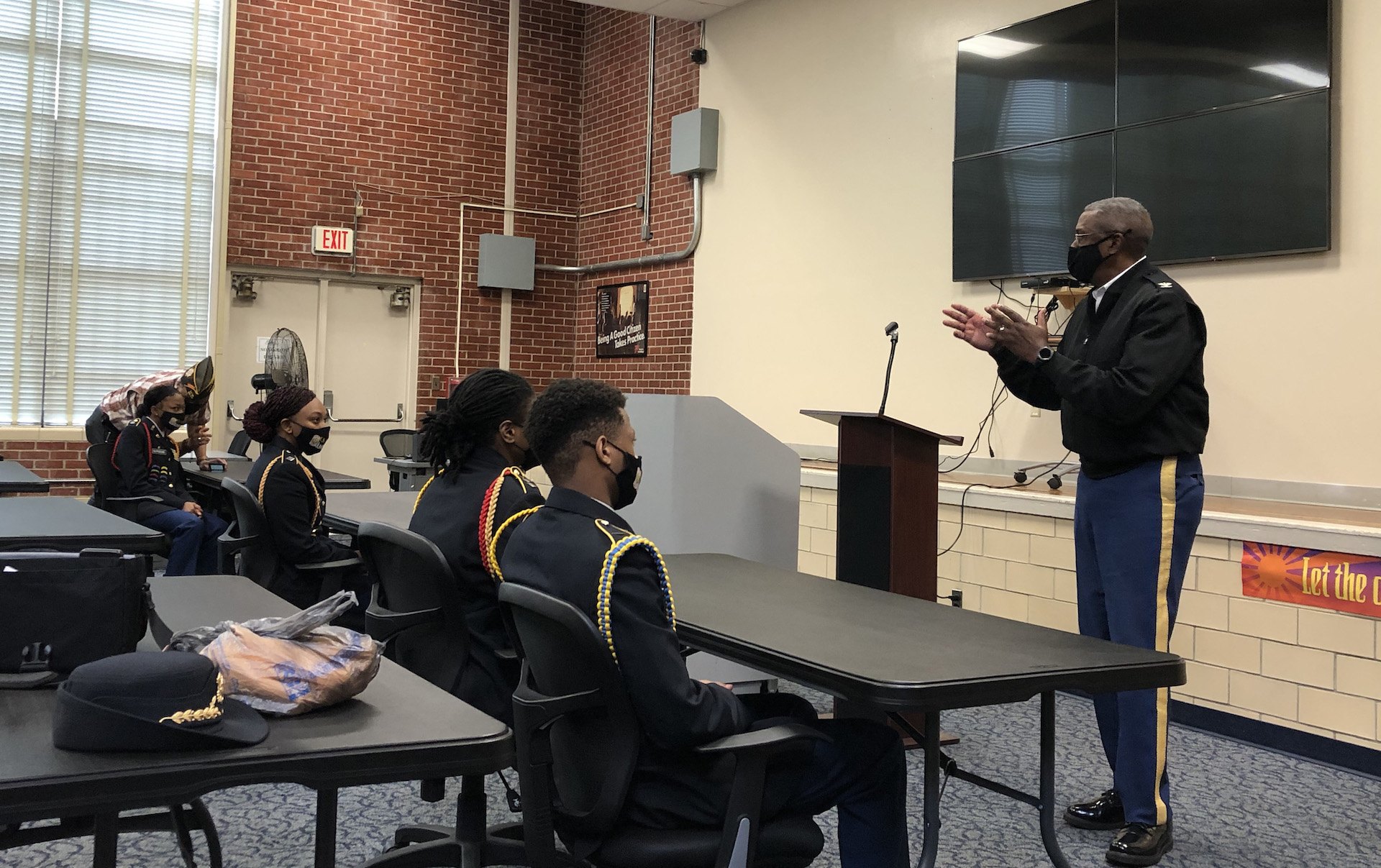 Our work at Empower has us laser-focused on how to ensure children receive an education that prepares them for life and have opportunities for meaningful work once their formal education ends.
We know that every student is unique and there's no such thing as one perfect system for all kids. We also know that while no two children have the same circumstance, every child can succeed. We recently had the opportunity to learn first hand how a program designed to provide structure and a sense of purpose is helping students in Jackson Public Schools become ready to face the world with a leg up.
Mississippi's oldest JROTC program
The US Army JROTC program in the Jackson Public School District is meeting students where they are and providing opportunities as well as character development that some would otherwise not experience.
First established in 1916, JROTC was created to provide a source of military training for young men in high school before they entered World War I.
"Today's program is about leadership and character development," said Colonel (Ret.) Paul Willis, Director of the JROTC program in the Jackson Public Schools.
Jackson's JROTC program began in 1936 at Central High School. Today, the program is offered in all seven high schools in the district and averages 1,800 students per year (about 26 percent of the JPS student population). All students are eligible to participate in the program.
"No student is turned away," said Willis. "JROTC prepares them to be better citizens while preparing them for their best life after high school. All of our cadets graduate high school, but we teach them that that is not enough. They must continue their education at some level after high school."
The JROTC classes are conducted in a structured, interactive environment and the classrooms are equipped with technology and tools to enhance student participation and learning. The program is a four-year program from grades 9-12. The instructors are highly qualified, military-experienced veterans who have successfully completed 20 or more years of service in the Armed Forces.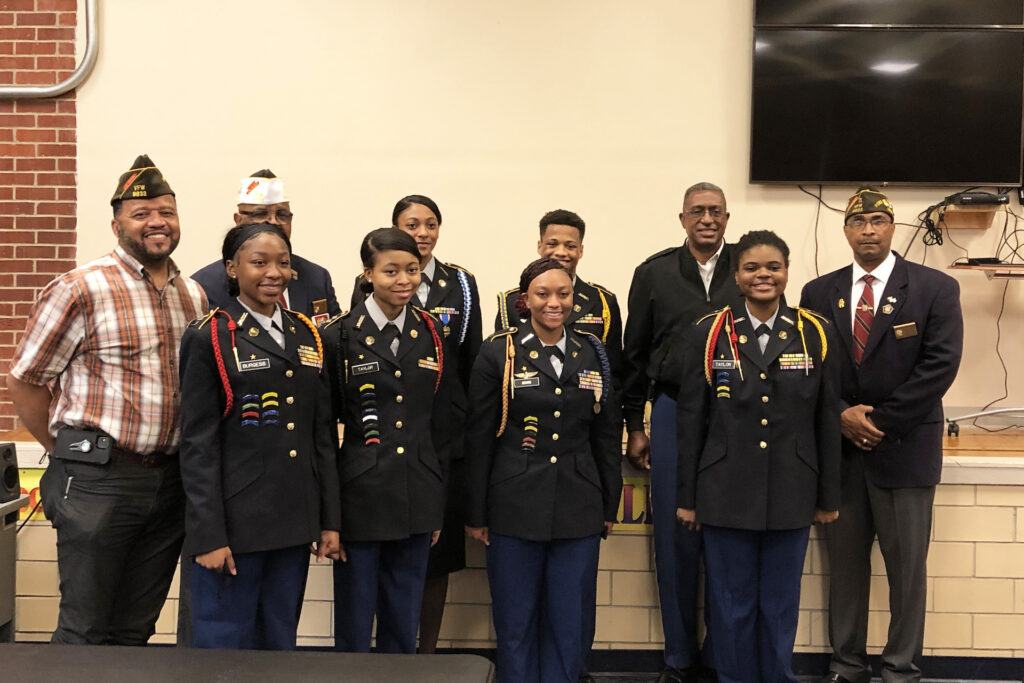 JROTC staff are committed to establishing a legacy of excellence as they strive to motivate young people to be better citizens. They prepare high school students for responsible leadership roles while making them aware of their rights, responsibilities, and privileges as American citizens.
The JROTC program removes barriers to opportunity for students in the district while exposing them to experiences and activities that they never dreamed were possible. Cadets participating in the program take field trips that teach them about careers and opportunities beyond their community.
Providing new opportunities
"The career field exposure and field trips have been some of the greatest experiences for me," said Cadet Jasmine Taylor. "Jackson kids don't always to see beyond their neighborhood. JPS students need opportunities. They are not usually introduced to career opportunities like we are with JROTC. I didn't really know myself before JROTC."
Taylor was named Cadet of the Year for her school and was also awarded the Leland Speed Scholarship.
Willis noted that the JROTC program is dedicated to providing enriching experiences for its cadets.
"We are about building leaders for life," he said. "We do real things with the cadets that create positive learning experiences. Real growth happens here."
"JROTC has helped me grow as a person," said Cadet Elizabeth Hawkins.
Cadet Ejacia Adams agreed.
"It's helped me find confidence within myself. It's something I didn't even know was there. I've learned how to be self-reliant and to look out for those around me."
For Cadet Christopher Brown, leadership has been the most valuable lesson he has learned.
"We work as a team and push for what we believe in," he said. "It's taught us to be inspired by each other."
Willis noted that while JROTC encourages cadets to go out and see what the world has to offer, it also instills a love of home.
"We tell them to go away and learn everything they can learn, but we tell them not to stay away," Willis said. "We have taught them that their community needs them.  We need them to come back and give back. We need engineers, we need doctors, we need all of them."
Preparing students for life
This year, JROTC has 224 students who are set to graduate with millions of dollars in scholarship money dedicated to their futures.
"We want them to walk away from JROTC as better citizens prepared to contribute to society," he said.
They are prepared through academic coursework, enrichment experiences, college visits, and more.
The JROTC program in Jackson is the largest program in Mississippi and boasts students who have gone on to college across the country. Willis noted that while the program begins in the ninth grade, it would be an even greater experience for students if it were available in middle school.
"If we could get them in middle school while they are still in those transformative years, it would be a great opportunity," he said. "Our ninth graders have tremendous challenges, and we believe that it is late to be starting in the ninth grade. We don't believe that it is ever too late for a student, but it creates some challenges for us. Our job is to meet the students where they are and move them forward, and sometimes by the ninth grade it is hard for them to cross that bridge. We want more students to have the opportunities that JROTC affords. That's our goal."
Willis noted that nearly 80 percent of the JRTOC cadets are from single-parent households.
"Our instructors are crucial to these students' success," he said. "Being an instructor requires sacrifice, but our instructors are willing to do it for our children and for the hope for our future. We have a vision and see the possibilities that exist right here. We are giving them hope for the future."
Because of this program, children who are largely growing up in poverty are graduating from high school, while being prepared for college, a career, and success in life.