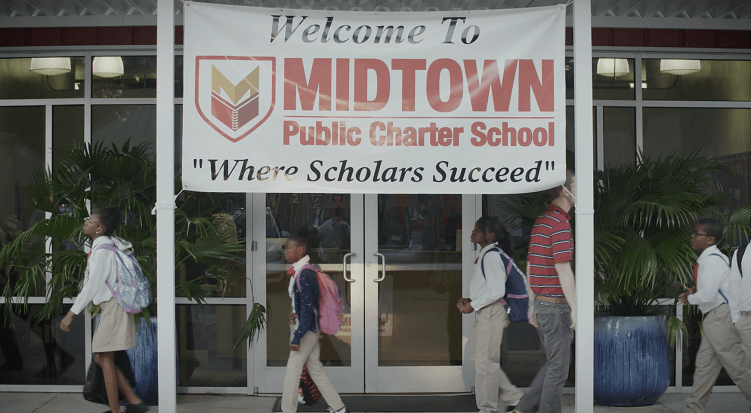 No school is perfect.  Every child is unique.  These universal claims have few to contradict them, yet school choice – the idea that parents should have a variety of educational options available and accessible to them – is still a widely contested front.
One way states have begun to open their doors to school choice is through charter schools.  Mississippi became the forty-third state in the nation to allow brand new charter schools to open in 2013.  Currently, charters may only open in "D" or "F" rated districts, and in 2016, students in districts rated a "C" or below could begin crossing district lines to attend one.  Three charter schools have opened their doors so far – all middle schools operating in Jackson.
Although the initial debate about charter schools has faded from view, the jury is still out for many – does choice, even limited choice, profit students?
My own experience offers a resounding "Yes!"
I taught for three years at a new charter school in Atlanta.  There, our primary mission was to form knowledgeable and virtuous citizens.  We sought to inspire a love of learning and hard, but worthwhile, work in students.  We read whole books and discussed big ideas regularly.  We provided students with good role models, whether they had them elsewhere or not.
As a teacher, I was a friendly, but firm, authority and had the full support of administrators when academic or disciplinary issues presented themselves.  The administration worked to make the school a place families wanted to be, and they had the power to hire and fire staff at their discretion, most of whom came as "subject matter experts" regardless of certification.  Our curriculum did not align with state tests because we had the flexibility to offer an education that demanded even more of young minds.
This environment, basic as it may seem, differed from many of the traditional public schools surrounding us.  My students told me of precious time wasted and bad habits encouraged in previous classrooms.  Many of them had never been held to higher standards than the ones they created for themselves.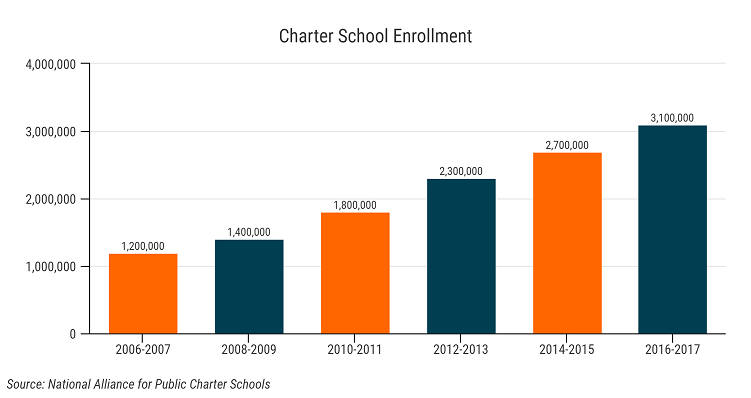 We knew we might not offer an education that everyone wanted, but we knew we were offering something many wanted when our waiting list swelled to well over 1,000 names. This is no different than what we have seen across the country as charter school enrollment has exploded over the past decade, as shown in the chart above.
Before and after acceptance, families were free to assess how well the school met their needs and matched their ideals.  At any time, they could leave and choose one of the many other options available to them in the city, although the vast majority stayed put.  That choice, research affirms, has far-reaching, positive effects.
Now, my school in Atlanta is not like the charter schools which have opened in Jackson.
In fact, the premise of charter schools is that they will not be alike because they are innovating to offer ever better options.  They, like private schools, will have more autonomy and direct accountability, but like traditional public schools, will be free and open to all district students.  However, they all have the same overarching goal:  to offer a different and perhaps better option to those who want one.
Recently, I visited two of these Jackson charter schools to see if I would hear the same stories and see the same differences I had seen in Atlanta.
I went to Midtown Public Charter School first – a bright red presence in an unassuming neighborhood in the heart of Jackson.  Students filed quietly in straight lines from modular building to modular building.  In classrooms, teachers conversed back and forth with students without losing control, and students were engaged in their work.  I stopped to talk to several students about where they wanted to go to high school if they could go anywhere – most mentioned selective private schools in the area without blinking.  Even though the school serves students who are coming in, on average, more than one grade level behind, these students were not conscious of any academic barriers.  They seemed happy and hopeful.
A few miles away, Reimagine Prep is housed in an old Catholic school and easy to overlook on days when students are not spilling into the parking lot for a fire drill.  It also serves a majority of students who have fallen behind academically.  There, student ambassadors confidently walked through the hallways and directed me into classrooms to observe the work going on.  They carried books with them, communicated respectfully, and answered my questions candidly: "Do you like it here?  How is it different from your previous schools?  How is your academic performance now?"  One girl nodded vigorously and told me with relief that she finally enjoyed and understood math.  Another girl said proudly that her grades were getting better and better.  Another said she felt "safe" – not only were there no fights to worry about but she also trusted her teachers.
Like Midtown scholars, they also seemed happy and hopeful.
Both schools were pleasant places to be and contained students, teachers, and administrators who interacted with grace and seemed to care about what they were doing.  Classrooms were structured places of learning.  Correction was heeded promptly.  There were no students on cell phones, no defiant responses, no apathetic stares.
These scenarios inevitably exist, but they are not the norm and, more importantly, they are not tolerated or even, as in some previous schools by students' own admissions, encouraged.
If you visited either of these charter schools today, there would be things you loved and things you disliked.  State scores have been slow to rise as remediation occurs, and there is a mix of practices and backgrounds, skills and visions.  But you would see in both places, and many charter schools across the nation, a common theme:  hope because of choice.
We make choices in every area of life and situate ourselves, if we can, so that our options are attractive and our choices are our own.  Charter schools in Jackson are serving families who, by and large, have had no choice at all in the education their children were receiving.
As one student told me, they must invent choice where they can, even if it means using someone else's address to go to a slightly better school.  Not only parents, but children most of all, have felt stuck – at times, unsafe, unchallenged, and uncared for.  These schools are offering Jackson families a second option and creating happy, stable environments where children feel able to learn and interested in the future in front of them.
If this is what three more options can do for a few families in one city, what could more options do for our entire state?  We should find out.