Gov. Bryant Proclaims Jan. 22-28 "School Choice Week" in Mississippi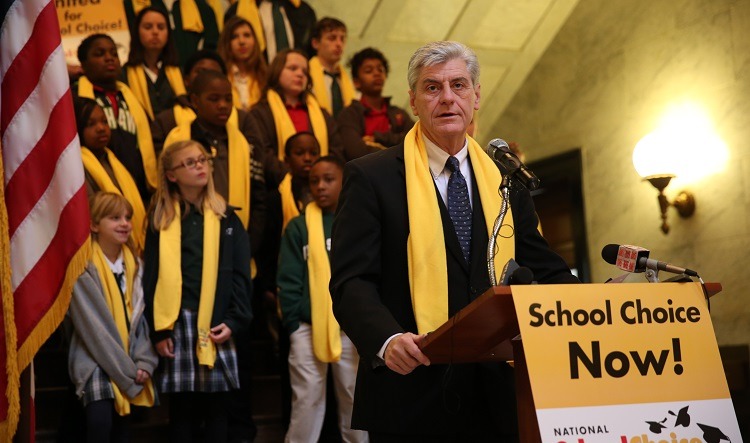 Gov. Phil Bryant has officially proclaimed January 22-28, 2017 as "School Choice Week" in the state of Mississippi. He joins 14 other governors and more than 500 mayors and county leaders nationwide in issuing proclamations.
A total of 21,329 events have been independently organized across the country for National School Choice Week, including more than 130 in Mississippi. This year's National School Choice Week will be America's largest-ever celebration of opportunity in education. Events will include rallies, round-table discussions, coffeehouse meet-ups, festivals, school fairs, and more.
National School Choice Week is a nonpartisan, nonpolitical effort seeking to raise awareness about the school choice options parents have, or want to have, for their children.
"We are proud to join with Mississippi in its celebration of School Choice Week," said Andrew Campanella, president of National School Choice Week. "All kids learn and grow in different ways, and it's exciting to see the growing enthusiasm for educational opportunities across the country. Americans recognize the value of choice in education – whether that choice means traditional public schooling, homeschooling, or anything in between."
Held every January, National School Choice Week is an independent public awareness effort designed to shine a positive spotlight on effective education options for every child. Through thousands of independently planned events across the country, National School Choice Week raises public awareness of all types of educational choices available to children. These options include traditional public schools, public charter schools, public magnet schools, online learning, private schools, and homeschooling.
The full proclamation is below:
School-Choice-Week-2017

For more information, visit www.schoolchoiceweek.com, or visit www.facebook.com/schoolchoiceweek.
To stay connected with what is happening in Jackson and up to date with the school choice and education reform movement in Mississippi, Join The Movement today.