Ensuring students are prepared for life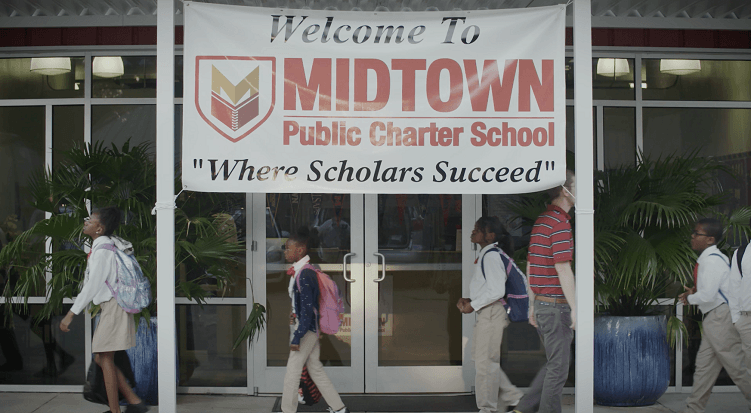 Ensuring that students are prepared for life.
That's the mission of Midtown Public Charter School in Jackson.
"We want to be a place where our students and teachers feel loved, valued, and cared for. That's how we prepare them for life," said principal Kevin Parkinson.
The Midtown neighborhood in Jackson is a unique area.
"Midtown is a special, small neighborhood that has faced a lot of challenges, but the community is tight-knit," he said.
The school was born out of Midtown Partners, a community organization that seeks to meet the needs of its neighborhood whether it's daycare, housing projects, medical needs, financial literacy, or more.
"When the charter law passed in Mississippi, Midtown Partners was approached by parents in the community who wanted another education option for their children. Midtown Partners flew that group of parents to different parts of the country to tour charter schools and decide what they liked," Parkinson said.
From those meetings and collaborations, Midtown Public Charter School was born.
"They worked together to decide exactly what the school would look like. They selected the grades at the school (5th-8th grade) all the way down to the colors of the uniforms," he continued.
Parkinson noted that the mission of Midtown is to serve its community.
"We are small by design," he said. "We are not a big organization trying to grow and take over schools in JPS (Jackson Public Schools)."
By remaining small, Parkinson believes they are better equipped to meet the needs of their students.
"I'm a firm believer that while every school might be great, not every school is great for every kid," he said. "It's an issue of being different, not better or worse than anyone else."
Charter schools provide another option for students and parents.
"Some families don't have access to options without charter schools," he said. "Those families are at the mercy of their zip code."
To operate as a charter, the school enters a charter with the State of Mississippi.
"The way I explain it is that a charter school makes a contract with the state," said Parkinson. "The school has to outline how we want to do school and what we are going to deliver. The state reviews the proposal and then makes a decision, and once a school is approved the state allows it to operate as long as it is reaching those outcomes."
Contrary to the opinion of some, said Parkinson, charter schools have regular and routine supervision.
"There is a high degree of accountability for charter schools," he said. "We have JPS in our school regularly inspecting our work. We also have to take the same tests that traditional public schools have to take."
Parkinson described Midtown as following a more traditional model and responding more directly to the community's needs.
"There is a big movement in charters toward innovation," he said. "We believe that is a great thing, and we also have innovation in our classes, but we are more focused on serving the neighborhood and providing a better option for students. We are somewhat traditional."
Parkinson noted that Midtown has a good working relationship with JPS – the district of which they are a part.
"We have a long history of working together. Last month we invited JPS into our school to tour and it was mutually beneficial. They got good ideas to take back to JPS and our teachers got good ideas from JPS," Parkinson said. "It's in both of our interests to prepare students for the ninth grade since our students will be returning to JPS in ninth grade."
Families are responding to the education offered at Midtown.
"We have an amazing group of students. They are all dedicated, and some of them face some pretty big obstacles," said Parkinson.
Students remain engaged and excited about learning. They are able to track their own progress and celebrate growth in their own education.
"One student's growth may look completely different than another student, but we celebrate growth for everyone," he said.
That excitement is what also keeps parents engaged in their student's education.
"Our parents are very satisfied with the school," he said. "We have consistently met our enrollment targets since we opened. Parents love the school, and we constantly get requests to add new grade levels."
As Parkinson looks to the future of Midtown, next year they will be adding fourth grade.
"We are excited to be expanding while focusing on the goal of continuing to meet the needs of students and families in the Midtown neighborhood," he said. "Schools should be a community resource and benefit society at large. I think sometimes we forget about that when we are just going through the motions, but a lot of our issues can be solved through education. We owe it to everyone in our community to do that. Our teachers teach well, and our parents know their kids well so we should always be working together to make sure kids are succeeding."