Barrier to entry. Barrier to healthcare.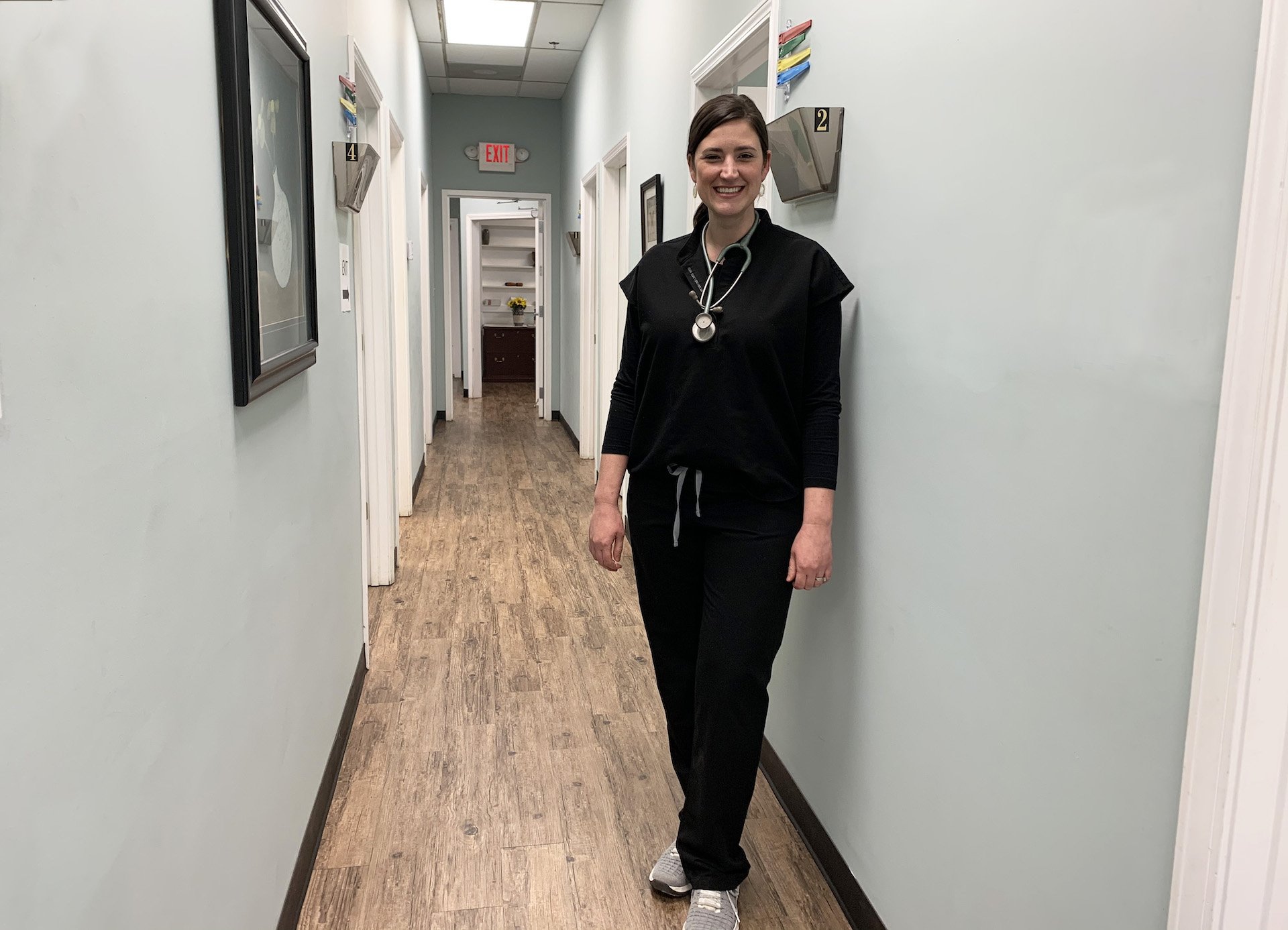 As a young girl entering college, Sarah Catherine Morrow had a picture of what her life would look like. She wanted to major in business and open a coffee shop.
"I think I had watched too many episodes of 'Friends' and I wanted the 'Central Perk' coffee shop," she laughed.
She quickly realized sitting in the business school at the University of Mississippi that business was not her passion.
"I switched to education for a while and enjoyed that, but still wasn't sure it was what I wanted to do," she said.
It wasn't until she really asked herself what she loved that the answer came to her. Morrow recalled conversations she had as a young girl with her grandfather about taking care of him as he got older.
"I realized how much I loved caring for people," she said. "I'd always been really interested in biology and science, and when I decided to go into nursing, I found my niche."
Morrow received her nursing degree and spent the first 10 years of her career working in women's health.
"Nurses have their finger on the pulse of society, really," she said.  "It's a lot of getting to know people and there is a certain level of partnering with the patient to empower them."
As she began to flourish in her career, Morrow headed back to school in 2017 because she recognized the need to be able to have the final say in her patients' care.
"I realized that I needed to have more autonomy when it came to the care of the patients," she said.
She completed the nurse practitioner program at the University of Southern California and had the opportunity to also complete the social work program which she credits as a huge resource in her practice.
"I love educating my patients," she said. "It's a challenge to work with them and help them come up with a treatment and know that they can trust us in the medical field. There is a lot of mistrust between the patients we see and the medical community."
Today, Morrow works in an HRSA (Health Resources and Service Administration) clinic in the Oxford area.
"The HRSA designation allows us to operate on a sliding scale for payment," she said.  "It helps our patients get the care they need without worrying about how to pay."
Mississippi has the highest physician shortage in the nation and the worst in the nation life expectancy and health outcomes. Morrow noted that it is difficult to recruit physicians to rural areas of the state.
"As you look at the number of counties in our state with five or fewer physicians, it's about 34 percent according to the Mississippi Primary Care Needs Assessment," said Morrow. "When you start looking at the number of doctors in counties across the state, it's scarce. Some counties have no practicing physician."
And what's worse, Morrow added, there are not enough jobs for nurse practitioners in the state. How can that be that there aren't enough jobs in a state where there are counties with no physicians at all?
"If I were to open my own clinic, I immediately have to pay $18,000 per year for a collaborative agreement with a practicing physician. That comes out to about $1,500 a month which is like a mortgage or rent payment before I ever even get to paying for a building," Morrow explained.  "I'd open my own clinic tomorrow if I could, but I just can't justify the overhead. It's a huge barrier to entry."
Morrow's main concern is her patients who are low-income and battling health issues that put them at higher risk of complications. She continues to show up each day for work because her patients have no other options, but her frustration lies in the fact that she sees a better way to provide care.
"There is absolutely no reason for there not to be enough jobs for nurse practitioners in a state like ours," she said.
Morrow spent the first part of her nursing career in Texas which was a stark contrast to what she has seen since returning to Mississippi with her family.
"I miss working as a team," she said. "I want collaboration. I'm not trying to practice outside of my scope. I just want to serve my patients like I'm trained to do. When the team environment works right, it's great for everyone. I just don't think I was prepared for what I saw when I came back home. It's sad to see that the nursing profession doesn't get as much respect as they do in other places."
Morrow explained that the need for medical care in rural parts of the state is great.
"Growing up in the Jackson area, I had always seen Oxford through rose-colored glasses, but it looks very different when you get outside of those areas. We are in a region of the state with serious needs and a lack of access to resources. We need more people doing what I'm doing," she said.
Full practice authority for Morrow is about more than freedom.
"It's about finding a way that I can break even and serve a population that needs access to quality care. I want the freedom to run my clinic, own it and care for my patients."