July 21, 2016 by Brett Kittredge
Yesterday the Mississippi Department of Education (MDE) conducted a lottery to award the remaining 175 scholarships for the Special Needs Education Scholarship Account (ESA) program. This year a total of 425 scholarships will be awarded to students in Mississippi.
The lottery drawing, held at MDE's temporary headquarters at the South Pointe Business Park in Clinton, utilized a random number generator to determine the 175 recipients. There were 304 approved applications in the lottery competing for the available slots. Those that did not receive a scholarship, along with those that continue to apply, will have their name put on a waiting list for future openings.
Last year, in the first year of the program, 251 of the 434 available scholarships had been awarded by the beginning of the school year. Because of the rolling application process, and the available slots, that number increased each quarter last year. This year the program will be at maximum capacity of 425 students at the beginning of the year.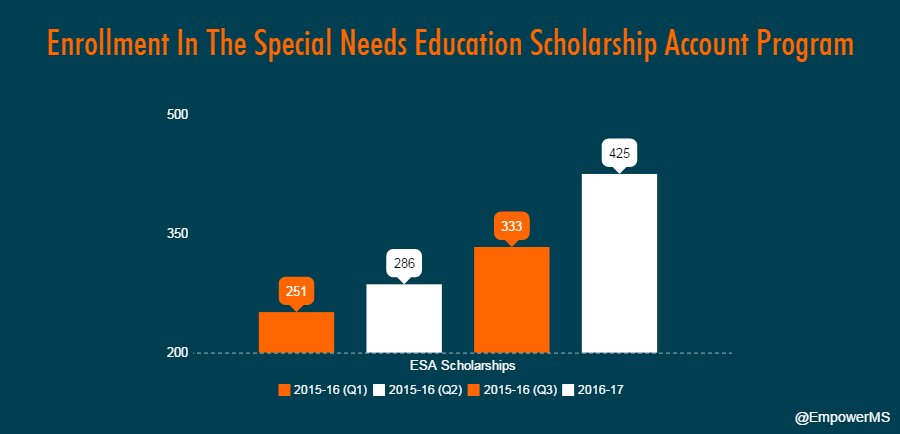 Enrollment in the program has grown by 70 percent over a one-year period and the number of approved applications has increased by more than 120 percent during the same time period.
ESA amounts for the upcoming school year will be increased from $6,500 to $6,637, as scholarship amounts are adjusted proportionally to changes in the base student cost of MAEP. Because of this increase and overall funding for the program remaining flat, the number of available scholarships decreased from 434 last year to 425 this year, which is far less than the 1,000 scholarships the law provides for in the second year of the program. There will not be any new slots available until a family withdraws from the program or the legislature appropriates additional money.
The program allows students who have an Individualized Education Plan (IEP) to receive a scholarship that can be used by parents on a variety of education expenses, including tuition and fees, textbooks, therapy, etc. This year the legislature expanded the program to any student who has received an IEP in the past five years.
At the time of its passage, Mississippi was just the third state in the nation to create an ESA program. This program is truly innovative in treating students as individuals with unique needs and equipping parents with the tools to help them meet those needs. As the program enters its second year, it is already changing lives.
To stay connected with what is happening in Jackson and up to date with the school choice and education reform movement in Mississippi, Join The Movement today.