November 29, 2016 by Brett Kittredge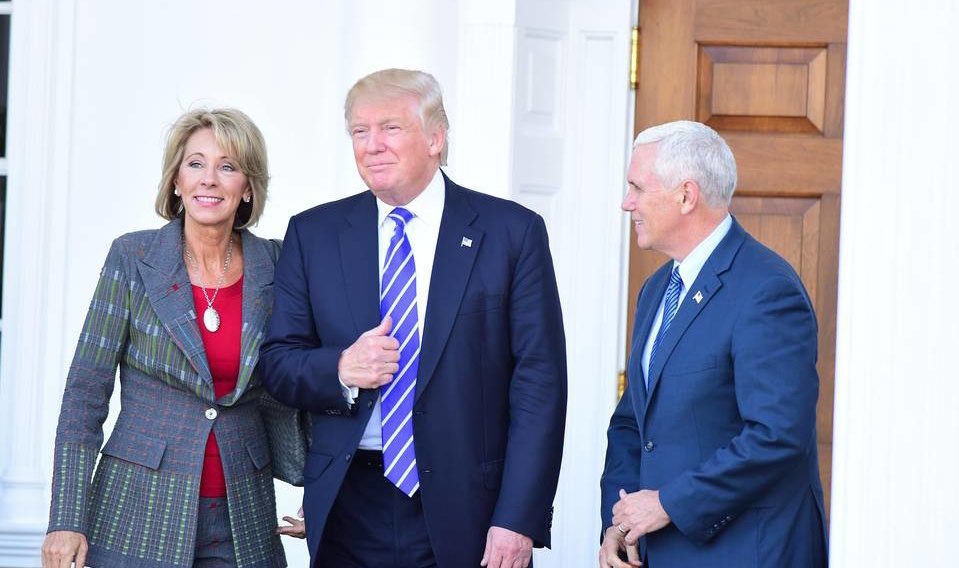 After growing rapidly at the state level for almost a decade, the school choice movement is positioned to occupy a national platform it has never previously enjoyed thanks to the election of Donald Trump and his nominee to be Secretary of Education, Betsy DeVos.
DeVos is a long-time champion of education choice, devoting much of her life to the cause. She currently serves as Chairman of the American Federation for Children, a national leader in the school choice movement. One of the most well-known faces of the school choice movement is now leading the United States Department of Education.
As for Trump, he has pledged to "redirect education dollars to give parents the right to send their kid to the public, private, charter, magnet, religious or home school of their choice." While the state's rightly have control over education, and education policy, the president-elect can expand education choice through a number of areas:
Portability of federal funding: Title I education funding is currently the single largest federal K-12 education program and these dollars flow directly from the government to the local brick and mortar schools. This may have made sense when the program was first created, but we know education looks much different today. To ensure we are funding students, rather than schools, those federal dollars can be redirected to the parents to determine the right education for their child. The purpose of this funding should be to educate students and ensure they receive a high quality education, and a move in this direction would help the federal government reach that mission.
D.C. Opportunity Scholarship: The political football that is the D.C. Opportunity Scholarship, a voucher for low-income students living in Washington D.C., should receive more permanent status and funding in the Trump administration. This program could also be expanded to all students in Washington and converted to an education savings account (ESA), which would provide maximum flexibility to families to truly customize their child's education. An ESA could be used for approved educational services, including private school tuition and fees, textbooks, tutoring, online curriculum, etc.
Native American Education Opportunity Act: This legislation was introduced by Sen. John McCain (R-AZ) earlier this year and has been approved by the Senate Committee on Indian Affairs. It is expected to come back next year. If enacted, this would allow students living on Indian reservations to receive an ESA if their home state has an ESA in place. This includes Mississippi, which currently has eight Bureau of Indian Education schools across three counties in the east-central part of the state.
School choice for military families: The federal government could enact a policy that provides either an ESA or voucher to children of active duty military families nationwide.
Federal tax credit scholarship program: Last year, legislation was introduced in both the United States House and Senate to create a federal tax credit scholarship program. In such a program, individuals and corporations would receive tax credits for donations they make to Scholarship Granting Organizations who then provide scholarships for students to attend private school. At the state level, 17 states currently have tax credit scholarship programs. Mississippi would need to create a program to participate in the federal program.
Expand 529 college savings plans to K-12: Families are currently allowed to deposit up to $2,000 in a Coverdell ESA for K-12 expenses such as private school. That is a start but not nearly enough to cover the cost of tuition at most private schools, even in a state like Mississippi where private schools are among the least expensive in the country. By moving this closer to the $14,000 yearly cap on 529s (for college savings), the program would be opened to many more families.
Federal charter school funding: The federal charter school program provides grants to help start new charter schools and pay for initial operational expenses, such as building costs. This has generally received bi-partisan support and, if anything, we could see funding increased beyond the current $300 million authorized last year.
While we have laid out a number of areas that the federal government can (and should) move to approve and expand school choice programs, the work will generally remain at the state level as it traditionally has. In many cases, the most powerful tool the new president has will be his ability to utilize his bully pulpit to promote such legislation. If President-elect Trump wants to see access for school choice greatly expanded, he needs to become its biggest advocate.
But we can say with certainty that school choice has never enjoyed the national profile that it has received over the past three weeks. That is a good thing for families looking for new options in the education of their child.
To stay connected with what is happening in Jackson and up to date with the school choice and education reform movement in Mississippi, Join The Movement today.