October 31, 2016 by Grant Callen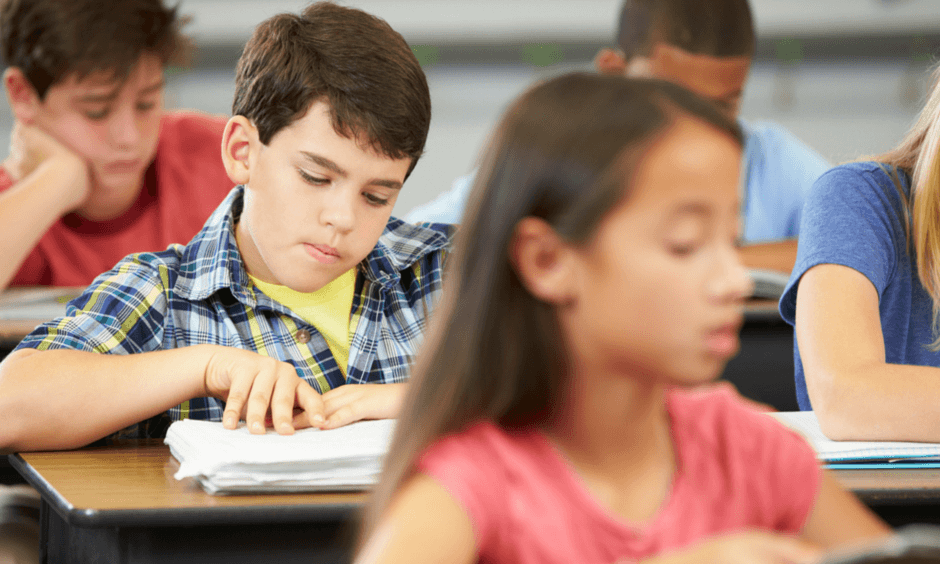 Last month it was announced that the legislature has hired the nonprofit EdBuild to review the state's current education funding formula, which is now nearly two decades old. We believe this is a good opportunity to reevaluate the way we fund education in Mississippi to ensure our funding formula is student-centered, equitable, and transparent.
Rebecca Sibilia, the Chief Executive Officer for EdBuild, was in Jackson last week to speak about the formula revamp and field questions from lawmakers during a joint meeting of the House and Senate Education committees. During her presentation, Sibilia advocated for moving Mississippi to a weighted student funding formula, which would establish a base student cost to educate an average Mississippi student and then create add-ons, or weights, for students with characteristics that make education more challenging. This would ensure that students coming from low-income families or students who are English language learners would receive additional money. It would also ensure that maximum education funds are tied directly to a student and funds would follow that student from district to district, whether that student moved from Iuka to Indianola.
Mississippi's current formula, the Mississippi Adequate Education Program (MAEP), is a hybrid formula that has both student-based and resource-based components, and boasts one of the highest base student costs in the Southeast, at about $5,300 per student.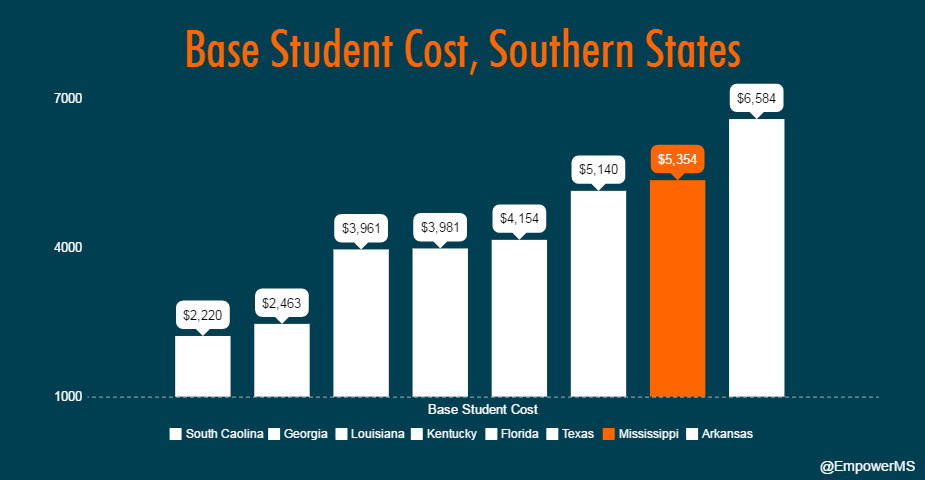 Alabama, North Carolina, Tennessee, and Virginia all have resource based formulas, and no specific base student cost. Mississippi's base student cost is near the median nationally for the 31 states that have a base student cost. (See chart below to review base student cost for every state).
States that have a lower base student cost generally provide more add-ons for students with specific needs. This equates to higher funding for students that are more expensive to educate, including those who are gifted, low-income, English language learners, or special needs.
The most antiquated part of Mississippi's current formula is the way we fund special education. Under MAEP, special education is funded through teacher units rather than the number of students or the severity of their disabilities. Under a weighted student funding model, students with special needs would receive the base student cost amount and then specific add-ons based on the severity of their specific disability. For example, students with profound autism would receive more funding than students with dyslexia, because the costs associated with educating a student with autism is greater than the costs associated with educating a student with dyslexia.
In Arizona, the base student cost, including weights for grade level, ranges from $4,000-$4,400. However, students with special needs are assigned up to 11 different weights based on their disability and a multiplier ranging from 1.003 to 8.947 percent is added to the base student amount for that student. This means that the state will pay around $4,000 for a general education student in middle school who has no other characteristics to receive additional funding while a student with a severe disability could receive north of $30,000. This way of funding education ensures that the revenue that comes to a school is directly linked to the number of students and the characteristics of those student in that school.
Mississippi is also an outlier in that the largest share of education funding comes from the state. In many states, local revenue makes up the lion share of education funding, but in Mississippi the state appropriates the majority of the money spent to fund Mississippi's public schools. So in Mississippi, perhaps more than other states, education is a state issue. The state legislature has the obligation to ensure that students have access to a high-quality education and that our funding formula distributes education dollars equitably and transparently.
By moving to a weighted student funding model, we reaffirm our commitment to creating an education system that recognizes the uniqueness of each student and distributes education funds equitably based on their unique traits. We applaud the Lt. Governor, the Speaker, and legislative leaders for moving Mississippi in this direction.
Chart: Base student cost by state

| State | Base Amount |
| --- | --- |
| New Jersey | $11009 |
| North Dakota | $9365 |
| Vermont | $9285 |
| Rhode Island | $8966 |
| Michigan | $8169 |
| California | $7011 |
| Maryland | $6860 |
| Arkansas | $6584 |
| New York | $6451 |
| Iowa | $6446 |
| Colorado | $6292 |
| Illinois | $6119 |
| Missouri | $6110 |
| Minnesota | $5948 |
| Ohio | $5900 |
| Alaska | $5830 |
| Mississippi | $5354.98 |
| Maine | $5238 |
| Texas | $5140 |
| Indiana | $4967 |
| South Dakota | $4877 |
| Oregon | $4500 |
| Florida | $4154.45 |
| New Mexico | $4027.75 |
| Kentucky | $3981 |
| Louisiana | $3961 |
| Hawaii | $3825.47 |
| New Hampshire | $3561.27 |
| Arizona | $3426.74 |
| Utah | $3092 |
| Oklahoma | $3049.80 |
| Georgia | $2463.78 |
| South Carolina | $2220 |
To stay connected with what is happening in Jackson and up to date with the school choice and education reform movement in Mississippi, Join The Movement today.