The Mission

To ensure that every child in Mississippi has the opportunity to flourish through access to a high quality education.
We Believe

• A quality education is critical in preparing a child for success in life.
• No child should be denied access to a quality education because of where they live or their parents' level of income.
• No one knows a child better than their parents.
• Parents should be empowered to choose the best educational setting for their child.
• Public education funds should follow every child to the school or services that best meet his or her needs.

We Support
Education Scholarship Accounts: ESAs allow parents to withdraw their child from a public school and receive a deposit of their child's state education dollars into a government authorized savings account for education-related expenses.
Charter Schools: Charters are independent public schools that are free to be more innovative while being held more accountable than traditional public schools for improved student achievement.
Tax Credit Scholarships: These scholarships utilize voluntary, private contributions- encouraged through tax credits- to fund scholarships for children to attend the private school of their choice.
Course Choice: Course choice enables students to craft an à la carte education, choosing from different classes offered in different settings, to customize an education to their specific learning needs or interests.
Our Goal


OUR GOAL: FROM ZERO TO 50,000 BY 2025
This website is home to three separate entities that work together:
Working to EDUCATE
Empower Mississippi Foundation is a     501(c)(3) nonprofit organization working to educate citizens. Contributions are tax deductible for federal income tax purposes.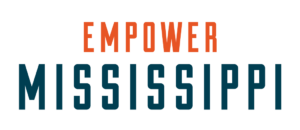 Working to ENGAGE
Empower Mississippi is a 501(c)(4) advocacy organization working to engage citizens in the public policy process. Contributions are not tax deductible for federal income tax purposes.
Working to ELECT
Empower PAC is a state political action committee working to recruit, train, and elect candidates for the legislature who are committed to ensuring that every child in Mississippi has access to a high quality education.